RUNNING BACK FOR MORE
Main Cast: Zekeria Ebrahimi, Khalid Abdalla
Director: Marc Forster
I have had it up to the tip of my tonsure with the ghostly baboons or chimpanzees or whatever they are that are all busy running rampant through the corridors of Chateau Maine and I have decided that I need to take a bit of a breather while Mr. Michael, mortician to the stars, rustles up some help from Tangina and deals with the problem. She was last heard of cleaning houses somewhere in the San Fernando valley so I gave Michael the number of Denton and Trujillo, private investigators, or the DTs as they are known, who can find absolutely anyone and left him to it. I wasn't quite as sure what I should be doing with myself when I received a most fortuitous telephone call. It was the great impresario, DeWolfe. Apparently he has been engaged by the Republican National Committee to find only the most lustrous talents in America to make appearances in Cleveland at the convention. Now I never pay attention to politics but I'm pretty sure it's the group with the lady with all the jewel tone pantsuits who's running for the White House (a very inferior residence by my standards) but whoever they are, they obviously appreciate true talent. I immediately got out my file with all my patriotic numbers and called Two Men and a Truck to come on over as I needed to get to Ohio post haste.
When the truck arrived, my gal Friday Leah and I loaded all of the Glamourpuss Gowns and VickiWear that we could find in patriotic colors into the back. It wasn't going to be nearly enough for my costume changes, let alone dressing all those political wives appropriately for their elegant soirees so we loaded up my seamstresses Mary Gee and Kim Dee and their equipment as well, and gave the drivers strict instructions to avoid potholes so that they could continue sewing straight seams all the way across I-40. I tried to pack Normy, but he begged off saying that he wasn't afraid of no ghosts, simian or otherwise so Leah and I decided we'd make it a girls' road trip. Soon we were loaded up in my old motor coach and on our way, following two men, a truck, a load of haute couture, and two very busy seamstresses on the road to high adventure. As we only needed to stop to change drivers, the miles simply flew by.
As we had a number of hours to pass during the trip, I loaded up the movie system with the Netflix and we had our choice of offerings. We decided to start with something serious and literary, so we settled upon the 2007 film version of Khaled Hosseini's best-selling novel, The Kite Runner, a tale of triumph and tragedy set amongst the Afghan community of the San Francisco Bay Area and their previous lives in Kabul, rudely interrupted by the USSR's invasion of 1979. We first meet our hero Amir (Zekeria Ebrahimi) as a boy in late 1970s Kabul. He and his friend Hassan (Ahmad Khan Mahmoodzada), the son of a family servant and a member of the despised Hazara ethnic minority, careen through the streets of Kabul, running down kites which burst from their strings after aerial battles. Amir has a beloved father (Shaun Toub) who belongs to the upper castes and has a privileged life, unlike his friend who is a target for ethnic and social reasons. Events come between them, not the least of which is the Russian invasion which forces Amir and his father to flee the country, eventually ending up as refugees in the United States. There Amir grows to maturity (Khalid Abdalla), falls in love with Sorya (Atossa Leoni) and ultimately returns to his homeland twenty years later, now under the control of the Taliban, in order to deal with the consequences of family secrets and to complete the circle of his and his father's lives.
I read the book when it first came out and was captivated by Mr. Hosseini's vivid descriptions of a vanished Afghan world and his empathy for the plight of refugees and all that they go through to survive and thrive in a new and alien society. It was also one of the first literary works to peek behind the veil of modern conservative Islam and how it can be so easily perverted for reasons of personal power. I was very interested to see what the film (directed by Marc Forster and written by David Benioff) would do with the source material. The finished product is faithful to its literary origins but falls flat. It's beautifully photographed, recreates the beauties of vanished Kabul as well as the hell of modern Kabul under the Taliban, but remains oddly unengaging throughout. It's rather reminiscent of one of those travelogues that was so popular in the 50s and simply needs the announcer to say 'And now we say goodbye to Kabul' at the end of those sequences. I think the fault is in Forster's direction which is just too slow and measured and which pulls its punches at times, when confronted with true cruelty. For supporting evidence, I offer up his next film, Quantum of Solace which ended up being perhaps the dullest Bond film ever. Benioff seems to have learned from whatever mistakes he may have made in adaptation as he went on to adapt George R.R. Martin's books into the world wide phenomenon, Game of Thrones.
The largely unknown cast are attractive, of the right ethnicities, and relatively competent at inhabiting their characters but none of them really sets the screen on fire. Mr. Abdalla, in the central role, remains a bit of a cipher. We never completely understand his motivations and I'm not sure if that's the fault of the screenplay or his inability to completely play the subtext. Ultimately, it's minor characters who make the most pronounced impact. These include Nasser Memarzia as an orphanage director and Abdul Salam Yusoufz as a sort of Elvis Taliban official who turns out to be an old enemy. Consequently, when secrets are revealed and the cycle of the generations comes around again, it doesn't offer the catharsis to the viewer the way readers of the book were able to experience it.
Ultimately, the film is worth a look for its portrayal of a little seen world, but lovers of the novel are bound to be disappointed at the somewhat lifeless adaptation.
Slingshot. Wall climbing. Bizarre bazaars. Gratuitous street fryers. Missing watch. Threatened rape. Completed rape. Escape by oil tanker. College graduation. Gratuitous family dinner squabble. Casting the first stone.
To learn more about Mrs. Norman Maine, see our Movie Rewind introduction, visit her entire back catalog and follow her on Twitter at https://twitter.com/missvickilester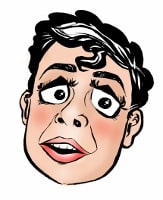 Originally from Seattle Washington, land of mist, coffee and flying salmon, Mrs. Norman Maine sprang to life, full grown like Athena, from Andy's head during a difficult period of life shortly after his relocation to Alabama.