WE'RE OFF TO SEE THE WIZARD
Main Cast: Eddie Redmayne, Katherine Waterston
Director: David Yates
The daily grind of a film set continues as I continue to film scene after scene for my new movie musical spectacular,an adaptation of Stephen King's great literary masterpiece It with yours truly in the title role.  My Pennywise is a daring new and entirely ladylike interpretation of the killer clown from outer space, with a much chicer wardrobe than any previous take on the role.  The organdy and chiffon harlequin motley I wear in my big transformation scene is simply stunning and is sure to inspire a huge fashion trend when the film hits it big next year.  I am working with Leah, my gal Friday whom I have placed in charge of my vast retail empire, to create a whole new line of VickiWear for the active gal so you can feel yourself transforming as you go through your day at the gym or at the mall.  Watch out Lulu Lemon.
There was a little bit of a contretemps a few weeks ago, when some ruffians spotted some clearly inferior wardrobe after I had a little problem with running out of gas in costume.  Stories about an evil clown luring innocent children into the woods in Pacoima dominated our local news for a few days and I even had a brief visit from the LA County sheriff's department.  They were more than satisfied with a well-timed comic monologue recounting of my little adventure and I sent them on their way with a couple of autographed 8 x 10s.  The only thing I did not understand was the insistence that the evil clown was in full make up when I was only in my everyday street look at the time.  I shall have to check the quality control on the latest batch of Lesterene eye shadow to make sure it doesn't read too heavy from a distance.  Perhaps it's time to sit down with my makeup artistes, Barry and Sam, and have them come up with a whole new palette to better emphasize my glowing natural skin tone.
Once the police had been sent on their merry little way (their prowler narrowly missing my best azaleas as they tore out of the porte cochere), Normy emerged from his studio where he had been holed up working on one of his latest commissions, a tone poem based on some of Paul Verlaine's lesser known work which is to be the soundtrack for a new series of commercials for the Piggly Wiggly grocery chain.  He was stuck on a B minor section so I suggested that we head off together to the local Cineplex and take in a film as a way of clearing our heads.  After a brief consultation with Fandango, we decided to revisit the wondrous world of Jo Rowling and headed off for a matinee showing of her new opus, Fantastic Beasts and Where to Find Them, which had recently opened.
Unless you've been hiding under a rock for the last couple of decades, you have almost certainly heard of Rowling's famous Harry Potter series of young adult fantasy novels and their wildly successful movie adaptations that raked in money hand over fist for Warner Brothers for most of the last decade.  With the story completed and the kiddie cast grown up and moved on to other things, the production team suggested to J.K. Rowling that she might revisit her magical world with a new cast of characters.  Ms. Rowling had written a book, Fantastic Beasts and Where to Find Them, as a fundraiser for the British charity, Comic Relief some years before.  It's a whimsical 'textbook' mentioned several times in the Harry Potter novels as being a source of information for the students as they learn about creatures.  The book had no plotline, but was portrayed as having been written by the wizard Newt Scamander, some years prior.  Rowling took the conceit and expanded the idea into her first screenplay, the previous films having been more or less all written by veteran screenwriter Steve Kloves.
Eddie Redmayne, fresh off his Oscar win for 2014's The Theory of Everything stars as young Newt Scamader, an employee of the British ministry of magic who comes to 1926 New York with an enchanted briefcase full of the odd creatures devised by Rowling for her wizarding world.  While learning his way around prohibition era Manhattan, some of his charges escape and he falls in with a number of companions who help him round them up while trying to avoid the officials of the American wizarding world who are afraid of being exposed to the general non-magic (or no-maj) population.  These include Tina, a disgraced auror (Katherine Waterston), her blowsy sister Queenie (Alison Sudol) and a hapless cannery worker (Dan Fogler).  Amongst the antagonists are the president of the American wizarding world (Carmen Ejogo), her director of security (Colin Farrell), a smarmy US Senator (John Voight), and a religious fanatic (Samantha Morton) with a somewhat warped son (Ezra Miller). There is magic, mayhem, comedy, tragedy and it all ends up in a major showdown between our heroes and a major villain borrowed from the Harry Potter saga.
And this is Fantastic Beasts and Where to Find Them's great weakness, a surfeit of plot of threads, many of which go nowhere.  One of the joys of Harry Potter was the introduction of more and more layers of complexity as the child protagonists grew older and became more and more aware of their world.  The early stories had straight forward quest plots and when things started to get more complicated, the expository framework had already been laid.  Here Rowling throws us directly into the adult wizarding world.  Granted, it's a couple of generations earlier than Harry and his friends, but there are still multiple undercurrents of politics and religion that never get fully explained. The subplot of the shady senator and his sons gets such short shrift that I have no idea what it's doing in the film.  I have heard that Fantastic Beasts is merely the first of a cycle so perhaps it will be explained further in a subsequent movie.
The performances are generally good.  The supporting characters, especially Fogler and Sudol who are adorable together, make more of an impression as they are allowed to be more outrageous.  Redmayne and Waterston, whose characters anchor the film, are sweet but there's nothing much to hold on to with either one of them and when they're on screen for too long, we hope that we'll get back to the sidekicks, both human and animal, who are much more entertaining. In the villain category, the winner is Ezra Miller as the tormented Credence Bone.  His awkward physicality and desperation make him mesmerizing when he is on screen.  There is a surprise reveal at the end of the film involving a famous actor which I shall not reveal but it promises to give a jumpstart to the next film if used correctly.
The production team, including director David Yates and Producer David Heyman, all worked together on the last few Harry Potter films and effortlessly bring her world to life once more with tons of little magical touches filling up the corners of the frame, especially in scenes in the American version of the Ministry of Magic and in Newt's enchanted menagerie where he keeps his charges.  The special effects team has had a field day with the latter, especially with a Niffler, a sort of hairy platypus who chases after shiny valuable objects (which spells trouble for banks and jewelry stores) and a bowtruckle, a little walking stick insect with a strong sense of attachment. Colleen Atwood's costumes also make everyone look sharp.
Ultimately, I enjoyed Fantastic Beasts and Where to Find Them as a harmless romp and as a promising first chapter in something much bigger.  It will be interesting to see what happens with such throw away references as an American school of witchcraft and wizardry, a fundamentalist religious revival dead set against the practice of magic, the Lestrange family, and the aforementioned senator and his sons.  It's too bad that we'll have to wait a year or so to find out what happens next.
Bank Infiltration.  Switched suitcases.  Chandelier swinging.  Teapot capture. Political assassination.  Death sentences. Fantastical baked goods.  Legillimency.  Silver egg shells.
To learn more about Mrs. Norman Maine, see our Movie Rewind introduction, visit her entire back catalog and follow her on Twitter at https://twitter.com/missvickilester
photo by anelgtr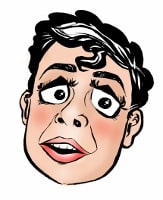 Originally from Seattle Washington, land of mist, coffee and flying salmon, Mrs. Norman Maine sprang to life, full grown like Athena, from Andy's head during a difficult period of life shortly after his relocation to Alabama.