OPEN HOUSE
Main Cast: Daniel Craig, Rachel Weisz
Director: Jim Sheridan
Something very odd has been happening at Casa Maine. I can't quite put my finger on it but little things just seem slightly askew. For instance, I put my emerald green clogging shoes (one of the highlights of the Finian's Rainbow collection from VickiWear) down on one of the poufs in the yellow salon and five minutes later, I find them in the middle of the buffet under yesterday's issue of Variety. Normy was working in his studio late last night and when he looked out his window, he saw a light on in the servant's dining hall. Thinking this somewhat odd as we don't currently have any live-ins, he went down, turned it off and went back to his composition. Imagine his surprise when he looked out the window and saw it burning again. Not one to frighten easily, he went down, turned it off once again and came to bed where I was already fast asleep with a Lesterene beauty mask of Apricot/Nutella scrub; I have to do something to make all those little laugh lines vanish with the breeze. It's not easy staying perpetually 39.
The next day, while having my morning cosmopolitan along with an egg white omelet, Normy told me about his nocturnal adventure. I figured it was his medications being off balance and suggested he make an appointment with his endocrinologist before his thyroid explodes again. Leah showed up for elevenses and we went over some ideas for a new marketing campaign for my line of GlamourPuss gowns (haute couture based on the costumes from Cats). Now that there's to be a major Broadway revival of the show, it's time to get my designs back in front of the world. I'm thinking that the Bombalurina and the Skimbleshanks would make lovely additions to either convention or any inaugural ball. I'll have Mary Gee and Kim Dee, my seamstresses, run up some in red, blue and tricolor.
Leah and I were in the middle of a very important discussion of button types when I looked up to see a face peering in the window. I let out a little ladylike shriek for it wasn't quite human, having some sort of muzzle and beady little eyes. By the time I uttered my little peep and Leah turned around to look, the face had vanished and when we ran out into the yard, there was no one there. I was a bit taken aback and had to unwind so I decided it was time for a trip to the home theater where I flipped through the offerings on Netflix looking for something that might help inspire me with my ongoing projects. The 2011 film Dream House with Daniel Craig, Rachel Weisz and Naomi Watts looked like it might be a good bet as I have been so involved in turning Casa Maine into my own personal dream house in which I and Normy can spend our happily ever afters. While I was expecting a light comedy along the lines of Mr. Blandings Builds His Dream House or even The Money Pit, it turned out to be a tight little psychological thriller.
Daniel Craig plays Will Atenton, a yuppie editor/publisher who decides to quit his job and move from the city to an idyllic small town together with his wife (Rachel Weisz) and two young daughters. There he plans to write and spend family time in their new dream house of the title, a clapboard New England colonial with a wide front porch. Mom gets the house ready and paints murals on the walls, the kids start to settle down in their new surroundings and then unpleasant truths start to come to light. It turns out that the previous family who lived in the house were brutally murdered, possibly by the father. (It seems at first that there are no real estate disclosure laws). Dad also finds the neighborhood teens conducting séances in the basement and his across the street neighbor, Ann (Naomi Watts) treats him somewhat oddly, especially when he becomes interested in the previous tragedy. As Will becomes more and more obsessed about the prior tragedy and becomes afraid that history might repeat itself and that a mysterious villain may come after his wife and children as well, his hold on reality starts to crumble. Secrets are revealed, Will learns about his connection to the earlier tragedy, and everything is eventually explained.
Daniel Craig does a reasonable job portraying the tormented Will. He starts out as perfect husband and father and, as the film progresses, devolves in such a way as to continually question his own sanity. He allows us to discover the secrets of the film as he does and he carries the film along, even though some of the more absurd plot twists. And that is where the film falls down. The unraveling of our hero's mind as he faces the hidden history of the house and its prior inhabitants is very well done. The plot devices which are brought into play in the third act to try and explain it all and allow heroic characters to be heroic, and villainous to be villainous should really have been left in the first draft and replaced with something that makes some sort of sense. The film might have been better had the makers not tried to institute a deus ex machina ending and had instead left things ambiguous for us to draw our own conclusions.
Director Jim Sheridan, the Irish director behind such films as My Left Foot and In the Name of the Father, has a good feel for the moodiness of the material and seamlessly blends past and present in ways which are clear and with a visual agility that keeps the viewer on edge. He gets decent performances out of both Craig and Weisz. Naomi Watts's role is so underwritten that it would be difficult for any actress to make much of an impression in the part. And that's the problem, David Loucka's screenplay is wildly uneven. When it works, it's a taut psychological thriller, but that's only about half the time. Loucka's output as a screenwriter over the years has been mediocre at best. Perhaps he just needs to feed story ideas to a better writer.
In the end, the film is worth watching for Daniel Craig and for Sheridan's stylish direction. Those looking for the next great American thriller are going to be sorely disappointed as they scratch their heads over and over again at the last twenty minutes.
Flowered staircase. Secret tea party. Mental ward ID bracelet. SUV in the snow. Gratuitous angst ridden teenager. Backfiring murder plots. Dilapidated house. Best-selling book.
To learn more about Mrs. Norman Maine, see our Movie Rewind introduction, visit her entire back catalog and follow her on Twitter at https://twitter.com/missvickilester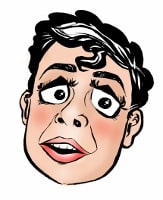 Originally from Seattle Washington, land of mist, coffee and flying salmon, Mrs. Norman Maine sprang to life, full grown like Athena, from Andy's head during a difficult period of life shortly after his relocation to Alabama.