MIDAS TOUCH
Main Cast:  Mike Myers, Beyonce
Director: Jay Roach
Normy and I are starting to settle into Casa Maine.  It's still boxes everywhere and impossible to find anything.  Trying to be of help, I opened a box marked 'MNM beauty products' only to find it full of some divine pewter chafing dishes that I don't ever recall seeing before.  The packers obviously are using some code of which I am unaware so I poured another sloe gin fizz and left them to their work.  Later, I went looking for a pair of chartreuse suede pumps which I know I saw on the hall table earlier and which would be a fabulous match for the peignoir I'm wearing but could not find them anywhere.  Peach, mauve, aqua, daffodil, but no chartreuse – not even jade or forest green.  I am used to adversity and made do with a set of cerise wedges that had ended up under an ottoman in the blue salon. Fortunately, no photographers are scheduled for today.  Foot problems being solved, Normy and I decided to spend the rest of the day exploring our new home.  We need to poke into every little nook and cranny to make it suit our needs as a couple and as entertainment powerhouses.
The under basement will easily become studio space.  The attics can be fitted out into closet storage for my wonderful costume collection.  The west wing will convert nicely into offices for the myriad companies I control.  What seems to be missing is room for the inventories for my various fine consumer product businesses.  I simply must have a place for my stock of Lesterene beauty products, VickiWear clothing and all the rest of those treasures that let the women of America have a little of my style and glamor for a modest charge.  I suppose I could keep them in a warehouse somewhere but that goes against my slogan 'From My House To Yours' and if there's one thing on which I thoroughly pride myself, it's truth in advertising.  I never make outrageous claims regarding how Lesterene shrimp and avocado scrub will take twenty years off your face or how a lovely little tennis dress from the VickiWear Pour Le Sport collection will make your derriere look nineteen again.  I have hundreds of carefully filed testimonials from ordinary ladies saying just that.
In order to make room, we're going to have to build an extension off of the library.  Normy and I went out to check the grounds to see what we would lose in the gardens if we were to add another five thousand square foot ell.  Some of the roses would have to go and the odd little memorial garden with the tiny grave stones is definitely in the way.    I'll have to ask darling Norma, if she has any lucid moments, who Bongo, Cheetah, Kumbyah, and the rest were.  Beloved cats I suppose, she always struck me as a bit of a crazy cat lady.
Being a bit thirsty after all this traipsing around, I poured another sloe gin fizz and decided to put my feet up with a film for a few minutes.  Flipping through what was running on the streaming film channels, I found myself tuning in just in time to catch the third of Mike Myer's Austin Powers films, Austin Powers in Goldmember, from 2002.  I remember having seen it back in the day but could not remember any of the details so settled in for hopefully a few chuckles.  The premise behind the films is relatively simple.  Myers' Austin Powers is a parody James Bond figure, a secret agent from swinging sixties London who in the original movie is brought forward in time to the 1990s to battle a Blofeld like evil genius, Dr. Evil (also Myers).  Through that movie and the next, Austin Powers collected up a gaggle of supporting characters including his boss Basil (Michael York), a miniature Dr. Evil clone Mini-Me (Verne Troyer), a Lotte Lenya as Rosa Klebb iron maiden, Frau Farbissima (Mindy Sterling), a fat bastard of a Scotsman (Myers again) and a gratuitous Robert Wagner.
This time around, Austin is sent back to the 70s and the heyday of disco to deal with a Dutch metallurgist (Myers yet again with an odd accent never heard in Holland and a supremely unattractive make up job) who has a penchant for gilding penises (hence the title).  There he teams up with Beyonce Knowles in full out Pam Grier mode, does some roller disco and there's a lot of nonsensical plot developments which ultimately lead to us meeting Austin's father, Nigel (Michael Caine) and the usual show down over the fate of the world.  The plot of Goldmember is not that important.  It's just an excuse to hang various gags and comic sequences together.
Goldmember starts out promisingly enough.  We start with Austin in Hollywood watching a film being made about his life by Spielberg (playing himself) with a number of very recognizable movie stars in key roles.  This moves into an extended credit sequence which seems to be a celebration of seventy years of film dance styles and which, while not making a heck of a lot of sense, is never boring. Then we get into Goldmember itself and things fall apart.  The problem is that neither Myers or director Jay Roach have any new ideas.  They hit all the satirical points they were interested in over the course of two previous films.  Therefore, the jokes and the sequences are either pallid retreads of something done better in an earlier film or play like a discarded bit from one of those movies, cut because it's just not funny enough. Goldmember might have worked if they had stayed in the Hollywood milieu and become a film about the making of a campy spy thriller but no, that just remains as a frame.
Ultimately, Goldmember feels thrown together out of odd pieces, produced to fulfill a three film contract and not because it has a lot of merit as a piece of art on its own terms.  Myers inhabits all of his roles as if they are old friends (which most of them are) but doesn't seem to have quite the manic energy he had in the earlier films.  Most of the rest of the cast seem to be walking through their roles in search of a paycheck.  Only Mindy Sterling seems to be fully committed.  Michael Caine seems to spend all his time winking at the camera as if to say I know I'm in a piece of dreck but there's a great craft services table just off camera.  Poor Beyoncé needs to stick to music.  She's lovely to look at but seems to have graduated from the Olive Neal school of dramatic art.  Most of the rest have nothing much to do other than try to make one of Myers' myriad of characters look funnier and, for the most part, they don't succeed.
While Goldmember was a financial success, Myers gained a diva reputation in Hollywood for his antics both on set and in production offices and more or less derailed his career in the ensuing years.  There are rumors of a fourth film in the offing but after nearly fifteen years, Austin Powers is an idea whose time has passed and will hopefully slip into film obscurity.  I hope we will be spared Austin is Forever, Live and Let Austin and A View to an Austin.
Colorful umbrellas.  Gratuitous Britney Spears.  Balding Seth Green.  Sumo wrestling.  Roller boogie.  Gratuitous Nathan Lane.  Farting submarine.  Hollywood lair.  Glowing privates glowing privates.
To learn more about Mrs. Norman Maine, see our Movie Rewind introduction, visit her entire back catalog and follow her on Twitter at https://twitter.com/missvickilester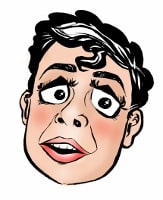 Originally from Seattle Washington, land of mist, coffee and flying salmon, Mrs. Norman Maine sprang to life, full grown like Athena, from Andy's head during a difficult period of life shortly after his relocation to Alabama.