GO FLY A KITE
Main Cast: Tom Hanks, Emma Thompson
Director: John Lee Hancock
I have been busy all week wrapping up the filming on my fabulous new modern musical film version of that old warhorse, The Desert Song. My version is a ripped from the headlines up to the minute psychological drama against a backdrop of ISIS in Iraq all set to the strains of Sigmund Romberg, but re-orchestrated for modern audiences by employing Moog synthesizers, a drum machine and a strong techno beat. We've been shooting interiors this week at Bob Hope's old house in Palm Springs. I was able to acquire a number of Allan Carr's old caftans and some of Liberace's old furniture and we had no trouble quickly creating the ambiance of a stylish and contemporary harem. We did lose a day when casting mistakenly sent us a number of rather zaftig middle age women as background harem girls. They were under the impression that we were working on something called The Dessert Song and needed ladies for the buffet line.
Tommy Tune, who is playing the Red Shadow to my Margot Bonvalet, has been a dream to work with. I realize he's getting a little long in the tooth for a romantic hero but generous applications of Just For Men hair dye and the ministrations of our make-up genius, Miss Vallerie have made him match my ever youthful thirty-nine. We filmed our love duet last night at magic hour, standing on the roof of the house. Mr. Chen, my cinematographer, said that he had never seen anything quite like our performance. We only slipped on the arch roof twice. In our final embrace, I had the genius idea to have fireworks shoot out of the oculus of the solarium behind us, carefully timed to write MNM across the skies. Only one of them misfired setting some of the draperies ablaze. It was soon put out but the Liberace museum might be a little upset by the scorch marks. Perhaps Kim Dee, our wonderful seamstress can run up a quick duplicate.
We have three more scheduled shooting days to finish up. Tomorrow Mrs. Tuttle's Tapping Tots arrive to shoot their scenes. I'll need to make sure to keep them away from fireworks given some of the history they have with them. I still have some rather nasty scars on my scalp from that incident. In order to fortify myself, I repaired back to my room at the Hampton Inn where Normy was waiting with a lovely pitcher of pineapple margaritas and we settled in together for a film. As we have been so long in pre-production, our choice was a film celebrating the dance of personalities leading to the creation of a musical masterpiece, the 2013 film Saving Mr. Banks starring Emma Thompson as Pamela Travers, the creator of Mary Poppins and Tom Hanks as Walt Disney, who is determined to bring her beloved character to the screen. Mary Poppins is perhaps the best film Disney ever made, cemented Julie Andrews' movie stardom with an Oscar, and has charmed three generations of children. I was up for the title role at one point but had grave difficulty pronouncing that silly word Supercalcifragilisticosteoporosis, which I believe is some sort of bone disease.
Saving Mr. Banks takes place in the early 1960s. Pamela Travers who wrote her beloved Poppins books some years before, and now lives alone in middle aged grumpiness, is close to running out of money as the royalties have been drying up. Disney has been trying to get the rights for the character from her for decades and she has always steadfastly refused. On the advice of her accountant, she reluctantly agrees to at least meet with Disney to discuss his plans for a musical movie based on her work and off she goes to Hollywood. Once there, she disapproves of essentially everything she meets including the Sherman Brothers (Jason Schwartzman and B.J. Novak) musical numbers, the casting of Dick Van Dyke, and even the names they have assigned to characters. The film then shifts to her childhood in rural Australia at the turn of the century where her beloved father (Colin Farrell) battles his demons and serious illness while doting on his daughter and her mother (Ruth Wilson) has a near suicidal depression. Her family is rescued by the arrival of her Aunt Ellie (Rachel Griffiths) who immediately takes charge of the collapsing household and becomes the genesis of Mary Poppins in her young imagination. Meanwhile, back in Hollywood, the older Travers is slowly seduced by Disney's persistence and enthusiasm, the talents of the young creative team behind the project and a good natured limo driver (Paul Giamatti).
We obviously know going into Saving Mr. Banks that the movie Mary Poppins got made so the suspense of will she or won't she grant the rights is somewhat false in nature. The joys of the film come instead with the exploration of Pamela Travers' prickly nature and our learning about the early experiences that made her that way and that destined her to become the creator of the beloved character. Emma Thompson does not hesitate to show us her unpleasant side and she is an infuriating antihero through much of the first half of the movie. This gives her few moments when she drops the reserve and the standoffishness a raw emotional power. I defy anyone not to be moved when she joyously joins the composers in the chorus of Let's Go Fly A Kite, a simple music hall waltz that has been transporting movie goers for half a century. Tom Hanks makes a good foil and does his best to give us Walt Disney's mannerisms and language but he doesn't really have the look that we all remember from the Sunday nights of our childhood.
The other major triumph of Saving Mr. Banks is the loving recreation of the Disney studio as it was in its early sixties heyday, just before Walt's untimely death. The production design by Michael Corenblith, art direction by Lauren Polizzi, set decoration by Susan Benjamin and costume design by Daniel Orlandi conjure up the Southern California of yesteryear when everything seemed possible and the future, like the sunshine, was bright and clear. We get glimpses of the original Disneyland, studio offices and rehearsal rooms, and LAX before its phenomenal growth. This alternates with the sun-bleached dusty small Edwardian towns of the Australian outback.
I enjoyed the movie a great deal. It has a compelling and true story to tell. It's a great character study. It provides a new perspective on a movie classic by showing how close it came to being yet another aborted Hollywood project. It also explores the meaning of the Poppins stories in a way that the original movie cannot, as evidenced by the title Saving Mr. Banks; while on a superficial level the magical nanny is there for the children, it's rather the parents that require true assistance, just as Pamela's parents did all those years ago. If the film has faults, it's a bit inconsistent in tone and the flashbacks don't always integrate well into the story leading to some clunky transitions. However, these are minor quibbles and Saving Mr. Banks is certainly worth a look, especially by fans of Disney and Mary Poppins.
Oversized carry on. Pear aversion. Multiple carousels. Gratuitous Mickey Mouse. Autographed books. Ant house. Animation arguments. Cinema crying.
To learn more about Mrs. Norman Maine, see our Movie Rewind introduction, visit her entire back catalog and follow her on Twitter at https://twitter.com/missvickilester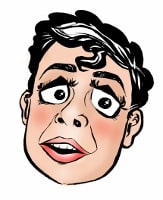 Originally from Seattle Washington, land of mist, coffee and flying salmon, Mrs. Norman Maine sprang to life, full grown like Athena, from Andy's head during a difficult period of life shortly after his relocation to Alabama.