VILLAGE PEOPLE
Main Cast: Adam Pascal, Anthony Rapp
Director: Christopher Columbus
Sometimes the heavens open, the stars align and major problems just melt away. Such happened today. I was in absolute despair at being able to find a brilliant young bari-ten with superior tap skills to play Amon Goeth, one of the villains of my brilliant new Spielbergian musical mash-up. We looked at Channing Tatum (too basso-profundo), Seth Rogen (too heavy on his feet) and James Franco (too too…) and no one seemed to be in the least bit suitable. Feeling disappointed, I decided to go for a walk down Santa Monica Boulevard hoping that fresh air would help me find the solution to my problem. As I passed the LDS Temple, I noted a handsome young chap tapping his little heart out for the loose change of passersby and when he broke into my signature cramp roll/triple time step/Maxie Ford combination, I knew my prayers had been answered. It turns out young Cody Cobbler was once a member of Mrs. Tuttle's Tapping Tots and had worked with me on my famous 'Sink For Your Supper' tour some years ago which is how he knew my famous moves.
Apparently young Mr. Cody is trying to raise money for some sort of African safari and I was quick to point out that appearing in my stunning new film project was likely to raise the funds far faster and with fewer unwanted propositions than hanging out on Santa Monica Boulevard so he was more than eager to accept the role and so I bundled him into a passing taxi, sending him off to Chateau Maine to talk to Joseph, my manager, about contract terms. I headed off to the Ivy for a business lunch with Steven himself to discuss progress on the film. He still thinks that Harrison Ford should reprise his role as Indiana Jones opposite my fabulous new creation, Flo Idaho and he invited him to join us. Unfortunately, Harrison made a wrong turn in his private plane and, instead of landing on Beverly Boulevard, he landed on some golf course.
Harrison's absence caused our meeting to end early. I spent a few minutes window shopping at the Beverly Center, picking up some lovely aubergine organdy with a chartreuse sequin paisley pattern that I'm going to have Mary Gee turn into a lovely little cocktail frock. I then headed back to Chateau Maine, checked on the production team, made sure that my two operatic Coreys were on schedule to return from their successful shark tour, and settled down with a white wine spritzer in the home theater to relax for a few hours before Normy and I are due to head off to our box at the opera.
Operatic plots being somewhat on my mind, I settled upon the film version of Rent from 2005. For those who were living under a rock or not yet born in the 1990s, Rent was the Broadway show of the decade; bringing new and relevant drama to the stage even though it was based on a century old Italian opera which was in turn based on a French novel of the 1850s. Based loosely on Puccini's opera, La Boheme (as opposed to Leoncavallo's similar opera of the same title), it follows the lives of various young people living in the East Village of Manhattan during the late 1980s as they battle poverty, the HIV epidemic, and the eternal struggle of making good art. Jonathan Larson, the author and composer, worked on various workshop versions in New York fringe theater in the early 1990s, ultimately culminating in a major off-Broadway production by the New York Theater production. Then, in a publicity feat topped only by Gower Champion, Mr. Larson died tragically young the night before the first preview. The off-Broadway production became a smash success and was moved to Broadway where it swept the Tonys, the Drama Desks, and won a Pulitzer, running for twelve years.
When it came time to make a film of this hip, contemporary urban drama, Hollywood turned to director Christopher Columbus, best known for overblown children's entertainments. Perhaps the worst matching of director and material since John Huston and Annie or Sir Richard Attenborough and A Chorus Line. Fortunately, someone had the presence of mind to hire the majority of the original Broadway cast to reprise their roles. The film was made nearly ten years after their debut and they were getting a little old for the parts but it's always nice to see glimpses of what made the original production so special. Six of the eight original stars appear in the film. Adam Pascal, Anthony Rapp, Idina Menzel, Taye Diggs, Jesse L. Martin, and Wilson Jermaine Heredia. Daphne Rubin-Vega was pregnant at the time of the film's production and was replaced as Mimi by Rosario Dawson. Fredi Walker, the original Joanne was told she was too old for the part and replaced by Tracie Thoms who played the role on Broadway late in the run.
The film begins with friends Roger (Pascal) and Mark (Rapp) in their East Village garret worrying about how they're going to pay their rent. They are joined by their friend Tom Collins (Martin) who has a new friend, Angel (Heredia), a drag queen in a Santa suit borrowed from a wayward Rockette. Roger meets exotic dancer Mimi and begins a new relationship but has to cope with his HIV positive status from his past drug use. Mark has a complicated relationship with his ex, Maureen (Menzel), a performance artist who has moved on to a lesbian relationship with lawyer Joanne. Meanwhile Benny, an ex-roommate who has gone uptown, tries to tear their building down for other uses. Their relationships tangle and untangle over a year and many songs. HIV takes its toll and there are multiple choruses of Seasons of Love, the best known song from the score.
It's not a bad musical, despite Seasons of Love having been sung too many times at too many benefits over the years and the talented cast, obviously familiar with their characters, gives it their all. The film itself, however, ultimately fails. The opening out of this highly theatrical piece onto the very real streets of New York, makes it lose something in translation and director Columbus never succeeds in finding a visual language that can bridge the gap between the theatricality of the songs and the reality of the settings. He tries to do it somewhat by allowing us to see what Mark, a budding filmmaker is actually shooting with his camera, but these sequences are so awkward that the audience is left thinking that Mark simply doesn't have any talent.
The most successful performances come from Martin and Heredia who manage to modulate their performances for screen. Ms. Menzel seems incapable of this and throws all of the scenes she appears in off with her inability to pull back. Messrs. Pascal and Rapp seem to be somewhere in the middle. They have good moments where they get that they are appearing in a film and not on the stage of the Nederlander Theater and moments where they seem to be trying to screech at the back of the balcony. The moments that stay with me, however, are small ones that don't necessarily involve the principals. The production number La Vie Boheme (Larson's answer to Café Momus) barely registers while the bit players playing patients at an HIV support group are incredibly affecting and stay with you long after.
Larson's score is tuneful, if not overly memorable. It includes a few nods to Puccini, but mainly has an indie-rock sound. His goal was to create a rock musical opera for the MTV generation and he did succeed at that. Would it have become as famous were it not for his well-timed untimely death? Hard to say. We will never know if he was a genius or a one hit wonder.
In general, rather than watching Rent the movie, I would recommend searching out the commercial recording of the stage show. The last Broadway performance was taped with the closing cast and this is a much more authentic rendition of what Larson was trying to create. Mr. Columbus' embellishments simply don't help the piece and a Hollywood film version was unnecessary. The film going public thought so too as the film was not a box office success. Like many not so good film versions of musicals, it's worth watching mainly to see a version of a famous original performance by an actor who created the character.
Burning papers. Shooting up. Candle lighting. Gratuitous strip club. Dog abuse. Support group helplessness. Mass tango. Motorcycle riding. Table dancing. Gratuitous corporate types. Guitar playing. Tragic death.
To learn more about Mrs. Norman Maine, see our Movie Rewind introduction, visit her entire back catalog and follow her on Twitter at https://twitter.com/missvickilester
photo by Leo Fung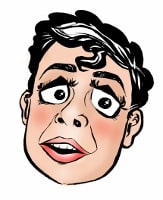 Originally from Seattle Washington, land of mist, coffee and flying salmon, Mrs. Norman Maine sprang to life, full grown like Athena, from Andy's head during a difficult period of life shortly after his relocation to Alabama.