BEAR NECESSITIES
Main Cast: Ben Whishaw (voice), Hugh Bonneville
Director: Paul King
I spent the weekend in Palm Springs where my new version of The Desert Song continues to film. Yesterday, we were scheduled to lens The Riff Song and fortunately I was able to complete the contract with our leading man, the absolutely amazing Tommy Tune. He's bound to bring a certain je ne c'ais quoi to the role of the Red Shadow. Tommy arrived just in time to leap on the large papier mache rock we had borrowed from the Palm Spring Follies and strategically placed on the edge of the abandoned K-Mart parking lot where we're filming many of our exteriors. Carr casting had sent over a whole lot of rather buff young men to play the Riffs but there was a delay in the arrival of the costumes as the wardrobe van was involved in a little fender bender on Canyon Drive. As we were on a tight timeline, we decided to just let them do the number shirtless while Tommy wore this rather divine fur that he had in the back seat of his limousine. Things went swimmingly until the visit from the police who wanted to know what was going on; apparently our filming paperwork had been misplaced down at City Hall. I didn't catch it all as I was very busy on set and had to let Normy handle the nice officers but I did catch something about holding a gay pride parade without a permit.
After wrapping up the exterior shooting for the day, we repaired to the Hampton Inn where we have a production office set up in the Yosemite Room and planned out the interiors we need to shoot tomorrow over at Bob Hope's place. My screenwriter Abrams, with his long experience of the Middle East, has quickly rewritten all of Oscar Hammerstein's creaky dialogue into sparkling repartee which references ISIS, global terrorism, the Bilderberg group, the Illuminati, and the fall of Trebizond in the first five pages alone. He has a quick rewrite solution for any problem and will undoubtedly be remembered at Oscar time for the intimate little scene he wrote for me and Tommy when the Red Shadow hoists me up on to his camel and heads out into the desert sands. We've had trouble locating a live camel but we have found a rather large camel colored Bullmastiff which we can use and we'll fix the features with CGI in post-production.
Having had a very long discussion of CGI animals with the staff, Normy and I trooped off to our room for a nightcap and a film and decided to do some research by watching last year's CGI animal starrer, Paddington, a film version of Michael Bond's popular British children's novels. The title character is a marmalade loving bear from darkest Peru who is taken in by a somewhat eccentric British family, leading them to have all sorts of adventures. For those who do not know London, Paddington is the name of one of the train depots in the city, where our young bear fetches up and he takes his name from the place where he has been found. Bond's first Paddington book appeared in 1958 and new ones have been appearing regularly ever since. They are the sort of dry British fantasy that descends from the work of E. Nesbit and P. L. Travers, a sort of juvenile magic realism in which extraordinary things are always happening as a matter of course. I read some of the Paddington books many long years ago and remember enjoying them immensely and at one point was attached to a Broadway bound musical of the material. I left the show in New Haven as I felt that my role as a dancing marmalade pot simply did not have the depth my fans expect from my work.
This film version of Paddington was created by Chris Columbus, the American film maker whose name is synonymous with overproduced fantasies for children. (The best thing that ever happened to the Harry Potter films was Mr. Columbus giving up the director's chair to much better film makers like Mike Newell). This is a strike against it and I went into the film with some trepidation, but fortunately, I ended up being charmed by the unflappable and unfailingly polite bear (voiced with great aplomb by Ben Whishaw). The film starts with a prologue in the style of an old time documentary in which an explorer from the Explorer's Guild, Montgomery Clyde (Tim Downie) arrives in darkest Peru and meets a pair of beguiling bears whom he introduces to the joys of marmalade and the English language. Fast forward several decades and the original bears Lucy (voice of Imelda Staunton) and Pastuzo (voice of Michael Gambon) are busy making their own marmalade with a fantastic Rube Goldberg contraption and raising their nephew. When a natural disaster destroys their home, the young bear decides to go in search of Montgomery Clyde and stows away on a boat to London. He eventually winds up at Paddington station where he meets the Brown family including Mr. Brown (Hugh Bonneville), something of a martinet who believes in order and the avoidance of the messiness and risks of life. Mr. Brown is very against the picking up of strange bears in railway stations but Mrs. Brown (Sally Hawkins) has other ideas and soon Paddington is ensconced in a lovely London town home with the Browns, their adolescent daughter (Madeleine Harris) who worries about what others might think of a strange bear in the house and their young son (Samuel Joslin) who is mechanically minded and finds Paddington's adjustment to modern living highly amusing. The family is rounded out by Mrs. Bird, the cook/nanny/maid/housekeeper who keeps them all functional (a nearly unrecognizable Julie Walters).
The film focuses on Paddington's search for the elusive Mr. Clyde, a quest that eventually catches up all of the Brown family leading to any number of odd situations such as Paddington becoming a sort of bear kite, a trip to Portobello Road where he meets a decidedly odd antiques dealer (Jim Broadbent), various members of the family in sewers and climbing through deserted museums and run ins with the villainess of the piece, Nicole Kidman who does her patented evil ice queen, copied from mid-career Jessica Lange and Glenn Close. The plot, such as it is, serves mainly as a way to come up with screwball comedy moments where Paddington, through no fault of his own, becomes befuzzled by modern life but is always upbeat and ebullient about the challenges.
The film is saved by a top notch cast, many of them Harry Potter veterans, who attack their roles with gusto and seem to find the right balance between the grounded and the fantastical. Mr. Bonneville in particular turns in a very good performance, different from his famous Earl of Grantham, but like that, role, finding dignity, even when dressed as an elderly charwoman (don't ask). I especially liked young Mr. Joslin who was very natural and is likely to move on to a very good career. If there is a weak link, it is Nicole Kidman who doesn't seem to find much beyond the clichés.
If the movie has a fault, it's Mr. Columbus's tendency to blow scenes up bigger than they need to be. Paddington's first experience with a bathroom, for instance, becomes a slapstick farce that ends with him sailing down several floors in an escaped bath tub. It would have been a good deal funnier if it had been kept a little more within the confines of the laws of physics and a little less in the realm of cartoon. Ultimately, however, you don't mind as Paddington is adorable down to the tips of his CGI fur and the humans keep things rollicking along with decent performances.
Orange conveyor belts. Lost hat. Excessive pneumatic tubes. Gratuitous ear wax. British school girls. Home commando raid. Bear language lessons. Vacuum cupboard. Multiple M. Clydes. Useful pigeons.
To learn more about Mrs. Norman Maine, see our Movie Rewind introduction, visit her entire back catalog and follow her on Twitter at https://twitter.com/missvickilester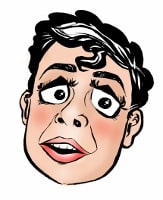 Originally from Seattle Washington, land of mist, coffee and flying salmon, Mrs. Norman Maine sprang to life, full grown like Athena, from Andy's head during a difficult period of life shortly after his relocation to Alabama.