DEAD END KIDS
Main Cast: Dylan O'Brien, Aml Ameen
Director: Wes Ball
Normy and I have arrived in Manhattan for a brief time to discuss certain improvements that Star is Born pictures can offer to the somewhat moribund cultural institutions at Lincoln Center. Our first stop was the Metropolitan Opera where we had a lovely sit down four martini lunch with Peter Gelb at Café Fiorello. Normy has been hard at work on a new opera of simply monumental proportions, a biography of Mad King Ludwig of Bavaria which we are tentatively titling Wiggy.
Normy has completed six hours of music so far and still has to finish the third act. As his orchestration calls for thirty two violins, tubular bells, boom whackers and a foghorn, we feel that the Met is the only American opera company that can do it justice. Browsing through the Met gift shop, I ran across a new CD of French arias by young tenor Bryan Hymel and after a quick listen I knew that he would be the perfect person for the demanding lead role of Ludwig as he should be able to toss off the forty six high Cs in the second act aria (Ich bin ein verruckte Konig) with minimal difficulty. Peter said he'd think about it. I told him that if he passes and we will have to take it to Houston Grand, but we could offer him Normy's comic sequel to Bellini's masterpiece – Norma, Is That You?
From there we crossed the square to the Beaumont where Kelli O'Hara is about to open a revival of The King and I under the direction of Bartlett Sher. This is a show I know a little something about having played Mrs. Anna in the third national tour opposite the divine Tab Hunter as the king. We sat through a run and while it was charming, it really needs some more pizzazz if it wants to bring in the tourist trade. Fortunately, I brought a large quantity of Day-Glo silks with me and instructed the wardrobe department to run up some new outfits for the King's wives and children and to spare no expense on the ostrich plume trim. The second act ballet also needs help and I strongly suggested to Mr. Sher that it be replaced with The Small House of Mrs. Norman, a twenty minute tap spectacular around Asian themes that I worked up for the D.C. Cherry Blossom festival back in the 80s. The tap combinations are relatively easy and they could get it rehearsed and in the show in about three days, plenty of time before the critics arrive. He said he would take it under advisement. If he doesn't do it, he can say goodbye to that best revival Tony.
After that, it was drinks at Sardi's with my tap therapist, Lulu Pigg who is in town playing the title role in The Curious Incident of the Dog in the Nighttime while the usual performer is in rehab. Then a cocktail or two with Madame Mimi, my vocal therapist while we discussed how out of practice I have become while I have been so busy with movie production. She has prescribed a concentrated regimen of Sigmund Romberg to let my inner Jeanette McDonald run free. With all of those insignificant little Long Island Ice Teas and Manhattans in my system, I was a bit tiddly so I toddled off to the hotel and flicked through the random DVDs I had picked up recently at the Pic and Save in order to find a mindless film to accompany a relaxing evening.
My choice was The Maze Runner, yet another in the seemingly endless young adult multipart dystopian sagas that have become so popular in recent years (I'm looking at you Divergent and The Hunger Games). Like these predecessors, it is based on a popular series of novels, these penned by James Dashner. I think this genre of literature is supposed to prepare the millennials for a world completely screwed up by earlier generations so they will be content having a life less than their parents; personally, I'd rather give them a literature that might incite them to improve and change things for the better within the system which is how the world actually works. However, all of these titles have similar stories of a small group of young adolescent outsiders overcoming a corrupt society and fighting their way to freedom, a process that usually requires three novels and four films.
Our story begins with our hero, Thomas (a sturdy and rather impossibly good looking Dylan O'Brien, best known from the latest version of the subgenre of adolescent werewolves, the TV series Teen Wolf) arriving by clanking industrial elevator into a serene meadow populated by other adolescent boys, all of whom arrived in a similar fashion at monthly intervals. They have no memory of their lives before their arrival and no knowledge as to why they have been sent there. Chief among them is Alby (Aml Ameen), the first to arrive and their leader by seniority who has helped them fashion a Lord of the Flies meets medieval agrarian society. There is of course a foil for Alby, Gally (Will Poulter), the reactionary who wants nothing to change and a United Nations of supporting types including Newt (Thomas Brodie-Sangster), Minho (Ki Hong Lee) and Chuck (Blake Cooper) who seems to have been cut from one of the Alvin and the Chipmunks films. Their serene glade is surrounded by the high metallic walls of a constantly changing labyrinth. What its purpose is, other than to keep them trapped in their glade, is unknown but some of the plucky youths run the maze trying to find a way out. This is fraught with danger as the moving maze walls may crush them and the maze is inhabited by giant biomechanical spider/scorpion thingies that they call Grievers which carry a deadly sting and which can tear them apart.
Thomas begins to question the status quo as soon as he arrives and starts to violate the rules of the little society by doing things such as entering the forbidden maze when he is not a dedicated runner. He soon becomes trapped in the maze overnight and survives his encounters with the Grievers, something that no one else has done. Soon the Grievers are attacking the glade and, to complicate things, the elevator brings up a new resident off schedule and this one is a girl (Kaya Scodelario). Under these strains, their social order starts to collapse. Will Thomas save the day and help them escape from the maze before the end of the film? Will where they came from and why they have been placed in the maze be explained (albeit in a somewhat confusing and unsatisfactory way)? If you cannot answer these questions, you don't know how Hollywood makes movies.
The film is competently made by director Wes Ball. He stages the sequences in the maze quite effectively and the inexorable mechanical movements of walls and traps keep us on the edge of our seats. He is less successful in his scenes within the glade itself and the attack of the Grievers on the glade in the dark is so muddy and befuddled that it's very hard to tell what's going on. I was not enamored of the script (credited to four writers but probably bearing the fingerprints of many more). I have not read the original novel so I cannot say how well it adheres to the original author's intentions but the rather broad brushstrokes and somewhat lame dialog cheapens the characters and keeps us from really caring too much about their origin or their ultimate fates. There is so much that could be explored in character interaction: where do their societal rules really come from? How do they really maintain order and hierarchy? The film completely sidesteps the psychosexual dynamics of a single female introduced into an all-male society, especially when those men have not been properly socialized to deal with their feelings.
The film was a huge hit both domestically and worldwide which ensures that sequels will be made (there are more books and the ending leaves the sequel possibilities wide open). The film is not appropriate for young children as the fighting and maze effects will be too intense but will be of interest to older children, adolescents and young adults. Mature adults might like it as a mindless piece of entertainment, but if they wish to truly explore these themes, they would be better off with Peter Brooks' film version of William Golding's The Lord of the Flies.
Clanky elevator. Vegetable stew. Watchtower rock throwing. Rotating metal blades. Fake suicide. Crushed Griever. Primitive jail. Gratuitous human sacrifice attempt. Devastation news footage.
– Mrs. Norman Maine
To learn more about Mrs. Norman Maine, see our Movie Rewind introduction, visit her entire back catalog and follow her on Twitter at https://twitter.com/missvickilester
photo by Zeppelubil / Th. Haft / Torgau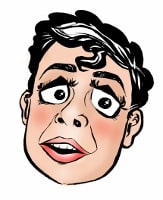 Originally from Seattle Washington, land of mist, coffee and flying salmon, Mrs. Norman Maine sprang to life, full grown like Athena, from Andy's head during a difficult period of life shortly after his relocation to Alabama.