DANCE 10, LOOKS 3
Main Cast: Tom Malloy, Amy Smart
Director: Robert Iscove
I am so sorry all my fans. I've left you sitting out in the dark without my wisdom and guidance to the world of cinema for several weeks now but things have been absolutely tumultuous here at Chateau Maine what with Star is Born pictures working diligently on my marvelous musical mash up of Steven Spielberg films. I regret to say that production has been postponed for a while. Something to do with financing and issues of cash flow. Steven was most apologetic and said he would be turning his attention back to our little project as soon as it was all cleared up and that the Paramount finance department would be in touch soon. Perhaps it's just as well. Chateau Maine was disappearing under an avalanche of wardrobe tests and set models and this will at least give me a chance to clean house slightly. The dining room table disappeared under the wig department months ago and I'm looking forward to a meal without a garnish of artificial hair.
A small hiatus will also allow Normy and I to take a short jaunt to the Big Apple to explore some theatrical projects that have been pitched our direction. The Met is very interested in one of Normy's new operatic pieces, Wiggy, a biography of Ludwig II of Bavaria. It's very Wagnerian in style and Act II calls for the construction of a scale replica of Neuschawnstein on stage using only the corps de ballet and found objects. It's going to be very exciting when fully realized. I have also been asked to help out at Lincoln Center. Apparently their current revival of The King and I is in need of some Hollywood style glamor and I've been asked to give Bartlett Sher and Kelli O'Hara a few pointers. I'm bringing a few trunks of beaded fabrics in Day-Glo colors so there will be something appropriate in which to dress the Siamese children.
Singing, dancing and musical film financing put me in mind of a film I caught recently on some minor cable channel entitled Love N Dancing, a rather obscure 2009 release starring Amy Smart and Tom Malloy. Malloy plays Jake Mitchell, a champion dancer in a dance form known as West Coast Swing which is more or less the Jitterbug on steroids. He and his partner (Nicola Royston) are at the top of their game and, as the film opens, win the championship. But Jake is uncertain that they deserved to. Here's the catch, Jake is deaf and is worried that the win was based on political correctness rather than talent. Fast forward some years. Jake is no longer dancing competitively but is now a motivational speaker for bored students. He meets Jessica (Amy Smart) a young teacher interested in learning to dance for her upcoming wedding to a wealthy drip named Kent (Billy Zane). Jake starts to give Jessica dance lessons and you can guess where this is going before the first commercial break.
The film is innocuous enough. Inexpensively but competently filmed by director Robert Iscove from a screenplay by star Tom Malloy (who also produced). I was unfamiliar with him or his work but the man can dance and is apparently a champion West Coast Swing dancer in his personal life. It's always nice to see a contemporary dance film in which the lead is actually a competent dancer and the routines are not created by flashy MTV editing and a catchy soundtrack of ersatz pop hits. He has charisma, a nice easy going screen presence, is relatively easy on the eyes so why had I never heard of him before? I have seen Ms. Smart in other projects, remembering her most from Rat Race in which she dive bombs her boyfriend in a helicopter while in a fit of rage. We are all familiar with Mr. Zane and his evil eyeliner chasing Jack and Rose across a sinking Titanic.
In looking up Mr. Malloy and his antecedents, I found that he has spent the last few years perfecting a form of filmmaking pioneered by Roger Corman and other independent producers. By making inexpensive films and offering them with minimal publicity costs to secondary markets hungry for content, Mr. Malloy has self-created a number of features tailored specifically to his talents. He writes and produces for himself, raises the money in non-traditional ways before the cameras role and then, wraps with the film already in profit and moves on to the next project. It's not a bad model and one that Normy and I may need to apply to Star is Born pictures.
While the film is slight, it is entertaining and does make me want to search out more of Mr. Malloy's oeuvre to see what else he has come up with. The trouble is that his releasing mechanisms make it rather difficult to find his product without trolling the lesser watched cable channels or cut rate DVD bins at the Pic and Save. Mr. Malloy and his dance moves are the reason to watch, reminding me a bit of the young Patrick Swayze in Dirty Dancing. Ms. Smart is attractive but nowhere near as strong. As for Mr. Zane, his career and performances have been in a downward spiral since Dead Calm. There's also an amusing cameo from the one and only Betty White doing her patented shtick. Tune in if you're ever channel surfing and happen to run across it.
Music vibrations. Drooling teenager. Excess Blackberry use. Multiple lifts. Food arguments. Gratuitous lesbian girlfriend ex-girlfriend. Judge with ulterior motives.
– Mrs. Norman Maine
To learn more about Mrs. Norman Maine, see our Movie Rewind introduction, visit her entire back catalog and follow her on Twitter at https://twitter.com/missvickilester
photo by Greg O'Beirne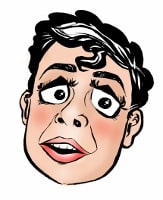 Originally from Seattle Washington, land of mist, coffee and flying salmon, Mrs. Norman Maine sprang to life, full grown like Athena, from Andy's head during a difficult period of life shortly after his relocation to Alabama.