CURTAIN CALL
Main Cast: Glen Campbell
Director: James Keach
I had a lovely breakfast meeting this morning with Vera Charles at the West Hollywood IHOP. My new film version of The Desert Song (now tentatively entitled Desert Topping) and her new film, an operetta version of Michael Weller's Moonchildren, are being touted as the perfect double bill for major international film festivals over the coming months and I figured that this would be a perfect time for us to work out the details of our joint personal appearances and press gigs. There's so much to think of. Kim Dee and Mary Gee, my seamstresses, will have to run up matching outfits; we'll have to work out some sparkling repartee (I wonder if Bruce Vilanch is available for this?); and we'll have to have at least one show stopping musical number available that will fit within the confines of a press room. Now dear Vera is not as young as she was so I'll have to have Mr. Carl, my choreographer, come up with something where she waves her arms a bit while I tap circles around her and then she can take a graceful bow with me.
Garrett and Garrett, my press agents, did a lovely job alerting the media about our intime little tete a tete and there was a reporter from the National Intruder and several paparazzi photographers at the next table while we had our pancakes and sausage. At the end of the meal, to the cheers of the entire restaurant, I deigned to perform a small tap solo on the table top while Vera accompanied on the kazoo and finger cymbals. Everyone was stunned as I leapt from table to table, narrowly missing the other diners' breakfasts. I will admit that my big finish was somewhat marred when my left tap shoe became stuck in some spilled blueberry syrup forcing me to finish my triple time step combination with one foot glued firmly in place. But Vera, always a quick thinker shifted from The Wrong Note Rag to Stuck in the Middle with You without missing a beat so everyone thought it was part of the act.
After the meal, I called Uber for a ride back to Chateau Maine (parking is so difficult on Santa Monica Boulevard these days) and checked on Normy. He remains incredibly busy with his new opera Wiggy, the life of Mad King Ludwig of Bavaria and he is on deadline if it's going to be ready for the Met this next season, so I left him to his compositions and retired to the home theater. I was in the mood for something different than my usual fare so I decided to find a documentary film for a change. Perusing my choices, I settled upon the film Glen Campbell: I'll Be Me, an exploration of his battle with Alzheimer's disease and his farewell tour which occurred in 2011 and 2012. Mr. Campbell and his family decided to go public with his disease prior to the tour and allowed actor/director James Keach access to their life on the road and at home showing the effects of the disease and the singer's resilience to it when in his familiar world of music.
Alzheimer's disease is one of the great taboos in American culture. It leaves no visible physical changes on sufferers until very late in its course, instead, it robs sufferers of their memories, personality and abilities with an inexorable finality. As there is no more fundamental concept in Western culture than the idea of self, we have extreme difficulty coping with the disease that destroys the self and do not wish to look into that mirror of what we may someday become. Therefore, the vast majority of victims are made to disappear behind the closed doors of family homes or into institutions. The decision of Mr. Campbell and his family to embark on a major tour with over a hundred stops after this diagnosis was one fraught with dangers. We see him at home, serenely confused about such basic knowledge as the date, or even where the bathroom in him home might be. His loving wife and three grown children (who are the core of his backup band) support him as they can along with longtime friends and employees despite his confusion, occasional anger and behavioral issues.
When Mr. Campbell takes to the stage with his familiar songs such as Gentle on My Mind, Wichita Lineman and Rhinestone Cowboy, however, he is transformed. He commands his material and his audience, reverting to the consummate showman he has been for decades. He is in his element and we applaud him not only for his talent, but also for finding an activity in which all his residual skills are brought into play and allow him to be the person he has always been. Ultimately, however, the disease continues its relentless course and even these automatic tasks become too difficult for him to continue and he must retire from public life.
The documentary takes a relatively evenhanded approach to its subject; not shying away from the bizarre offstage behavior caused by the disease or the toll that this takes on his wife and children. It's a celebration and a peek behind the curtain at the issues that caregivers and loved ones must face when confronted with the disease. There is little in the film about the exact nature of the disease or why his musical and performance abilities are so well preserved when so much else of him is not. Perhaps the best way to explain it is that the brain tends to work in a series of patterns. The patterns of his songs, having been part of his life for forty years and more, are so ingrained that they are on autopilot while anything new is nearly impossible for him to cope with. When onstage for the Grammys in 2012 where he was honored with a lifetime achievement award, he has no trouble delivering a bang up rendition of Rhinestone Cowboy. The next day, he has no recollection of the event or why he was honored.
The film shows an important slice of life, one that is going to become an ugly reality to more and more American families as the boom continues to age. It only hints, however, at some of the moral dilemmas that the disease creates. Is the Campbell family correct in allowing Glen to perform in this way as it gives him dignity and purpose or is he being exploited for financial purposes? I would love to have heard the perspectives of his older children from previous marriages but for the most part, they are conveniently absent from the film and are never confronted with these hard questions.
The film is worth viewing. For those coping with Alzheimer's disease in their own lives, it's inspirational. For those with little knowledge as to the disease process, it's eye opening. By all means seek it out and make your own judgments.
Luxurious tour bus. Sound checks. Banjo playing. 70s variety show footage. Multiple doorbell ringing. Family sing alongs. Family dinners. Family reunions. Golf club threatening.
To learn more about Mrs. Norman Maine, see our Movie Rewind introduction, visit her entire back catalog and follow her on Twitter at https://twitter.com/missvickilester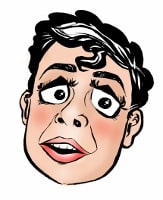 Originally from Seattle Washington, land of mist, coffee and flying salmon, Mrs. Norman Maine sprang to life, full grown like Athena, from Andy's head during a difficult period of life shortly after his relocation to Alabama.