GREEN DAY
Main Cast: Alex Etel, Maggie Smith
Director: Julian Fellowes
I haven't felt this invigorated in years. Chateau Maine is simply alive with energy as everyone involved with Star is Born pictures continue to prepare for our wonderful new musical mash-up of Spielberg movies. Steven himself is most impressed with our progress. I had him over for lunch the other day and had the Lena Lamont singers, under the direction of the brilliant Dr. Paul, sing through a few completed selections of the score. He was most impressed with the passionate duet for my character and Joey, the war horse. Of course Vera Charles, who said she just dropped by to borrow a bottle of Dubonnet (but I am sure is angling for a part in the film and was making an absolute nuisance of herself trying to flirt with Steven Spielberg) had to bring up that scurrilous and patently untrue story about me and Francis the Talking Mule in that dive bar in Tijuana. Fortunately, Steven missed most of her catty remarks as the chorus hit a number of F-minor crescendos right about that time.
After lunch, we went out to the terrace and then down to the swimming pool so that Steven could work on staging some of the all-important opening number. My amazing operatic finds, the two Coreys, tried on their absolutely cunning costumes as created by my contract seamstresses, Mary Gee and Kim Dee, and I put on one of my famous Glamorpuss gowns; and soon Bruce the Shark, E.T. and a legendary Hollywood goddess were cavorting on the diving board and the water slide. Baritone Corey turned out to be quite at home in the water, other than the unfortunate incident with his dorsal spin and the pool filter. Tenor Corey was somewhat difficult to shoehorn into the E.T. suit and we had to have an emergency chiropractic call to get him out of it but during the actual rehearsal, he could waddle with the best of them, all while hitting an effortless string of high B flats. We're still fleshing my character out. We don't even have a name yet. I'm partial to Kate Irving but darling Steven looked somewhat askance at that choice. I can't think why.
I was absolutely exhausted by the end of our little water ballet and simply had to lie down. Normy was busy in his studio working on a polka for the T-rex to do during the Jurassic Park sequence so I retired alone in my Viva Las Vegas snuggy to the home theater and turned on the Netflix. After flipping through dozens of dreary choices, I settled on From Time To Time, a British film from 2009 of which I had never heard despite a top notch cast and Downton Abbey's Julian Fellowes as writer/director. Five minutes into the film, I realized that it was based on one of Lucy M. Boston's Green Knowe books which were popular among older children back in the 60s and 70s and which seem to have disappeared since. The books all centered on the ancient house of Green Knowe, inhabited since Norman times by the Oldknow family. Over six or seven volumes, readers got to know young Tolly Oldknow, his great grandmother who was the mistress of Green Knowe, and members of generations gone by as both Tolly and his great grandmother have the ability to see and communicate with the ghosts of Oldknows of generations past.
The film is based on the second book in the series, The Chimneys of Green Knowe, chimneys figuring heavily in the plot. It is late 1944, World War is winding down at young Tolly (Alex Etel) is sent to the ancient house of Green Knowe by his mother so that she can search for his father who is missing in action in the war. Residing at Green Knowe are his grandmother (I guess a great grandmother would have been too complex for modern movie audiences) played by the great Maggie Smith and her faithful servants Boggis (Timothy Spall) and Mrs. Tweedie (Pauline Collins). As Tolly adjusts to his new environment and his worry about his father and his grandmother adjusts to Tolly and her worry about her son, a thawing and oblique relationship begins to grow between the two. They barely know each other as there was bad blood between the elder Mrs. Oldknow and her daughter-in-law.
Tolly soon begins to see the ghost of young Susan Oldknow (Eliza Hope Bennet), a blind girl who lived at Green Knowe during the Regency. Intrigued, he soon finds out that his grandmother is quite knowledgeable about the family history and begins to tell him the story of blind Susan, her wastrel brother Sefton (Douglas Booth), their social climbing mother Maria (Carice van Houten) and their kindly father, Captain Oldknow (Hugh Bonneville). Tolly and his grandmother begin to explore the secrets of their house, the family history, the fire that destroyed the new wing of the house during Susan's time, and what ever happened to Maria's jewels that were stolen at the time of the fire. It all seems connected with Susan's constant companion Jacob (Kwayedza Kureya), a young escaped African slave brought back to England by Captain Oldknow to be Susan's eyes and protector, much to her mother's consternation, and the family butler, Caxton (Dominic West) who also takes against young Jacob.
Fellowes' screenplay is intelligent and deftly weaves together the two time periods in such a way as to keep them separate, yet always connected. His direction, which relies a little too much on color desaturation to identify present from past, is serviceable, but not necessarily brilliant. It strikes me that in some ways, this film, along with Gosford Park, are a bit of a trial run for Downton Abbey with its emphasis on family, historic home setting, and congenial relations between family and domestics. Fellowes does not shy away from tragedy. No Hollywood film aimed at young people would allow the bittersweet ending he brings to the proceedings. As it's not Disneyfied in the extreme, it could explain why the film has had so little exposure in this country.
The performances by a collection of British film and stage stalwarts are first rate. Maggie Smith gives us another variation on her curmudgeon with a heart of gold underneath all that starchiness and no one does it better. However, it is up to young Alex Etel to carry the film. He captures the gawkiness and unsureness of early adolescence effortlessly, a boy quickly attaining a man's body but still confined to the short pants of boyhood. He is earnest and affecting throughout as he develops relationships with his relatives, both living and long since dead. In the supporting cast, Carice van Houten as the brittle Maria who seems to care more for her position in society than her children comes across the strongest but then she has the meatiest role to play. Veterans Pauline Collins and Timothy Spall are always fun on screen but aren't given enough to do.
Green Knowe itself (actually Athelhampton House in Dorset) gets more screen time than any of the humans and it's fun learning its nooks and crannies along with Tolly. Chimneys and their secret world are a large part of the story bringing to mind all of those stories of Victorian chimney sweeps such as Charles Kingsley's The Water Babies. I highly recommend this one as a family film as it has elements of adventure, history and a strong reminder that life is hard and often unfair.
Train journey. Bricked up doors. Chimney climbing. Carriage riding. Missing spur. Evil press gang. Regency dinner party. Gratuitous tree carving. Burned Vermeer.
To learn more about Mrs. Norman Maine, see our Movie Rewind introduction, visit her entire back catalog and follow her on Twitter at https://twitter.com/missvickilester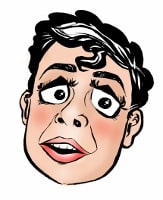 Originally from Seattle Washington, land of mist, coffee and flying salmon, Mrs. Norman Maine sprang to life, full grown like Athena, from Andy's head during a difficult period of life shortly after his relocation to Alabama.