STOLEN WORDS
Main Cast: Sophie Nelisse, Geoffrey Rush
Director: Brian Percival
I was walking the cats down our street, high in the Hollywood hills earlier this week.  They do need their exercise the dears and just aren't the self-starters they used to be so I have had to put them on twice daily walks.  It's good for me as well to keep my shapely calves and thighs well-toned for whatever high profile all singing all dancing project presents itself next.  We were all just passing Leatrice Joy's old place when I noticed a large moving van parked in front.  Always wanting to welcome new folk to the neighborhood, I ventured up the walk and rapped on the door.  Who should answer but Ms. Leah who would often deliver our late night food orders to Chateau Maine.  Apparently she was working her way through school and now has some sort of doctoral type degree and is celebrating her newfound success with an upgrade in her living conditions.  I congratulated her and we began to talk about this and that.  It turns out that she is looking to make a career change to go along with her living change so I was struck with an absolutely brilliant idea.  I need a bright and energetic young person to take over the burgeoning retail empire of iDollaTree, especially those endless phone calls with the Chinese suppliers. She's thrilled with the idea and we're going to go over contracts in the morning.
In the meantime, I am looking for a new project that will use my prodigious talents while my new musical film version of The Desert Song (with a new working title of Margo's Moroccan Madness) undergoes its final edits in preparation for its release on an unsuspecting world.    Film festival dates are being worked out.  I'm hoping for Cannes.  I've always wanted a Palme d'Or to round out the collection of treatments in my curio cabinet.  The only script that has crossed my desk in the last two weeks is for something called La Cage Aux Follies which appears to be the story of a bunch of aging drag queens who gather together at their old gay bar for a last ditch song and dance extravaganza.  I think it's supposed to be a metaphor for the compromises of age but seems instead to be an excuse to string together a bunch of 70s disco hits into a bestselling nostalgia soundtrack.  I'm not sure why they're thinking of me.  While there are those who accuse me of actually being a man, anyone who has seen me in the flesh knows that I am all woman all the time.  Just ask Normy.  I think the producers need to look elsewhere for actresses who can play believable drag queens; I'd start with Cher although she already did that in the movie Burlesque.
By the time I wrangled the cats back into the house, I was ready for a film so I settled myself down in the home theater with a nice bottle of Courvoisier.  After a shot or two, I summoned Normy down from his studio and we flipped through our to view pile until we came across the DVD of the 2013 film, The Book Thief.  I had missed this during its all too brief theatrical run although I have been aware of the story for some time as the 2005 novel on which it is based spent years on the best seller lists and has been a fixture on the good reads table at our local Barnes and Noble.  It's a story of World War II in Germany as experienced by a child and deals with themes of life and death, love, connection, and the power of words.
Young Liesel (Sophie Nelisse) is traveling by train in Germany shortly after the start of World War II when her young brother suddenly dies.  At his hasty funeral and burial, she sees a book, a gravedigger's manual left by the cemetery employees.  She takes it and begins her love affair with the rescue of words and ideas, becoming the titular book thief.  She is soon taken from her mother, an avowed communist, by the Nazi authorities and given to an older childless couple (Geoffrey Rush and Emily Watson).  From her new foster father, she begins to learn kindness and compassion, especially when they take in a young Jewish man (Ben Schnetzer) and hide him in the basement at great risk to themselves.  Liesel continues her larcenous ways, stealing books from a Nazi book burning and elsewhere and making friends with the young boy next door (Nico Liersch) and the mayor's wife (Barbara Auer) who encourage her to be herself and learn, live and grow despite the horrors of the Nazi regime that surround them.  Eventually, her love of books saves her in a very literal way allowing her to create new books and new words for a new world.
The Book Thief the novel was a bit of a sensation for its literary device of having death be the narrator of the story.  This is not as easily done in a film but there is a game try through a voice over narration by Roger Allam.  Film, being a visual medium, doesn't really cotton to the voice over and the filmmakers have come up with no appropriate visual metaphor but I do give them props for trying; at least they didn't try and go all The Seventh Seal.  The screenplay, by Michael Petroni, is literate, takes the major events of the novel, and opens it out enough to keep it visually interesting.  Director Brian Percival also finds poetic beauty in some of the ugliness of World War with balletic shots of falling bombs in a night time air raid and a mix of wonder and dread in the flickering fires of a book burning in the town square.  The town of Gorlitz, Germany, where the film was shot, also comes across as a character of its own with its intact Mittel European architecture that has almost ceased to exist in modern Germany due to the destruction of the war.  The whole thing is aided and abetted by John Williams' lovely score, his first non-Spielberg project in a decade.
The Book Thief rests squarely on the shoulders of young Sophie Nelisse as Liesel is in nearly every scene.  She acquits herself with aplomb with a natural and unmannered performance.  She is matched by Nico Liersch as her young friend Rudy with the lemon colored hair.  You can see in the interplay between them, the story of two young children coming to the realization that the world is falling apart around them.  Old pros Geoffrey Rush and Emily Watson offer vivid characterizations of ordinary people caught in extraordinary times and doing their best with their limited skills.   Ben Schnetzer, as Max, the Jewish young man in hiding, is the weak link, mainly as his character is a bit underdeveloped.  We never really get inside his head in the way we do with the leads.
We both ended up enjoying The Book Thief and it gave us points to ponder and discuss for several days, not something that most movies do these days.  Despite the youth of the cast and the fact that it is a story about children, it's not a film for children and I would keep the young ones away from it until they're at least eleven or twelve and able to understand what was going on in Germany at the time.
Train in the snow.  Concertina playing.  Window climbing.  Gratuitous smoking jacket.  Football field trampling.  Wondering at the stars.  Omnipresent death.  Endangered Jews.  Air raid ruins.
To learn more about Mrs. Norman Maine, see our Movie Rewind introduction, visit her entire back catalog and follow her on Twitter at https://twitter.com/missvickilester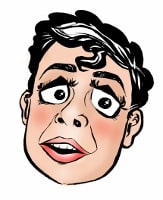 Originally from Seattle Washington, land of mist, coffee and flying salmon, Mrs. Norman Maine sprang to life, full grown like Athena, from Andy's head during a difficult period of life shortly after his relocation to Alabama.