Are We Not Cannibals?
Main stars: Ambyr Childers & Julia Garner
Director: Jim Mickle
Alright, I admit I didn't see that coming. One of the blurbs on the DVD box for Jim Mickle's 2013 movie We Are What We Are claims "The most shocking movie ending you'll see all year." While I don't know if I'd go that far, it did set me up to be on the lookout for a shock ending, and there were a few times I thought surely that's not it, and luckily it wasn't, but when it came, even watching out for it, I didn't see it coming. The most shocking? I hope not; it's still early in the year. But, yeah, it was pretty cool.
We Are What We Are is an American remake of a 2010 Mexican movie of the same name. This version tells the story of the Parkers, a family in rural upstate New York whose matriarch has just died by drowning. Emma Parker (Kassie DePaiva, "One Life to Live") had signs of early Parkinson's Disease and, during a heavy rainstorm, she passed out in a pool of water and drowned.
Back home, Frank Parker (Bill Sage, American Psycho) is also beginning to show signs of something in a tremoring hand. Daughters Iris (Julia Garner, The Last Exorcism II) and Rose (Ambyr Childers, "Ray Donovan") are trying to take care of little brother Rory (Jack Gore, "The Michael J. Fox Show") who just wants something to eat. However, we've come into the Parker home at the onset of a religious holiday for them just as they're beginning a 3 day fast.
Floods in the area have knocked out the power, leaving the Parkers to rely on candlelight and taking away the television, which adds to the atmosphere of the movie and makes the family feel like what they are: outcasts from normal society. If not for the relatively new pick-up they drive, Iris's crush on a boy from school who asks to take her to a movie, and the cell phone the local doctor uses, We Are What We Are would feel like a movie set in the 1800s. And that's by design: the tradition the Parkers follow originated in the late 1700s when their family first arrived in the area.
Storms and famine drove them to survive the only way they knew how at the time, and that custom has survived for over two hundred years. It doesn't take a genius to figure out what's going on, nor does director Mickle try to hide it. The Parkers are cannibals who keep their kidnapped victims locked in a cave under the shed where Frank Parker works as a watch repairman.
The story here isn't discovering what the Parkers are, the story is discovering how Iris and Rose are dealing with this monstrous thing they do in the wake of their mother's death. It was Emma who did the slaughtering and cooking, but now that task falls to Iris, while Rose insists they don't have to be like this, they can stop, they can be like everyone else.
But Frank, a very devout man of his faith, sees no other way. It's the tradition, he insists, that keeps "the poison" from killing them.
Meanwhile, the recent flood has unearthed some bones the local Doc thinks might be human remains.
When I first saw the trailer, We Are What We Are looked like just the kind of moody, slow-burn horror story I was looking for, and it very much was. The first half of the movie does a great job of setting up the dynamics between each of the family members. There's strong-willed Rose who wants to get away from these traditions, but who, at only 14, has to sit tight and bide her time until she can move on and get away from the killing. Iris knows what they're doing is wrong, but it's the way it's always been done. She might not like it, but she does what she does, now, out of obligation, because it's expected. Frank is focused on only one thing: providing for and taking care of his family. He doesn't acknowledge limitations, even when in the grip of whatever has been affecting his nervous system. His faith will see him through, and he knows that what he does is decreed by God as necessary for the well-being of his family.
There are strong performances all around, drawing you in to the point you forget you're watching a movie, which doesn't happen often enough for me. I review so many movies, it's second nature now to try to be aware of everything while I'm watching something, but with this movie, I just became engrossed in the lives of the Parkers and completely forgot I was supposed to be watching with a critical eye.
I can't even single out anyone as the best performance; everyone carried their own weight and did a stellar job.
In a movie about cannibalism, Mickle manages to show just enough without going overboard or getting gratuitous with the gore. Even that "shocking" ending, while powerful, never feels like it was done specifically TO be shocking. If it's shocking at all, it's only because Mickle has drawn you so deeply into the experience and the act is so sudden. The shock here doesn't come from violence or gore, but from the unexpectedness. That and the follow-through result in a truly excellent climax.
I have seen Mickle's previous two movies, Mulberry Street and Stakeland, and this time around it's very clear to see he's a director who just keeps getting better and better. He works with these dreary, unforgiving landscapes and makes them feel like a whole other character. We Are What We Are is a new step in the evolution of this director, and I'm very excited to see what he does next.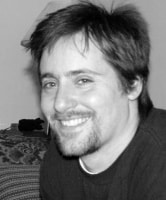 C. Dennis Moore is the author of over 60 published short stories and novellas in the speculative fiction genre. Most recent appearances are in the Dark Highlands 2, What Fears Become, Dead Bait 3 and Dark Highways anthologies. His novels are Revelations, and the Angel Hill stories, The Man in the Window, The Third Floor, and The Flip.