Green Lit
Main Cast: Leonardo Di Caprio, Carey Mulligan
Director: Baz Luhrmann
Normy and I arrived in Pascagoula after a very bumpy charter flight in a little prop plane which smelled like it had not been cleaned for well over a decade to find, not the glittering metropolis that I had been led to believe would be at the end of the journey, but rather a sleepy little beach town somewhere on the Gulf of Mexico. Our artists housing is not even at the beach (which is probably a good thing where Normy is concerned), it is a cinderblock repurposed motel that seems to be full of non-English speaking agricultural workers. We don't even have a car and driver, instead we were given a loaner car, an ancient VW beetle that belches smoke at every opportunity. As Normy and I are used to being chauffeured, we had quite the adventure getting ourselves and my thirty-seven pieces of matching Louis Vuitton luggage out of the terminal and to our temporary quarters.
I spent the evening studying my score for Rigoletto, and while most of the music is divine, it's hopelessly old fashioned. I have decided that we need to interpolate some modern hits into it in order to make it relevant to modern audiences. I can see a number of places where I could sing a stirring rendition of this year's Oscar winning song, Let It Go, without disturbing the flow and mood of the piece. I might even be able to work it into an old fashioned audience sing-a-long where they can follow the bouncing ball on the supra titles. I'll be sure to bring it up tomorrow at our first rehearsal.
Speaking of musical interpolations, I managed to catch up on last year's film version of The Great Gatsby on HBO this week. Baz Luhrmann, the director and writer, as with his previous film Moulin Rouge!, uses modern music in period settings in order to set mood and tone. This device worked relatively well in Moulin Rouge! as it is a complete fantasia with only a few nods to La Boheme, it's source material. The Great Gatsby, however, is based on one of the great American novels of the 20th century which most of us had to read in high school and having Jay-Z all over the soundtrack is disconcerting, especially when there is so much good period music that would bring the Roaring 20s to life. Jay Gatsby (Leonardo DiCaprio) makes his first appearance to the finale of Gershwin's Rhapsody in Blue, which, while a few years later than the events of the film, still makes a better musical moment than any number of gyrating extras to a caterwauling techno beat.
For those of you who skipped high school literature class, The Great Gatsby is the story of Jay Gatsby, a self made millionaire in 1920s New York who appears to be the golden child of his flapper society and who lives in a large Long Island mansion that was apparently designed by the same architects who built Hogwarts. He carries a torch for the ethereal Daisy Buchanan (Carey Mulligan) who lives across the bay surrounded by enough windblown gauzy draperies for six perfume commercials and who is married to the loutish Tom Buchanan (Joel Edgerton), scion to a great fortune. This doomed affair is seen through the eyes of Gatsby's friend, Nick Carraway (Tobey Maguire) who watches, but is powerless to stop the events that lead the love triangle to tragedy.
Baz Luhrmann is one of the more unique visual stylists working in film today. He has an over the top way of staging scenes helped along by the brilliant costuming and art direction of his wife, Catherine Martin. (She won two well deserved Oscars this past year in these categories). Gatsby's Long Island parties are a raucous bacchanalia of flappers, dancers, fez hatted orchestra members, and a few stray members of Cirque de Soleil, all decked out to the nines in a surreal opium dream of high 20's fashion, Even smaller, more intimate scenes have stunning details in clothing and decor. We also catch glorious glimpses of a long vanished Manhattan created through sets, miniatures, CGI and period black and white footage that has been given the Technicolor treatment. Luhrmann creates unique interlocking worlds between city, suburb and the ash heap in between where Wilson's garage and the eyes that watch it form a significant part of the events that lead to Gatsby's downfall.
The large cast is led by Leonardo DiCaprio in the title role. Mr. DiCaprio has matured with the years and is not unbelievable in the role, but lacks the stunning good looks that Robert Redford brought to the part in the 1970s film version of the story. He is also dwarfed by the excesses of the production and I doubt there is an actor alive who would have the star wattage to balance Mr. Luhrmann's conceptions at full force. If only I had been born a man… Carey Mulligan, as the dreamy Daisy, tries hard but fails to make much of an impression. The film therefore belongs to the supporting players, particularly Tobey Maguire whose acerbic observer is in command of every scene he is in. I was also taken with Elizabeth Debicki as Jordan Baker, the other observer of the tragedy (and she looks stunning in 20s couture and make-up) and with Isla Fisher as doomed Myrtle Wilson, whose untimely demise sets off the chain of events that make up the third act of the film.
There is much to like in this film: the opulent visuals, the creation of a crazed society hell bent on enjoyment and dancing towards their doom in the depression, the strong supporting performances. There is also much that is annoying: the out of period sound track, a lead performance that is out of balance with the scale of the film, and some frenetic editing that emulates all the worst of 1980s MTV music videos. My advice is to put it on with the sound on mute and some jazz records on the stereo.
Red airplane. Green light. Yellow flapper twins. Gratuitous martini gulping. Gangster speakeasies. Kimono wearing. Excessive cut flowers. Shirt throwing. Flying pearls. Telephone on marble plinth.
To learn more about Mrs. Norman Maine, see our introduction to her reviews here, and find her entire back catalog here.
photos by Eva Renaldi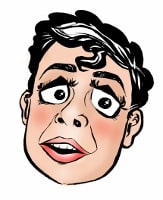 Originally from Seattle Washington, land of mist, coffee and flying salmon, Mrs. Norman Maine sprang to life, full grown like Athena, from Andy's head during a difficult period of life shortly after his relocation to Alabama.