UPS AND DOWNS
Main Cast: Peter O'Toole, Katharine Hepburn
Director: Anthony Harvey
Success darlings! I have managed to land a Hollywood wedding for my new celebrity weddings endeavor that should make the covers of People, USA Today and Readers Digest. Lulu Pigg, my tap therapist, and I were busy doing triple time steps all over my home studio the other morning (one must keep in shape – one never knows when that great new musical project will appear) when the telephone rang. It was that great star of stage and screen, Neely O'Hara. She's apparently getting married again (her fifth husband? sixth?) and she has decided that some old fashioned Hollywood glamour is just what her image needs and could I help her with the fairy tale wedding of her dreams? I immediately said yes and Lulu Pigg and I sped up those taps for all they were worth in celebration until we both collapsed in the giggles, side by side on a rather exquisite little Louis XV fauteuil I keep in the studio for just such moments.
Neely came over the next day to discuss her thoughts on the upcoming nuptials. Apparently her groom to be is a Sultan or some such with a rather incredible amount of money who has told her that she may spend what she likes on the ceremony and reception. Being no fool, I immediately asked for a non-refundable deposit for my services and we got down to business. Now Neely has had her share of troubles over the years with booze and dope but she assures me that she has been clean for some time and is now the national Arbor Day spokesperson, a position she inherited from Helen Lawson some years ago. She very much wants this wedding to cement her squeaky clean image in the eyes of the American public and make sure everyone can share in her live fairytale. We decided that she'll make her entrance via zip line from the upper attic to the back terrace where the ceremony will take place, accompanied by a medieval combo of shawms, sackbuts and tabor playing The Indian Love Call. Having solved our first logistical problem, we broke for lunch at The Ivy.
After lunch Neely had an appointment for a reiki massage so I returned home to do some research on medieval princesses. As I looked through my film collection, I found the DVD of the 1968 film version of James Goldman's The Lion in Winter and decided to re-watch it for research purposes and because I recall it as a ripping good film which won Katharine Hepburn her third Oscar for Eleanor of Aquitaine. (I was up for that part way back when but declined to pursue it further when the producers decided to cut all the musical numbers.) Into the home theater it went and I settled back on a hassock to revel in the glories of twelfth century Europe.
The Lion in Winter tells the story of King Henry II of England (Peter O'Toole) who gathers with his estranged wife Queen Eleanor (Katharine Hepburn) and their sons Richard (Anthony Hopkins), Geoffrey (John Castle) and John (Nigel Terry) to celebrate Christmas 1183. This wildly dysfunctional royal family is also joined by King Philip II of France (Timothy Dalton) and Henry's young mistress Alais (Jane Merrow). Soon alliances, counter alliances, deceptions, and attempted assassinations mix with old fashioned family fun and the fate of Europe hangs in the balance as everyone sorts themselves out and vies for dominance, both public and private. Characters compete for the most venomous and spiteful remarks (expertly penned by author Goldman after his stage play of the same name) and the games of one upmanship lead to political and private revelation.
This film was one of a cycle of prestige projects, based on literary antecedents with historical roots, that populated sixties cinema. Becket and A Man For All Seasons are other examples of the genre. They attracted high powered casts of well trained British and American actors and gathered Oscar nominations galore. The Lion in Winter has aged better than a number of its contemporaries due to the sizzling dialog and the commitment of the actors to the material. Peter O'Toole, essaying the same historical role that he did in Becket a few years previously, finds the heart of a powerful man who recognizes that time and age are wearing away his power and abilities. O'Toole was in his mid thirties at the time, playing early fifties, and his ferocious screen presence helps him dominate every scene in which he appears. Katharine Hepburn is every bit his match as the wily Eleanor, one of history's most fascinating figures, and their scenes together resonate long after the film's completion. Her performance is nearly good enough to forgive her Connecticut lockjaw accent. The supporting cast is not as strong as the two old pros but it is fascinating to see Anthony Hopkins and Timothy Dalton as young men, early in their careers, developing the skills that would serve them well in the years to come.
The film does come across as a bit stage bound due to its source material. Director Anthony Harvey has tried to open up the film somewhat but we remain, for the most part, trapped in a single castle over a brief period of time. There is only so much that camera angles and close ups can do to disguise the fact that we're predominantly in the same few rooms. When we do venture outside, we breathe a collective sigh of relief as we escape the claustrophobia which is, at least in part, thematic in nature. The settings and costumes are, I suppose, historically accurate, but they seem a bit dull to those of us expecting the romanticized high middle ages of the thirteenth and early fourteenth centuries made famous by the various adaptations of Malory's version of Arthurian legend. There are anachronisms. A Christmas tree is prominently displayed even though they did not arrive in England until imported by Prince Albert, husband of Queen Victoria, in the mid-nineteenth century – some six and a half centuries later.
My DVD is a bare bones affair with the film and not much else present. The film is, however, all that you need and well worth a look if you have never seen it or if it has been some time since your last viewing. It was remade for television many years later with Patrick Stewart and Glenn Close. While that version has its moments, this is infinitely preferable.
Barge rowing. Glass balls. Multiple daggers. Holly hanging. Gratuitous virility jokes. Implied gay relationship. Stable fights. Veiled threats. Unveiled threats.
To learn more about Mrs. Norman Maine, see our Movie Rewind introduction, visit her entire back catalog and follow her on Twitter at https://twitter.com/missvickilester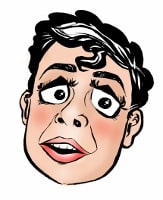 Originally from Seattle Washington, land of mist, coffee and flying salmon, Mrs. Norman Maine sprang to life, full grown like Athena, from Andy's head during a difficult period of life shortly after his relocation to Alabama.