Let It Go
Main Voice Cast: Idina Menzel, Kristen Bell
Director: Chris Buck, Jennifer Lee
I arrived at the first rehearsal of Rigoletto with the Pascagoula Light Opera with my tap shorts and lead sheets for Let it Go! so the orchestra could interpolate it into Act II only to find that the production has been delayed for some months. Apparently, PLO acts as a sort of farm team for San Diego Opera and the recent decision for that company to shut their doors has made it difficult for their affiliates to continue to produce as they have in the past. Normy and I have therefore decided to take the first possible plane back to Hollywood and look for a fresh project for my talents. It's just as well. I discovered that I have been learning the wrong part. I was not slated to play Rigoletto who seems to be some sort of deformed hunchback but rather a common slattern named Maddalena who appears briefly in Act IV.
I make it a point to never play women of dubious moral character. It could reflect poorly on my family friendly image and I feel that the producers misled both me and my management rather badly about the whole project. I am perfectly willing to return when the production resumes, but only in the title role, modified for my keys and with creative control over how I am presented throughout the production. The hump and jester rags will have to go. I see a cunning little number in harlequin diamonds of red and gold with a tear away skirt and matching tap shorts which will be perfect for the cortigiani number in Act III.
While awaiting our flight, I broke out my portable DVD player and made a quick purchase at the book stand of Frozen, the new animated Disney film from which my new favorite song, Let it Go! originates. As I have spent the last few years in a state of frozen suspended animation myself, I thought it would be an apropos entertainment for me and Normy through the inevitable aggravations of modern air travel. After viewing the film, I believe I may have the basis of a serious law suit against the Disney corporation but that's a story for another day.
Frozen is the latest in the long line of family friendly animated musicals that have made Disney's reputation over the last three quarters of a century. It's vaguely based on Hans Christian Andersen's story, The Snow Queen. It's been some years since I have read it but I do not recall any cute snowmen obsessed with their hindquarters in it, so obviously some liberties have been taken. The film begins with a chorus of stout hearted men singing a paean to ice cubes but rapidly picks up from there when we get to the mythical kingdom of Arendelle, located somewhere between Denmark and the Norway section of Epcot from the architecture and costumes. The kindly king and queen have two lovely daughters; Elsa, the elder (voice by Idina Menzel) is regal and kind but harbors a secret – she was born with magic powers that control ice and snow. Her little sister Anna (voice by Kristen Bell), is vivacious and charming. When Elsa accidentally hurts her with her powers, she shuts herself emotionally and physically away from her sister, vowing to never hurt her again. Eventually Elsa ascends the throne but her coronation does not go as planned after the sheltered Anna meets Prince Hans (voice by Santino Fontana) and decides an engagement on a few hours acquaintance is a good idea. One thing leads to another and Elsa, in a fit of pique, traps the kingdom in ice and frost and retires to an opulent ice palace that looks suspiciously like Harrah's Las Vegas and declares herself the Snow Queen. Anna must team up with mountaineer Kristoff (voice by Jonathan Groff) and a demented snowman named Olaf (voice by Josh Gad) to make things right again. Many complications including frozen hearts, abominable snowmen and foreign assassination attempts ensue until all ends happily (this is Disney, after all).
Frozen is made in the Pixar style computer animation rather than the classic hand drawn Disney style which allows for much more interesting camerawork and an opening up of the story and backgrounds, but which leaves the characters looking a little rubbery and like they have been to the Gumby school of styling. I was impressed, however, at the richness and the detailing in the settings and costumes. The art department outdid themselves with the creation of a fantastical mythic kingdom. The story clips right along and is never dull, but there is a little too much of Olaf, the irritating snowman. It's a good moment to get the wee ones to go wee when he gets his big number about two thirds of the way through.
The film is a musical, my specialty, and has a number of catchy songs by the husband and wife team of Robert and Kristen Anderson Lopez and Elsa's big number, Let it Go, about her relinquishing of her old life and embracing of her powers, has already become a standard with hundreds of bad youtube covers for perusal. The song won an Oscar and Robert Lopez is now the youngest member of the exclusive EGOT club. (I am missing the Emmy E myself and am constantly looking for the right project to fill that gap in my curio cabinet). I enjoy the song and plan on recording it but think that For the First Time in Forever has both better music and lyrics and does much more to advance the film.
My major quibble with the film is that the last third or so devolves into one long chase sequence and there is almost no music at all in the last twenty minutes until the finale. My guess is that the executives at Disney were afraid that should the film be all singing, dancing and princesses, that they would lose the little boy audience, thus the action. This decision may have decreased the artistic merit of the film, but it paid off in spades at the box office as little people of both genders flocked, together with their parents, grandparents and great aunts.
Frozen is definitely worth a look and is a reasonable addition to the Disney collection. It may not reach the heights of Beauty and the Beast but it doesn't plumb the depths of The Black Cauldron either.
Reindeer sidekick. Fragonard imitating. Gratuitous lutefisk. Chandelier dropping. Aged courtier dancing. Ice stairs. Gratuitous cliff dangling. Fancy sled. Skating finale.
To learn more about Mrs. Norman Maine and her many exploits, visit our introduction here, and see her back catalog of reviews here.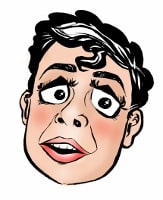 Originally from Seattle Washington, land of mist, coffee and flying salmon, Mrs. Norman Maine sprang to life, full grown like Athena, from Andy's head during a difficult period of life shortly after his relocation to Alabama.