Both Sides Now
Main Cast: Jim Broadbent, Tom Hanks, Halle Berry
Director: Tom Tykwer, Andy Wachowski, Lana Wachowski
Fajer and Hellmann, my attorneys, have sent over my contract regarding my star turn in Rigoletto for Pascagoula Light Opera. I quickly signed it and sent it back by return courier and can hardly wait to get back on the boards again, entertaining the masses. I'm not exactly sure what character I'm supposed to be playing but given that they are hiring a star of my magnitude for their little production, it must be the title role. I'll have to do some research to see just who this lady is. I hope I'll have the most glamorous gowns and, in case they don't, I'll bring along a few of my own so that my adoring public can see me displayed as I so richly deserve. I have ordered the score from Amazon so I can look for it. If I recall correctly, Jerome Kern had a hand in the music. I know this is opera, but no one had better call me the fat lady. I have been on cottage cheese and peach Jell-O for weeks in order to keep myself at my fighting weight.
My rehabilitation exercises in order to get my legs back into shape have been going well. The frost bite scars from the cryogenics lab accident are hardly noticeable anymore and I made it through a full two minute tap routine under the tender ministrations of Miss Lulu Pigg, my dance instructor and physical therapist. By the time Normy and I jet off to Pascagoula for rehearsals, I should be in full form and I will have to talk to the producers about inserting a dream ballet somewhere in the third Act or, at the very least, a tap break.
A care package courtesy of Zsa-Zsa Gabor arrived from Amazon this week and contained the DVD for the new movie from the Wachowskis, Cloud Atlas. The film was released during my accidental coma so I had not yet had a chance to see it, so I took it down to the home theater for a quick peek. The Wachowskis, formerly the Wachowski brothers and now a Wachowski brother and sister (how terribly modern) have taken a novel of David Mitchell's and created a dream of a film, by turns brilliant and terrifying and which, despite gorgeous visuals, ultimately collapses under the weight of its own pretensions.
Cloud Atlas, the film (like the novel), contains six separate story lines in six different time periods (everything from early Victorian to post-apocalyptic) and explores the interconnectedness of human existence as in each of these tangentially interlocking stories, characters search for meaning, truth and human connection. Story #1 concerns a young lawyer (Jim Sturgiss) involved in the slave trade who learns the worth of a human when he is saved by a runaway slave (David Gyasi). Story #2 involves the tragic story of a young composer (Ben Wishaw) as he is used and abused by an older established mentor (Jim Broadbent). Story #3 has an investigative journalist (Halle Berry) exposing skullduggery in the nuclear power industry. Story #4 is a farcical romp in which an aging publisher (Broadbent again) is placed in a nursing home for troublesome relatives by his brother (Hugh Grant). Story #5 lifts a page from Soylent Green as a young woman (Doona Bae) from futuristic Korea questions who she is and what she is born to be. Story #6 has a man (Tom Hanks) trying to survive in a brutish post-apocalyptic tribal society. The film intercuts all six stories, shows intriguing connections between them (for instance, a character in one storyline reads a book about a character in another). This sort of intercut storytelling is difficult enough to do on the page but is even harder to do on film.
The directorial team of the Wachowskis together with German Tom Tykwer (Perfume, Run Lola Run) attempt to play up the connections (and the possible transmigration of souls) by casting the same group of actors in all of the stories. Famous names and faces cross ethnicities and genders through ingenious makeup and costuming. The idea is fine, but the execution fails. If it were unknown actors in these multiple roles, we could accept the conceit but when all of a sudden Tom Hanks or Susan Sarandon's voice or eyes appear out of an incongruous character, we spend our time playing 'spot the star' and trying to find them as they appear in each story line.
The gorgeous cinematography (Frank Griebe and John Toll) is full of stunning images and nearly every shot could be enlarged into a stunning art print suitable for framing. The score (Reinhold Heil, Johnny Klimek and Tom Tykwer) also helps set the moods and differentiate the stories, especially the 'Cloud Atlas Sextet' which forms an important plot point in several of the stories. It should have received an Oscar nomination for make-up as it successfully makes any number of famous faces unrecognizable. Special kudos to editor Alexander Berner who makes the transitions through all of these disparate storylines seamlessly.
The acting company are all competent but none is a particular stand out. They seem to be having fun playing 'watch me disappear under these prosthetics until you can't recognize me' and 'look how different I can be in this scene' which are games better suited to college acting classes than to major motion pictures. All in all, the film belongs in the noble failure category although I do plan on watching it again to try and pick up more plot connections and cameos.
Human teeth. Bathtub suicide. Bisexual composer. Gratuitous Hugo Weaving in drag. Clone abbatoir. Barbarian killing. Escaping oldsters. Critic defenestration.
To learn more about Mrs. Norman Maine, see our Movie Rewind introduction, visit her entire back catalog and follow her on Twitter at https://twitter.com/missvickilester
photos by Josh Jensen and watchwithkristen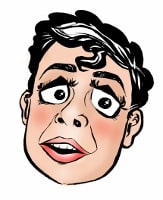 Originally from Seattle Washington, land of mist, coffee and flying salmon, Mrs. Norman Maine sprang to life, full grown like Athena, from Andy's head during a difficult period of life shortly after his relocation to Alabama.