THERE WILL BE BLOOD
Main Cast: Chloe Grace Moretz, Julianne Moore
Director: Kimberley Peirce
Mr. Hopcress or whatever he is called from Dancing With The Stars has been very slow at scheduling my next appearance on the program. A problem with the vote counting machine or some such I suppose. I could take some time off while waiting but an international superstar like myself must not let a moment go to waste and always be working on the next opportunity to get in front of my adoring public. I called Joseph, my manager, to see if anything new had come in. He sent over a couple of scripts for new Broadway bound musicals for my consideration. I haven't been on the Gay White Way for several seasons now so I think that this could be a major boost in my career and introduce my formidable song and dance talents to a whole new generation.
The first was entitled Any Given Sunday in the Park and would have me playing a fashion model who gets involved with an NFL player and who, by the end of the show, ends up owning the team. I feel that it might owe a bit too much to How to Succeed in Business Without Really Trying and the big first act finale in the elevator will simply have to go. Vicki Lester never enters intermission in an unconscious state. It does have some possibilities though, especially the second act Super Bowl ballet and a number in which my model character becomes the central figure in a pointillist masterpiece. The second was a new musical version of Peter Straub's Ghost Story in which I would essay the central role of Eva Galli, the bewitching young woman around whom the story revolves. However, as the casting agency also is searching for four octogenarian gentlemen to play opposite me, I can't imagine that the dance numbers will be able to have the athleticism I endeavor to display for a paying public.   Besides which, they are reading some of my old co-stars from my MGM days like Louis Jourdan and Kirk Douglas for some of the roles. Seeing us together, people might start doing a little math and believe that I am something other than my perpetually youthful thirty-nine. I'm afraid I'll have to pass on A Little Wight Music.
With no immediate prospects on the horizon, there was nothing for it but to settle in with a film. Normy was out meeting with members of the Los Angeles symphony and rehearsing his new cantata based on The Bride of Frankenstein and it was the maid's day off so I had to settle for the cats for company as I sorted through my to view pile in the home theater. The first film that caught my eye was the 2013 remake of Carrie with Chloe Grace Moretz and Julianne Moore. The original version, from 1976, was a perfect little B movie with an A cast. It garnered Sissy Spacek a well deserved Oscar nomination for the title role and Brian DePalma directed a cast of young up and comers including Nancy Allen, Amy Irving and John Travolta in Stephen King's tale of high school bullying and bloody revenge. It had never occurred to me that it was a film in need of a remake but the studios have a real fear of making anything without a presold title or concept these days.
This version follows the outlines of King's novel and the original film fairly closely, just updating the scene to modern day. Texting and cell phone videos help move the plot along and bring in the new concept of cyberbullying, something unknown in the 1970s (although Stephen King would probably have used it had it been around). Young Carrie (Moretz), raised by a religiously paranoid mother (Moore), has always been the school outcast and is ignorant of basic biology. When she has her first period after gym class, she has no idea what is happening and panics and is mercilessly taunted by her classmates led by Chris (Portia Doubleday) and Sue (Gabriella Wilde). She is rescued by her kindly gym teacher (Judy Greer) who arranges athletic detention for the other girls. Sue decides to make up her part in the bullying to Carrie by having her boyfriend Tommy (Ansel Elgort) take Carrie to the prom in her place. Spoiled rotten Chris, however, blames Carrie for her problems and decides to wreak a poetic revenge on her at the prom with the aid of her bad ass boyfriend Billy (Alex Russell). Unbeknownst to anyone, other than the audience, Carrie is telekinetic and when she is finally pushed too far, she unleashes her powers in a revenge of blood and fire which would do the Salvation Army proud.
While often sold as a horror story, Carrie is more a psychological drama of bullying and betrayal and how society scapegoats its outcasts. High school stands in for society at large but there are also significant points raised about the tyranny of family and religion. The central relationship in the film is the one between Carrie and her mother Margaret and director Kimberley Peirce, as a woman, is more interested in exploring this than DePalma was. She opens the film, not with high school Carrie, but with Margaret, unaware and frightened, delivering her child herself at home. The blood of the delivery becoming the first appearance of the messy carnality of sex and reproduction that infuses the whole film.   Moore and Moretz find more love and passion in their twisted relationship and less of the nihilistic comedy that existed in the original between Piper Laurie as Margaret and Sissy Spacek.
Peirce's movie is more anchored in reality than DePalma's. She replaces his dreamlike and wordless action sequences with more visceral and realistic moments which are likely to resonate with modern young adult audiences. The high school where most of the action is set is anytown USA but there is an interesting use of color in the sets to help heighten the emotional resonance of certain scenes. Pretty much all of the famous moments are there, with the exception of the last shock of the original film. The makers are smart enough to know that trope has been done to death over the last forty years and would come across as silly. They come up with their own final moment which pays homage to the original while going its own direction but it's nowhere near as scary.
The film suffers the most from Moretz's performance. It's not that she's bad (she's not), it's just that she's no Sissy Spacek and suffers mightily from the comparison. Her transformation from ugly duckling into swan at the prom also doesn't gibe as she's too pretty too early in the film. It doesn't help that she has some odd physical proportions including, seemingly, no neck – making her look like a strange blood soaked Madame Alexander figurine, rather than one of the Eumenides come to life. Julianne Moore holds her own against the memory of Piper Laurie. Her Margaret is both scarier and more empathetic but not as unintentionally funny. She has some odd makeup design that makes it look at times like she's peering through a flesh colored mask. I'm sure it's deliberate but I cannot for the life of me figure out why. The supporting cast are serviceable but none is a stand out. Ms. Wilde as the well meaning but flawed Sue, who inadvertently sets up the events that turn Carrie into a revenging fury, comes off the best, but then she has the most to do.
My DVD is a bare bones release without a lot of extras worth exploring. I cannot say that this is a movie that should be sought out, but if you run across it in the sale bin at Wal-Mart, it's worth a look.
Tampon throwing. Water volleyball. Lacrosse letterman's jacket. Gratuitous identical twins. Pig bashing. Silly tuxedoes. Seam ripper stabbing. Burning moon. Levitating heroine. Gratuitous face in windshield. Exploding gas station. Ultimate betrayals.
To learn more about Mrs. Norman Maine, see our Movie Rewind introduction and visit her complete back catalog.  You can also find her on Twitter: https://twitter.com/missvickilester
Special thanks to Tulane Public Relations who provided the dancers photo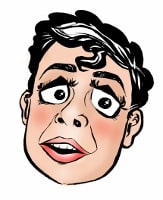 Originally from Seattle Washington, land of mist, coffee and flying salmon, Mrs. Norman Maine sprang to life, full grown like Athena, from Andy's head during a difficult period of life shortly after his relocation to Alabama.