American Mary.  A Canadian Horror Movie.
Main Cast: Katharine Isabelle
Directors: Jen and Sylvia Soska
Mary Mason (Katharine Isabelle, Ginger Snaps) is a starving med student who goes for an interview at a local strip club (massages and stuff, NO SEX, the ad makes very clear) and ends up performing emergency surgery on one of the owner's friends, $5000 cash, no questions asked. The next day, after hearing of the great work Mary did, one of the dancers, Beatrice, contacts Mary for a consult. A friend of Beatrice, Ruby, wants an extreme body modification done, but so far hasn't found a surgeon willing to do it. Beatrice is willing to pay Mary $10,000 cash, and all she has to do is make Ruby as sexless as a Barbie doll.
With her newfound cash flow comes a boost in confidence and Mary is singled out by some colleagues where she's doing her residency for a party. When Mary arrives, she finds herself drugged and raped by her professor.
And this is where things take a turn and Mary steps out of the shadow of her former life and embraces her newly discovered skillset. Not only does she have the professor brought to her so she can perfect her body modification skills, she starts a whole new business, earning more money than she ever dreamed.
American Mary is a 2012 movie from writers/directors the Soska sisters, Jen and Syvlia (Dead Hooker in a Trunk). The story works as a character study as we see Mary's life turn completely around, see her become a new, stronger person, stop feeling like a victim in her own life and finally take charge of her destiny. Unfortunately, that destiny leads Mary down some pretty dark roads and in the end, the Mary that emerges out the other side is nearly unrecognizable as the girl we met an hour and 42 minutes ago, ducking calls from student loan services and dealing with her phone company to see what's the minimum she can pay and keep her service.
The role of Mary Mason was written for Katharine Isabelle and it's clear to see she was made to play this part. I've only seen Isabelle in a few things, but any time she's playing an emotionally detached character with dead eyes, I totally believe her.
Antonio Cupo (Saint Sinner) plays Billy the club owner who soon becomes a default partner and confidant, but who obviously wants more and, in a world of sleaze and grime, might actually have real feelings for Mary.
Several members of the body modification community appear as Mary's clients, reducing the need for make-up effects, and at the same time shining a light on this interesting sub-culture. One scene in particular, when Mary throws out a prospective client who merely came in for a piercing was especially funny as, after having shown the kid her catalog, Mary asks, "Does it look like I do PIERCINGS?"
The story moves along at a pretty steady pace, developing Mary's character and letting us see her slide into the abyss, all in great fashion. This is one of the most watchable movies I've seen in a long time, partly due to the story, partly the directorial skills of the Soskas, and partly thanks to Isabelle's portrayal. However. We get to a point in the third act where things are getting even more interesting, where Mary is finally beginning to question her life choices–and the movie just STOPS. I had read previous criticism of the movie's ending, but I told myself it couldn't be THAT bad, surely. No, it was. One minute Mary's drinking with Billy and wondering if she's crazy, and then five minutes later, it's all over, and all thanks to something that, while mentioned in passing earlier in the movie, still comes out of nowhere to bring it all crashing down.
After over an hour and a half, sure I was happy to be able to get up and do something else, but as a story, WTF? Surely that could have been handled a little better and not felt like the Soskas were filming and then realized one day, holy crap, we've already got an hour and 35 minutes here, we need to wrap this up toot-sweet!
But that being said, I still enjoyed the bulk of American Mary and can happily recommend it. I'm not sure just how successful it is as a HORROR movie, but in general it's a good watch.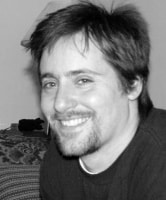 C. Dennis Moore is the author of over 60 published short stories and novellas in the speculative fiction genre. Most recent appearances are in the Dark Highlands 2, What Fears Become, Dead Bait 3 and Dark Highways anthologies. His novels are Revelations, and the Angel Hill stories, The Man in the Window, The Third Floor, and The Flip.