Dennis Devine?  More like Dennis Makes Crap Movies
Main Cast: Malerie Grady and Marlene McCohen
Director: Dennis Devine
Alright, Dennis Devine, I think we've had about enough of your nonsense. Like Don't Look in the Cellar wasn't bad enough, you had to come back with THIS nonsense? Who the hell do you think you are, grabbing a camera, hiring a bunch of unsuspecting "actors" who only want to make it big, promising them this is gonna be their big break, and then releasing a heaping pile of shit like Alice in Murderland out into the world? That takes balls, man. That takes a massive amount of balls.
The story revolves around 20-year-old Alice whose mother was murdered on Alice's first birthday. Her 21st is only days away, so her sorority sisters decide to throw her an Alice in Wonderland-themed birthday party in the empty building where her mother was killed 20 years earlier. With friends like these…!
So all of the girls dress up as different Alice characters, with her friend Malory's uncle, Prof. White–the only male allowed at the party, and only because he now owns the building–as the Mad Hatter.
During the party, there's a fight because one girl is dating Alice's ex-boyfriend and invites him to the party despite the no boys rule. So the girl grabs her cronies and they head upstairs to have their own party, leaving Alice, Mallory, Mallory's roommate Kat, and Prof. White downstairs.
And that's when the fun starts because another Alice creature, the Jabberwock, then starts killing them off.
It's a bloody mess, lots of people die, and no one cares at all because they're all stupid, terrible people. The End.
The problem is that it takes almost 90 minutes to get to the end, and EVERYTHING leading up to it is ridiculously bad.
Dennis Devine may have passion to make the best slasher movies he can–and he's obviously spent his life growing up on the classics. But he's imitating them in ALL the wrong ways. These movies are not frightening, they're not even mildly unnerving. Whatever budget he's got to work with on these things is NOT going to sets or special effects, and it's sure as hell not going to hiring talented actors.
Two of the sets for Alice in Murderland were recycled sets from his other abortion, Don't Look in the Cellar. He didn't even change out the furniture in the living room scene, Alice and Mallory sit on the exact same love seat Melissa and her sister Cheryl had in Cellar. Then again, it's in the same house, so it stands to reason. And the party room in Alice was the party room in Cellar. Dude, come on! TRY!!!
Devine wrote the script for Alice in Murderland, which is even worse than the mess he co-wrote on Cellar (I'm not even going to bother looking up his co-writer on that one, I really don't care). I'm the last person to say my dialogue is great, but I will say with 100% certainty and confidence that the worst line of dialogue I've ever written is still light years better than the BEST line uttered in Alice in Murderland.
The effects amount, once again, to little more than blood spatters every time someone gets killed. And everyone spits blood. One girl gets stabbed in the back, and immediately spits a mouthful of blood as soon as the blade penetrates her skin. I'm no doctor, but I'm pretty sure that's not how it works.
Dennis Devine has littered the world with, to date, 27 directing credits. But I think it's relatively safe to say I have seen my last Devine movie.
I can overlook a bad script or direction or even acting–to an extent–when everything else around it is on point. But with a movie like Alice in Murderland, there's simply nothing to grab onto. Everything about this movie is one big black hole of wasted opportunity to do something awesome. Please, Dennis Devine, get a day job!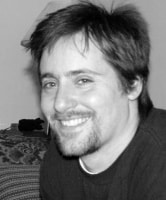 C. Dennis Moore is the author of over 60 published short stories and novellas in the speculative fiction genre. Most recent appearances are in the Dark Highlands 2, What Fears Become, Dead Bait 3 and Dark Highways anthologies. His novels are Revelations, and the Angel Hill stories, The Man in the Window, The Third Floor, and The Flip.