Bests, Worsts and Winners
Yeah, I know.  If you cared you watched them.  If you don't care, well, you still don't care.  But I feel obligated to say something about the Oscars.  It's a movie site – I can't just ignore the industries biggest self-congratulatory televised orgasm!  So here you go – lowlights (come on, you know that's what we all love), highlights and the obligatory list of winners.  Complete with links to any and all reviews I might have of those winners.  I need to get something out of this.
Worsts
AKA: Lowlights
– Paul Rudd and Melissa McCarthy, though awesome separately, failed utterly as presenters.  not their fault, the material sucked.  But it made me sad.
– Also, the Avengers as presenters were a giant fail.  Robert Downey, Jr. and his remark about making more money being better than getting awards fell flat because he can be such a self-righteous douche that he doesn't pull off self-deprecation well at all.  The others were pulled down by him (though Jeremy Renner's facial expressions and Samuel L. Jackson being super-cool saved it from being a total disaster).  It pains my soul to rip on RDJ.  He's still completely hot.
– The James Bond tribute was lame and uninspired.  The live performance of Goldfinger made me cringe, over and over and over.
– Why put Catherine Zeta-Jones up there in a tribute to music in the movies and let her lip sync like a 7-year-old?  BOOOOOO!
– Then again, though sung live, Jennifer Hudson's song made me want to open an artery.  Oh, the shrieking.
– Andy Griffith should have had a spot in the In Memoriam.
– Kristen Stewart should be banned from public appearances.  She was disheveled, disinterested and surly.  Who let her on stage like that?  Who let her out of the house?
– The last number with Seth MacFarlane and Kristin Chenoweth was cute in concept but sloppy in execution.  Yeah, I know it had to be made up on the fly, but how long do they have to pull this show together?  They should have chosen something else to perform.
Bests
– Seth MacFarlane wasn't completely horrible!  This isn't really a best, since he was indeed mediocre and his schtick got very old as the night wore on, but he didn't sound like Peter Griffin, he can actually both sing and dance and landed a few decent jokes.  It's the biggest stage in the world – he did pretty well.
– After Zeta-Jones and Hudson, the performance by the cast of Les Mis was phenomenal.  Maybe it was just a blessed relief from the awfulness that came before it, but Hathaway, Jackman and company gave me goosebumps.  I have yet to see the movie and now I'm kicking myself for missing it on the big screen.  Also, I dug the dress Hathaway wore for the number.  It was much better than her "darts that look like nipples" dress that she wore for the rest of the ceremony (though even that can't take away from her immense adorableness).
– Barbra Streisand's heartfelt and touching performance of Memories after the In Memoriam was lovely.  She might not have the voice she had 30 years ago, but it was a perfect tribute.
– This last one is something that's never happened to me before – the acceptance speeches for all three major awards made me tear up a little.  They were so sweet and sincere.
— Jennifer Lawrence started it out by tripping up the steps and then acknowledging her embarrassment that her standing ovation happened because she fell.  She was perfectly young and nervous and overwhelmed and grateful.  She also kicked ass in that role – she earned the statue.
— Daniel Day-Lewis kept the momentum with his completely deadpan riff with Meryl Streep and his soft-spoken sincerity.  I loved his tribute to his wife.  Of all the people up there last night, Daniel Day-Lewis the one I want to hang out with. 
— It's not every day that the First Lady introduces your award  (pretty cool, Mrs. Obama) and both Grant Heslov and Ben Affleck did her proud in their speeches.  Heslov was funny and humble and Affleck was overwhelmed and grateful, like a kid who has finally been vindicated by the grown-ups.  A classy George Clooney refused to grab the spotlight from his co-producers.  I love him even with the beard. But I hope he gets rid of it after he finishes whatever movie he's doing.
The Winners
And here is your obligatory list of the night's big winners.
Best Supporting Actor: Christoph Waltz for Django Unchained
Best Supporting Actress: Anne Hathaway for Les Miserables
Best Adapted Screenplay: Argo by Chris Terrio
Best Original Screenplay: Django Unchained by Quentin Tarantino
Best Actor in a Leading Role: Daniel Day-Lewis for Lincoln
Best Actress in a Leading Role: Jennifer Lawrence for Silver Linings Playbook
Best Director: Ang Lee for Life of Pi
Best Picture: Argo
photo of RDJ by Kirk Lazarus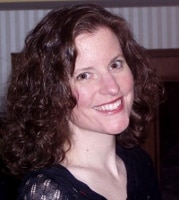 Sue reads a lot, writes a lot, edits a lot, and loves a good craft. She was deemed "too picky" to proofread her children's school papers and wears this as a badge of honor. She is also proud of her aggressively average knitting skills  She is the Editorial Manager at Silver Beacon Marketing and an aspiring Crazy Cat Lady.