The Cleaning of the Queue
Every year I go through the list of saved movies on my Netflix queue.  Most of the things I ad before they hit the DVD shelves eventually come out on disc and go right on over to Everything Netflix.  But sometimes, sometimes they don't.  I have a pretty strict rule that I only put things up over at Everything Netflix if the release is less than 2 years old.  That means if something was released in 2010, it's gotta take a hike now that it's 2013, it isn't getting prime Everything Netflix Release Date real estate.  So what to do with those movies?  If they have no known release date, they just get the queue ax.  But quite a few of them go to Instant Streaming without ever getting a DVD release.  And those I'm going to list for you here.  They aren't usually big releases with big budgets, but I have no doubt that there are some gems in this list.  No guarantee they'll stream forever – Netflix shuffles things up.  But they're all streaming now!
Alien Opponent  (sci-fi, Jeremy London, Roddy Piper) – Wasn't one of those guys a wrestler?
Amador (foreign drama, Magaly Solier, Celso Bugallo) – Spanish language film about a caregiver trying to survive the death of her patient.  Looks very good.
An Affirmative Act  (drama, Eric Etebari, Blanche Baker) = A lesbian couple is arrested for fraud after posing as a man and woman to marry.
Bad Blood: A Cautionary Tale (documentary) –  Tells the story of tainted blood products and the results for hemophiliacs around the world

Beyond the Myth (documentary) – Details the misconceptions about pit bulls.

Black Butterfly  (drama, Mahogany Monae, Richard Gallion) – Sports drama about an Olympic swimmer's brutal attack and recovery.

Cirkus Columbia (foreign drama, Miki Manojlovic, Mira Furlan) – Croatian language film about a man returning to his native Herzegovina.

Glenn the Flying Robot (foreign drama, Dominic Gould, Billy Boyd) – Belgian sci-fi film about a piano playing robot.  Not a hobbit, a robot.
God Went Surfing with the Devil (documentary, Matthew Olsen, Arthur Rashkovan) – Examination of a Palestinian surf community.  Not kidding.

Hanna's Gold (family, Morissa O'Mara, Luke Perry) – Luke Perry!  I'll see this.  He seems to love the western these days.

I Kissed a Vampire (comedy, Lucas Grabeel. Drew Seeley) – Teenage Vampire Musical Comedy!  Hooray?

Inventing Our Life – The Kibbutz Experiment (documentary) – A look back at the history of the kibbutz and its modern day challenges.

Junkyard Dog (thriller, Vivica A. Fox, Innis Casey) – A based-on-a-true-story account of a cannibalistic rapist.  Ugh.

Kawa (drama, Calvin Tuteao, Nathalie Boltt) – A Moari man finds himself needing to reveal to his family that he is gay.

Kill Katie Malone (horror, Masiela Lusha, Stephen Colletti) – You don't want to be wishing on this genie in a box.

Kill Speed (thriller, Andrew Keegan, Brandon Quinn) – Hard to imagine what could go wrong with a scheme to make homemade planes and use them to smuggle drugs.

Leading Ladies (comedy, Melanie LePatin, Laurel Vail) – These ladies know how to DANCE.

Lou (drama, John Hurt, Emily Barclay) – A tearjerker from Australia.

Man on a Mission: Richard Garriott's Road to the Stars (documentary, Richard Garriott, Sergey Brin) – Guy buys himself a seat on a Russian rocket.

Nexus: The Drug Conspiracy (thriller, Grace Kosaka, Andrew Kraulis) – I hate it when my ex-husband turns out to be a drug smuggler.

Paradise Recovered (drama, Heather Wallis, Dane Seth Hurlburt) – Fundamentalist Christian goes to work at hippie health food store.  Personal revelations ensue.

Pelt (horror, Justin Welborn, Ashley Watkins) – Do you think these teenagers hiking in the remote woods are going to have a quiet, peaceful vacation?  Me, either.

Rio Sex Comedy (comedy, Charlotte Rampling, Bill Pullman) – Good cast, but terrible reviews.  Directed by Jonathan Nossiter.  I'll give it a try.
Splintered (horror, Stephan Walters, Holly Weston) – Teen slasher, but in Wales!
Submarino (foreign drama, Jakob Cedergren, Peter Plaugborg) – Danish language film about 2 brothers trying to overcome a difficult childhood.  This one looks pretty good.
The Anniversary at Shallow Creek (horror, Katharine Brandt, Annie Burgstede) – Romantic getaway gone wrong.  I hate it when that happens.
The Colors of the Mountain (foreign drama, Genaro Aristizabal, Natalia Cuellar) – Spanish language film that sees a boy trying to retrieve his soccer ball from a mine field.
The Corridor (thriller, Stephen Chambers, James Gilbert) – Mid-life crises + weekend in the woods = HORROR
The Sons of Tennessee Williams (documentary) – Tim Wolfe directs this look at the history of gay Mardi Gras dating back to the 1950s.
Time Traveller (foreign drama, Riisa Naka, Akinobu Nakao) – Japanese language film about a teenager going back in time to help her injured mother.
Unhappy Birthday (horror, David Paisley, Christina De Vallee) – Religious fanatics on a remote island.  That can't be good.
Violet Tendencies (comedy, Mindy Cohn, Marcus Patrick) – That's Natalie from The Facts of Life!  Only now she's looking for a straight man (apparently she isn't happy with all her gay friends when it comes to romance).
Weakness (drama, Bobby Canavale, Danielle Panabaker) – Good cast in this indie about a man whose life is going all wrong.
Wolf Town (horror, Levi Fiehler, Alicia Ziegler) – I bet this is about a town full of wolves!
And there you have it, folks.  A whole bunch of movies that never made it to disc at Netflix but are available to be watched RIGHT NOW via the miracle of Instant Streaming.  Amen.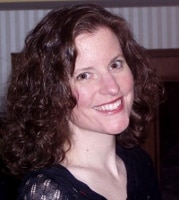 Sue reads a lot, writes a lot, edits a lot, and loves a good craft. She was deemed "too picky" to proofread her children's school papers and wears this as a badge of honor. She is also proud of her aggressively average knitting skills  She is the Editorial Manager at Silver Beacon Marketing and an aspiring Crazy Cat Lady.