The Story
Jason (Adam Scott) and Julie (Jennifer Westfeldt – who also wrote and directed) are the two single members of their group of friends in the romantic comedy Friends With Kids. We enter their story as Leslie and Alex (Maya Rudolph and Chris O'Dowd) announce that they're pregnant.
Missy and Ben (Kristen Wiig and Jon Hamm) are the group's frisky couple – can't keep their hands off of each other. Until they have kids, too. So Jason and Jennifer start feeling the pinch to reproduce. Problem is neither of them has a significant other. So they decide to reproduce together and be totally cool about it – co-parents and best friends supporting each other in the quest to find their perfect mates. Not surprisingly, this does not go exactly as planned.
The Verdict
Friends With Kids is in most ways a perfectly ordinary romantic comedy about people looking for love in all the wrong places and discovering that being an adult is a lot harder than it looks. But Westfeldt has a nice touch with both characters and dialogue and there are some both very witty and very touching moments in the movie. She and Scott have good chemistry and the other couples are different and complicated enough to make them interesting in their supporting roles. The plot is completely predictable but the ride is pretty fun. 3 1/3 stars out of 5 for Friends With Kids. For another look at Westfeldt's work – lower budget but better movie – check out Kissing Jessica Stein.
photo by watchwithkristin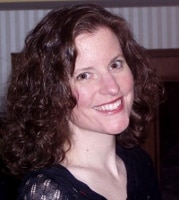 Sue reads a lot, writes a lot, edits a lot, and loves a good craft. She was deemed "too picky" to proofread her children's school papers and wears this as a badge of honor. She is also proud of her aggressively average knitting skills  She is the Editorial Manager at Silver Beacon Marketing and an aspiring Crazy Cat Lady.