YA GOTTA GET A GIMMICK
Main Cast: Christina Aguilera, Cher
Director: Steve Antin
The preparations for my first big celebrity wedding are nearly complete. The porta potties have been successfully glued together and spray painted gold into a rather lovely golden toilet tower as requested by Neely O'Hara, the bride to be. Kim Dee and Mary Gee, the two lovely little seamstresses in my employ have her up in one of the spare bedrooms where they are busy stitching her into her wedding dress. The Vera Wang she ordered didn't quite fit as dear Neely does tend to exaggerate a few things such as measurements, so we had to re-cut it at the last minute and insert a few panels. Fortunately, I had some lovely white diamante fabric left over from the 2003 Winter Wonderland Sugar Plum Fairy Vicki Lester collector dolls. (Their diaphanous gowns were based on my costume from the ice ballet from the musical version of Bleak House, one of my lesser films). I found some lovely little rhinestone hummingbird patches at the local Family Dollar and those should successfully hide the seams. Kim and Mary are so deft with the needle I have to sometimes wonder if they're Bangladeshi.
The groom is supposedly touching down at LAX in his private jet in a few hours and being whisked off to the Beverly Hills Hotel to freshen up before the ceremony. We've done our best to make sure everything follows Shari's law the way he wanted. The Lambchop floral background is done. I've had all of the tablescapes redone in a Charley Horse theme. I'm sure somewhere, Shari Lewis is looking down on this all and smiling. Six hundred guests, the cream of Hollywood society, arrive in the morning for a marvelous medieval princess themed wedding. I've had the front of Chateau Maine completely redone with a portcullis and arrow slits, only we're having rose petals dropped through the murder holes rather than boiling oil. I tried to get Billy Joel to play the reception but my phone messages don't seem to have gotten through. Fortunately, I was able to get Barry Manilow at the last minute. He's busy arranging all his greatest hits for madrigal choir.
I have just a little calm before the storm so I retired to the home theater for a film. Normy has been browsing the sale bins at the local Pic and Save and has come home with some interesting titles on DVD. His selection for this evening was Burlesque, a musical divertissement from 2010 starring Christina Aguilera and Cher. I had been in negotiations for a major role when the script was under development and still called Vaudeville! but departed when it was clear the producers were going to go in a different direction. I did not feel that burlesque would fit with my family friendly image and they had the effrontery to refuse my idea for a star spangled patriotic tap salute set to You're A Grand Old Flag for that saggy spot in the second half.
The film that finally seems to have emerged under the supervision of writer director Steve Antin is a bit of a musical, a bit of a gay man's fantasia and a whole lot of mess. The various parts, cobbled together from dozens of backstage movies dating back to the 1920s, congeal into the story of young Ali, a girl from nowhere who comes to Los Angeles seeking fame and fortune. She stumbles into a nightclub fittingly named 'Burlesque' , a seedy boite on the outside with an impossibly cavernous interior where, on a stage that would do the Hollywood Bowl proud, girlie shows that are produced like Superbowl halftime extravaganzas are performed to a dwindling audience. Burlesque is owned by Tess, played by Cher as a female impersonator, who is watching her club die as her patrons are seduced by newer forms of entertainment. She and her ex Vince (Peter Gallagher) and her assistant, Sean (Stanley Tucci) are in financial trouble and the club is coveted by the wealthy financier Marcus (Eric Dane) who would like to replace it with yet another Miracle Mile luxury high rise. Ali skillfully talks her way into a cocktail waitressing gig under the ministrations of an escaped droog from A Clockwork Orange named Jack (Cam Gigandet) who tends the bar and starts to have feelings for her. Sooner than you can say All About Eve, Ali is subbing for the reigning diva, Nikki (Kristin Bell) and when she starts to really sing… well, if you've seen any backstager ever, you can pretty much figure out what happens.
It strikes me that Antin, whose career in Hollywood ranges from juvenile actor (The Goonies) to kept man of a powerful mogul spent much of his life lost in the camp fantasies of the movie musicals of a certain period and then decided to filter them through the lens of Baz Luhrmann (Moulin Rouge) and Bob Fosse ( All That Jazz). In his head, I think he was thinking he was making another Cabaret but he ended up with another Can't Stop the Music. Shots, scenes, situations and whole plot threads are lifted from better sources. The nods to the Kit Kat Klub in Cabaret are unending and he even tries to underscore this more by including Alan Cumming, who is so brilliant as the Emcee in the recent Broadway revivals of the stage version. Unfortunately, while the production numbers are hugely entertaining, air rights for condominiums do not begin to compare to the rise of Nazi Germany in terms of subtext and social comment. Christina Aguilera, while adequate in her role, is also no Liza Minelli. Heck, she's no Lorna Luft.
Cher, who receives top billing for a relatively minor supporting role, is so coiffed, made up and botoxed to disguise her true age of 64 at the time of filming, that she comes across more as a Disney animatronic muppet than any sort of a human being. She's also not allowed to do much. I guess the producers were afraid she might fall and break a hip, or that the layers of face paint might crack. The film ends up belonging to the supporting players like Tucci, who effortlessly steals every scene he's in, and Dianna Agron as Jack's jealous fiancee. The girls of the show, led by dancer Julianne Hough, are also vastly entertaining but I'm not sure if any of what they're doing on stage would be considered burlesque. It has scantily clad women and a beat, but I doubt that Gypsy Rose Lee would have recognized any of it. I suppose it's to actual burlesque what Flashdance was to ballet.
In the end, I would say that Burlesque is a perfectly good time. It's entertaining. It requires no serious thought. It has lots of pretty people in minimal clothing. It's just not very good. It will ultimately go down as one of those vaguely remembered somewhat watchable films that cloud our memories. It's not horrendously bad enough to become a camp classic like Showgirls.
Waitress singing. Costume racks. Gratuitous eyeliner. Wagon wheel watusi. One night stands. Vengeful sluts. Legal contracts. Gratuitous crowbar bashing. Happy burlesque ending.
To learn more about Mrs. Norman Maine see our Movie Rewind introduction and visit her complete back catalog.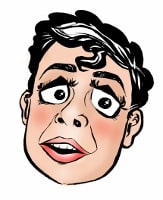 Originally from Seattle Washington, land of mist, coffee and flying salmon, Mrs. Norman Maine sprang to life, full grown like Athena, from Andy's head during a difficult period of life shortly after his relocation to Alabama.