The Academy Awards…in my jammies.
Fine, I'm not actually going to the Oscars. I am, however, looking forward to my usual flannel jammie clad, junk food filled, couch bound celebration of the past year in movies as I watch the televised presentation of awards to, and by, people who got dressed that day. OSCAR FEVER!
I like to try and see as many of the nominated movies before the broadcast as I can. I didn't do terribly this year, but since they raised the number of Best Picture nominees from 5 to a possible 10, my natural tendency to avoid leaving my house has been challenged. I really went for it this year, though, and managed 3 whole movies in the theater – in the past month. So proud! One more, I got on DVD. Another one, my teenage son saw. Yet another, a friend saw and guest reviewed for Movie Rewind. So in my delusional world, I'm rocking it! Anyway, here's your list of Best Motion Picture nominees, complete with links to the reviews already available (with more links to come as I get around to seeing the rest) as well as a handy Amazon carousel linking you straight to the titles you want to buy. Not all are available yet, of course, but you can sign up to be notified when they are, or pre-order. It's a sweet deal.
The Movies
Amour – A French language film about an aging couple dealing with life-changing health issued. I haven't seen it. It has subtitles. I promise to try.
Argo – I saw this Ben Affleck directed Golden Globe winner about the Iran hostage crisis before it was nominated for anything! My proudest moment of awards season, right there. Click on the title to read my full review.
Beasts of the Southern Wild – This little art house film is one that's already available on DVD. It's not likely to win, but I'm glad it was nominated, so that indies continue to get the exposure they deserve. Click on the title to read my full review.
Django Unchained – Despite my general loathing of director Quentin Tarantino, I will see this when it's released to DVD. My teenager liked it (not really a guarantee of quality, but it's something) and I've read good things.
Les Miserables – I missed my chance to see this in the theater, which makes me sad. I hope it doesn't lose everything in the translation to DVD. I'm looking forward to seeing both Anne Hathaway and Hugh Jackman sing.
Life of Pi – Oh, this is going to be a tough one. I'm not interested in the story or the visual effects, but I will see it because I'm an obsessive compulsive Oscar movie completist.
Lincoln – Sigh. I fell asleep. Probably more my fault than the movie's, but there are some things amiss here. Daniel Day Lewis' performance is not one of them – I think he's a sure bet for Best Actor. Fortunately, I know someone who stayed awake and Dave Driftless was kind enough to write a brilliant review for Movie Rewind. Click on the title to read it.
Silver Linings Playbook – Saw it in the theater and I'm glad I did. A sensitive, funny and touching portrayal of mental illness, it's my favorite so far. Click on the title to read my full review.
Zero Dark Thirty – I know I'm not the only one who cheered when Kathryn Bigelow won Best Director for The Hurt Locker. Guest Reviewer Steve McCall (who was also kind enough to review last year's Hugo) takes on her 2013 entry about the assassination of Osama bin Laden. Click on the title to read his full review.
The Host
Seth MacFarlane. Really? I don't know anything about his stand-up, but I'm not sure I can handle Peter Griffin Hosts the Oscars. Hopefully he'll do a better job keeping his well known characters out of this gig, unlike his Griffin-esque job in Ted. I'm past caring too much who the host is – I'll watch anyway – but it's always more fun if the host is good. It was too much to hope for that they would give the job to Ricky Gervais.
So I'm feeling fairly ready. I have new jammies with cupcakes on them and I think I can talk my daughter into making cookies. I have my fleece blanket, my favorite couch pillow and two cats to keep me warm. Bring on the glamour, Oscar!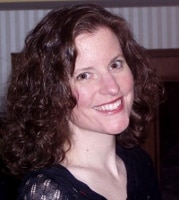 Sue reads a lot, writes a lot, edits a lot, and loves a good craft. She was deemed "too picky" to proofread her children's school papers and wears this as a badge of honor. She is also proud of her aggressively average knitting skills  She is the Editorial Manager at Silver Beacon Marketing and an aspiring Crazy Cat Lady.