Weeping for Strangers
It's been a tough summer in Hollywood.  On June 26th, screenwriter Nora Ephron died of cancer at the age of 71.  Probably best known for her romantic comedies (When Harry Met Sally, Sleepless in Seattle), Ephron also wrote Silkwood in 1983 and the charming Julie & Julia in 2009.
On July 3rd, Andy Griffith passed away after suffering a heart attack at the age of 86.  Star of TVs The Andy Griffith Show and Matlock, I will always remember him as Sheriff Andy Taylor.
On July 8th, Ernest Borgnine, age 95, died of kidney failure.  A Hollywood legend, Borgnine claimed 203 acting roles between his debut in China Corsair in 1951 and his final performance in The Man Who Shook the Hand of Vincente Fernandez in 2012.
Why do we mourn the deaths of these three strangers?  We did not know them – we don't mourn the deaths of every person who passes away each day.  Is it
because we feel close to them through their work?  I'm sure that's a part of it – who doesn't feel like Andy Griffith was in some weird way a person they knew?
Not all celebrity deaths are created equal.  The lurid public spectacle that surrounded the death of Whitney Houston obscured quiet mourning with a thick veil of vulgar media saturation.  We didn't mourn as much as shudder at the tragedy.
No, when we mourn for the likes of Ephron, Griffith and Borgnine, it's different.  They were larger than life, but not superstars, they were privileged but not spoiled, they were artists, they were famous, but they weren't so different from us.
I think that's why we mourn their deaths (I definitely shed a tear when I heard that Griffith had passed away).  Celebrities who work, entertain, live and eventually die quietly touch us because they are us – these celebrities lived and died in ways we understand.  We all know someone who has lost a battle with cancer, heart disease or lived a long life and passed away peacefully.  Being famous or having money doesn't make celebrities immune to the frailties of being human.
We mourn because they feel even closer to us when we understand the pain of their families, relate to the circumstances of their illnesses or simply admire the dignity with which they both lived and died.  We didn't know them, but through their work we feel like they were good people who lived good lives and deserve a moment of our respect when they die.
I'm always touched by the In Memoriam portion of the Academy Awards Ceremony (and galled at the vulgar waxing and waning of applause – stop clapping, people, just stop).  It's important to be reminded, in this world where celebrities are treated like commodities, that they live and die just like everyone else.  No better, no worse, just people.  Just like us.
Rest in peace, Nora Ephron, Andy Griffith and Ernest Borgnine, knowing that you touched us through your work and we mourn you for your humanity.
photo of Nora Ephron by David Shankbone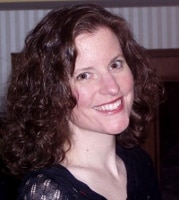 Sue reads a lot, writes a lot, edits a lot, and loves a good craft. She was deemed "too picky" to proofread her children's school papers and wears this as a badge of honor. She is also proud of her aggressively average knitting skills  She is the Editorial Manager at Silver Beacon Marketing and an aspiring Crazy Cat Lady.