Awesome Show, Limited Lifespan
AMC is currently the king of cable.  Mad Men, The Walking Dead, Breaking Bad and, until today, The Killing were all part of their stable of spectacular original scripted shows.  If you want quality TV, you want AMC, and The Killing fit right in with the rest of their standouts – but I understand the cancellation.
The Killing lasted 2 seasons completely based on a single murder investigation.  Lead detectives Sarah Linden (Mireille Enos, who has one of the best names ever) and Stephen Holder (Joel Kinnaman) worked the murder of Rosie Larsen in each and every episode.  That's a lot of time spent on one case in a world where most cop shows solve a case (or two) every episode.  By involving the victim's family, a political campaign and the personal lives of Linden and Holder, AMC managed to do the almost impossible – engage the audience in a complicated investigation from beginning to end, every week.  Yes, there were a few slow episodes, but they were the exception.
But I'm glad it's been cancelled (even though Fox Studios, which produced the show, vows to shop it around).  I loved it, but it was time.  How can that be after only 2 seasons?  Easy – they solved the case.  You can't run a show indefinitely on a single case unless you want to venture into the scary, weird and unwise waters of Twin Peaks.  When the case was solved in the last episode of season 2, it was a natural place for the series to end – like a British TV series, short, sweet and ending without jumping the shark.
I think both Enos and Kinnaman have big futures – I will wait eagerly to see where they turn up next.  Thanks, AMC, for giving this excellent series a life, and for killing it when it was done.  Good call.
2014 Update
After a third season was produced out of a magic hat, The Killing has again been killed – this time by Netflix.  There will be a handful of new episodes to wrap things up from season 3 (which was pretty great, by the way), all airing via Netflix Instant Streaming (which partnered with AMC to bring us season 3).  Then it will be done, once again.
The Killing is available on Netflix DVD, to rent on Amazon, and streaming on Hulu.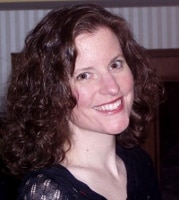 Sue reads a lot, writes a lot, edits a lot, and loves a good craft. She was deemed "too picky" to proofread her children's school papers and wears this as a badge of honor. She is also proud of her aggressively average knitting skills  She is the Editorial Manager at Silver Beacon Marketing and an aspiring Crazy Cat Lady.