He Sees Dead People
Animation isn't always just for kids.  The folks who made the spooky Coraline know that very well.  This summer they're back, with a new stop motion animation big screen feature called ParaNorman.
Opening on August 17th, ParaNorman tells the tale of a boy (Norman, of course, voiced by Kodi Smit-McPhee) who has special…talents.  Norman sees ghosts.  Norman is not popular with the other kids.  But when his town is in crisis, he'll need to step up his spooky game.  I love this trailer – the music and the animation are fabulous.  Let's take a quick look, then watch a new featurette.
ParaNorman was filmed in 3D.  I'm not the biggest fan of that particular craze and I think the animation looks stellar in plain old 2D – but whatever floats your boat.  I'm sure you'll be able to catch it in either.  With an awesome voice cast including Casey Affleck, Anna Kendrick, Elaine Stritch, John Goodman and Jeff Garlin, there looks to be enough scary stuff here to satisfy early teens to adults.  I think younger kids will find it a little too creepy – maybe not as creepy as Coraline, but close.
Though I don't usually seek out animated movies, I love stop motion animation.  It just has qualities that make it perfect for something a little spookier than your average animated fare.  Here's a fantastic little featurette that shows how amazing and complicated the process really is.  Enjoy!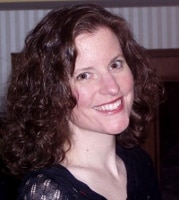 Sue reads a lot, writes a lot, edits a lot, and loves a good craft. She was deemed "too picky" to proofread her children's school papers and wears this as a badge of honor. She is also proud of her aggressively average knitting skills  She is the Editorial Manager at Silver Beacon Marketing and an aspiring Crazy Cat Lady.