Great movie.  Great play?
Some years back I had the pleasure of seeing a little indie musical romance called Once.  The story of two people from vastly different backgrounds finding common ground through music sounds treacly and unappealing, but it's exactly theopposite.  The fresh faces of Glen Hansard and Marketa Irglova gave it a sweet ring of truth and their music was so melancholy and lovely that they won the Academy Award for Best Original Song in 2007.  I don't tear up very often during awards shows, but I did that night.  Those two young performers were the most authentic human beings to stand on that stage in decades.
Now Once is back – as a Broadway musical with 11 Tony nominations.  The music is wonderful, assuming it's the same music from the film.  I'm not sure how I feel about anyone but Hansard and Irglova playing the leads (nominated for the lead roles in the play are Steve Kazee and Cristin Milioti).  I'm sure they have lovely voices and loads of talent, but it was the regular people embodied by Hansard and Irglova (and they were exactly that – just regular people trying to make a go of music careers) that added a lot of heart to the film.  I can only trust that director John Tiffany (also nominated) chose his leads wisely and kept them close to their conceptual film models.
It makes me happy to see the music of Hansard and Irglova taking center stage for any reason, even more so to see this story make its way into another venue.  Most of us won't be able to catch the musical, but the film is really something special.  Do yourself a favor and check it out.  And good luck to the Once nominees at this year's Tony Awards!
[AMAZONPRODUCTS asin="B000X1Z0BU"]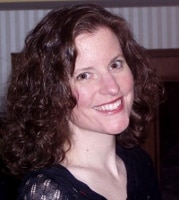 Sue reads a lot, writes a lot, edits a lot, and loves a good craft. She was deemed "too picky" to proofread her children's school papers and wears this as a badge of honor. She is also proud of her aggressively average knitting skills  She is the Editorial Manager at Silver Beacon Marketing and an aspiring Crazy Cat Lady.