Leap Day Edition
Again, not really.  But close!  Another two weeks, more Netflix releases for your perusal.  As I try to cram in as many Oscar nominees as possible before the broadcast, I'm still adding to my always ridiculous Netflix queue.  Let's see what we have on tap for the next couple of weeks.  As always, you can find more 2012 Netflix release dates at Everything Netflix.
February 21st
Puss in Boots (family animation, Antonio Banderas, Salma Hayek) – It's a miracle that I saw Shrek, which I believe fulfilled my family animation quota for the next 25 years.  Sorry, Puss.
The Way (drama, Emilio Estevez, Martin Sheen) – Directed by Estevez, the story of a man hiking the Camino de Santiago pilgrimage in hopes of connecting with his recently deceased son.
London Boulevard (romantic drama, Colin Farrell, Keira Knightly) – I love Colin Farrell, plain and simple.  This tale of an ex-con and a starlet stays on the queue.
The Son of No One (thriller, Channing Tatum, Ray Liotta) – This weird little cop thriller sports an all-star cast including Al Pacino, Katie Holmes and Juliette Binoche.  The fact that they all play supporting roles to the inexplicably ubiquitous Channing Tatum is one of those Hollywood mysteries that will never be adequately explained.
Retreat (thriller, Cillian Murphy, Jamie Bell) – Also starring the stunning Thandie Newton, this looks like a yummy post-apocalyptic (maybe) thriller.  I never heard of it but it stays on the queue because Cillian Murphy's blazing blue eyes are hypnotizing and sort of scary.
Blank City (documentary, Jim Jarmusch, Steve Buscemi) – Directed by Celine Danhier, a look at underground film in the 1980s.
Octubre (foreign drama, Bruno Odar, Gabriela Velasquez) – One loan shark and a baby.  Awww.
The Space Between (drama, Melissa Leo, Anthony Keyvan) – Leo stars as a flight attendant working on Sept. 11, 2001.
The Whistleblower (thriller, Rachel Weisz, Benedict Cumberbatch) – Based on a true story of human trafficking in Bosnia.
Prey (foreign horror, Berenice Bejo, Gregoire Colin) – Instant Streaming available.  Human hunting…in French!
5 Star Day (romance, Cam Gigandet, Jena Malone) – A young man disappointed in his horoscope seeks out others born on his birthday to see how their days are going.  Weird?  You bet.  But I'll give it a chance.
Spork (comedy, Savannah Stehlin, Sydney Park) – Instant Streaming available.  This has low budget written all over it – outcasts, hip-hop and a main character named after cutlery.  I'll pass.
Hunted By Night (action, Jencarlos Canela, Juan C. Bofill) – Drugs in the Everglades.
All Things Fall Apart (sports drama, 50 Cent, Ray Liotta) – Apparently it's Ray Liotta Week.  Who knew?
Dirty Little Trick (thriller, Dean Cain, Christie Burson) – I do believe there's a femme fatale in the house…
February 28th
Hugo (family drama, Asa Butterfiled, Ben Kingsley) – This is a beautiful movie.  You should see it.
In Time (action, Justin Timberlake, Amanda Seyfried) – Also starring the blazing blue eyes of Cillian Murphy.
Dream House (thriller, Daniel Craig, Rachel Weisz) – Is this house haunted?  I don;t know, but I'm willing to put it on the queue and find out.
The Big Year (comedy, Jack Black, Steve Martin) – Bird watching with Black and Martin.  Oh, yes.
The Thing (horror, Joel Edgerton, Mary Elizabeth Winstead) – A prequel.  Bleh.  Why not just see the John Carpenter original?
Beneath the Darkness (horror, Dennis Quaid, Aimee Teegarden) – Eeek!  Dennis Quaid as a creepy mortician.  I'll put this on the queue for when I'm looking for some cheap scares.
Answers to Nothing (drama, Dane Cook, Elizabeth Mitchell) – Missing child ensemble drama.
I Melt With You (thriller, Thomas Jane, Jeremy Piven) – Middle aged men making bad choices.  Ironically it also stars Rob Lowe, a bad choices expert.
InSight (thriller, Sean Patrick Flannery, Natalie Zea) – A nurse sees into the eyes of a killer.  Oooooooh.
The Myth of the American Sleepover (dramedy, Claire Sloma, Marlon Morton) – Instant Streaming avaialble.  Looks like run-of-the-mill coming of age.
The Catechism Cataclysm (comedy, Steve Little, Robert Longstreet) – I don't know how this is a comedy, but it's about a couple of guys who go canoeing in the dark and find creepy stuff.  Oh, and one of them is a priest.
I've got quite a few of these little sleepers on my queue.  London Boulevard, Retreat, 5 Star Day and a few more.  I love finding little gems in the new release catalogue!  Spring is right around the corner now so we should probably go back to buying stuff with our New on Netflix.  What's your favorite thing about the waning days of winter? Mine is the ever lengthening days.  So let's buy some sunglasses, shall we?  I love these blingy cateyes.  Fashion + Function = Fabulous!
photo by David Shankbone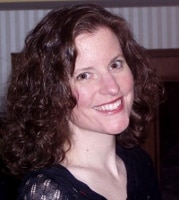 Sue reads a lot, writes a lot, edits a lot, and loves a good craft. She was deemed "too picky" to proofread her children's school papers and wears this as a badge of honor. She is also proud of her aggressively average knitting skills  She is the Editorial Manager at Silver Beacon Marketing and an aspiring Crazy Cat Lady.