Can it possibly get scarier?
Oh, I think it can.  The Brad Falchuk, Ryan Murphy created American Horror Story is currently running its second season – American Horror Story: Asylum.  I thought season 1 was as scary as basic cable was going to get – I was WRONG.  Asylum is taking the gruesomeness of season 1 and adding even more horror to the horror.  I love it!
In what I think is a brilliant move, Falchuk and Murphy (also creators of Glee – these are some interestingly twisted, in a good way, guys) decided against continuing the haunted house story from season 1.  Instead, they're using many of the same actors and the same (only more so) grisly aesthetic in an entirely new locale with the actors playing entirely different characters – this time we're in the year 1964 in a "mental hospital" run by the Catholic Church.  Especially notable are Jessica Lange, gone from playing the crazy neighbor to a complicated, strict and decidedly unkind nun, and Zachary Quinto, gone from playing bitter gay ghost in a supporting role to shocked visiting psychiatrist in a main role at the titular asylum.  Evan Peters may surpass both, going from ghostly and seriously disturbed Tate in season 1 to possibly falsely accused of murder Kit in Asylum.
The new performers are spot on as well.  James Cromwell is uber-scary as Doctor Arden (highly suspect, unethical and a psychopath) and Sarah Paulson (who I remember from Studio 60 on the Sunset Strip – I'm probably the only one) as a reporter unjustly committed for her "disease" of homosexuality.  The scenes of the openly gay Quinto playing a psychiatrist using aversion/conversion therapy on his lesbian patient are painful and terrifying.  I don't think it's a stretch to say there was a point being made with that scene about the atrocity that is therapy designed to "cure" homosexuality.  And the point is well and horrifyingly made.  Bravo, sirs, bravo.
Now the series – or as they call it "Anthology Series" – has been renewed for another season.  We aren't even through this one and I already can't wait to see what the masters of both teen musical and abject horror have in store for us next year.  If they raise the bar again, I may need therapy.  But it will be worth it.
You can find American Horror Story: Asylum on the F/X network on Wednesday nights.  Season 1 is available on DVD and you can catch missed episodes of this season online.  If you're a horror fan, check it out.  This ain't your daddy's basic cable.
[AMAZONPRODUCTS asin="B005LAJ1O0″]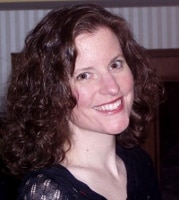 Sue reads a lot, writes a lot, edits a lot, and loves a good craft. She was deemed "too picky" to proofread her children's school papers and wears this as a badge of honor. She is also proud of her aggressively average knitting skills  She is the Editorial Manager at Silver Beacon Marketing and an aspiring Crazy Cat Lady.