AKA: Ira Finkelstein's Christmas or Switchmas

Main Cast: Elijah Nelson, David DeLuise, Elliott Gould
Director: Sue Corcoran
No matter who you are, there's really no avoiding Christmas if you live in the United States.  From October through December every year we're bombarded with all things holly and jolly.  For adults it gets tiring, for kids who celebrate Christmas it's exciting – but what about those who don't celebrate Christmas?  Is it annoying or does it, maybe, make them feel left out?  In All I Want Is Christmas (original title Ira Finkelstein's Christmas or Switchmas) it's most definitely the latter.  Ira wants Christmas so bad he can taste it.
Ira (Elijah Nelson) lives in Los Angeles with his movie making dad (David DeLuise) and party planner mom (Angela DiMarco).  He desperately, desperately wants a traditional Christmas – with snow, hot chocolate, a tree, the works.  His parents have promised to take him to Aspen this year so he can experience what he thinks is the most perfect family celebration ever.  But the trip is cancelled when work intrudes and Ira is sent to stay with his grandparents (Elliott Gould and Meg Savlov) in Florida for the week instead.
While waiting for a flight in Chicago Ira meets Mikey (Justin Howell) who has also been sent packing for Christmas by his single mother, who is working a new job and can't afford to take any time off.  He's scheduled to spend the week in a place in Washington State called "Christmastown" with his cousins.  Neither boy has seen these family members in years.  They are not excited.  The boys trade places (of course) and hijinks ensue, along with a holiday message about inclusion and family.
All I Want Is Christmas is a family comedy, played broadly.  Ira is a super-nerd, his parents are goofy independent hack filmmakers and his grandparents embody every aging Jewish stereotype writer/producer/director Sue Corcoran could fit into 90 minutes.  Christmastown is gaggingly over the top, with decorations and parades and gingerbread stores.  It's absolutely opposite ends of the Christmas spectrum, from beaches and tennis and Yiddish to omnipresent snowfall and Santas and caroling.  The message is simple – Christmas holiday time is for all families.  But it's also confusing.  The final song – Christmas Is For Everyone – is weird in the context of a Jewish family.  Christmas is not for everyone – it's a religious holiday celebrated mainly by Christians (and lots of secular non-Christians who like all the trappings – aka: my family).  There are few real references made to Jewish culture, rather it's lampooned as farcical through the aging grandparents and whacked out parents.  Christmas is far more serious – with lost jobs, bullies, single parents and hard times making it tough for the Christmastown denizens to feel as warm and cozy as they should.  The Jews are fools, the Christians are martyrs.  As a completely secular adult, that rubs me the wrong way.
DeLuise, DiMarco, Gould, Savlov and Julianne Christie as D-List starlet Jennifer Cameo (who stars in the Finkelstein parents' movie) supply adequate broad comedy.  Geary is appropriately somber as Aunt Libby, put-upon sole bread winner with a loser husband, a surly teenager and not much Christmas spirit.  Elijah Nelson, in the starring role, is predictable and annoying, bratty and selfish, ungrateful and whiny, too focused for his age and completely unappreciative of his own heritage.  Exactly as he is supposed to be.  He does fine with the role – but a little of this character goes a long way.
All I Want Is Christmas is a conundrum.  I'm not sure who the intended audience is – Jewish kids who wish they celebrated Christmas?  I suppose, but I would think those kids might find the lampooning of their own traditions and culture a little off-putting.  Christians who are falling short of appropriate family holiday spirit?  I don't think they need a children's movie to tell them if they're struggling.  Non-religious families that like to laugh at religious holidays?  I suppose, but that's sort of a twisted audience.  The message is that Christmas is a holiday in which both Jews and Christians can participate and come together as families and that's imparted adequately.  I'm just not sure it's either true or a sentiment that needs sharing in the context of a family comedy.  A for effort on the part of the cast, but the message is muddy.  2 stars out of 5.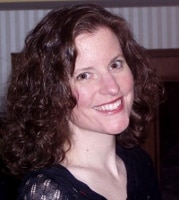 Sue reads a lot, writes a lot, edits a lot, and loves a good craft. She was deemed "too picky" to proofread her children's school papers and wears this as a badge of honor. She is also proud of her aggressively average knitting skills  She is the Editorial Manager at Silver Beacon Marketing and an aspiring Crazy Cat Lady.