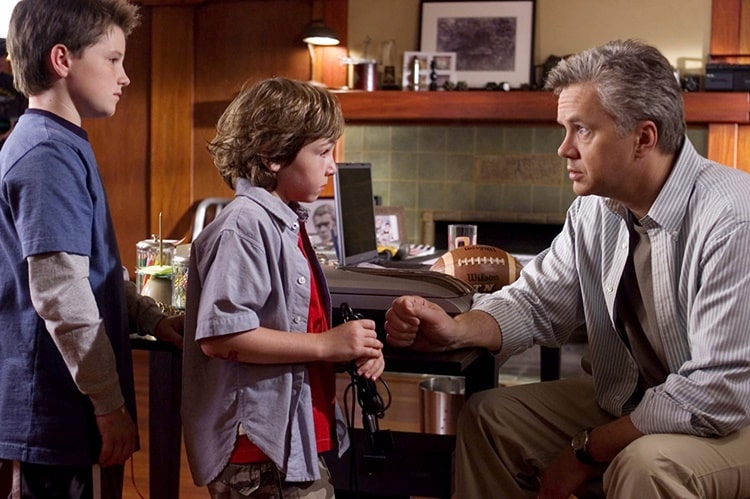 Game On!
Main Cast: Tim Robbins, Josh Hutcherson, Dax Shepard, Kristen Stewart
Director: Jon Favreau
A coming-of-age and sci-fi adventure mixture, Zathura is surprisingly deep and very enjoyable. Starting off as a typical family drama, Danny (Bobo) is having trouble relating to his older brother Walter (Hutcherson). Fighting over just about everything, they jostle to keep the attention of their divorced dad (Tim Robbins), who is having his own problems trying to prepare for an important meeting. He dashes off, leaving their older sister Lisa (Stewart) in charge. But she is more concerned in sleeping through the day in order to go out partying at night, so the boys are on their own.
Danny finds an old game in the basement and tries to interest Walter, but the latter is having none of it. He is finally pulled in to read a card that is ejected by the game, only to have the text on the card come shockingly to life. And then we're off on an adventure, where the game takes over and the two boys must play to the bitter end to escape.
While the special effects are solid, the story focuses more on the relationship between the siblings, which is a wise move. It lifts the movie above a generic sci-fi effects flick, empty of character or motivation. This one has legs, and delivers a powerful tale of growth and redemption. Not too bad for a family film! A family film that reaches across to the general audience, and does so successfully. I can definitely recommend this one.
Photo by Merrick Morton – © 2005 Columbia Pictures Industries, Inc. All Rights Reserved.