Some Whine, And A Lot of Wine
Main Cast: Paul Giamatti, Thomas Haden Church, Virginia Madsen, Sandra Oh
Director: Alexander Payne
A tight little comedy/drama focused on four main characters, this amusing tale is a good exploration of different character types.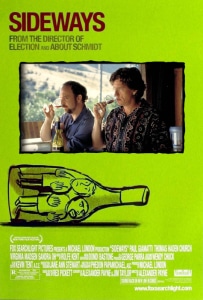 Miles (Giamatti) is a pessimistic introvert, a teacher by day and expert wine connoisseur as his passion. He and his happy-go-lucky friend Jack (Church) go off for a week before the latter's wedding to kick back, relax, and taste wine all over the vineyards of California. Jack isn't as much into wine as Miles, but gamely goes along with the program. He thinks every glass he samples is good, which isn't exactly discerning. And he has other things besides wine on his mind, specifically having one last fling before the bonds of matrimony.
They meet Stephanie (Oh) at one of the local wineries and she and Jack immediately hit it off. Less certain is Miles's relationship with Maya (Madsen), a waitress he knows. Jack tries to push them together but it is slow going, owing to Miles's inherent glumness and diffident attitude.
Those are the basics. A comedy/drama about relationships, specifically these two couples. Certainly many other things happen during the movie, but the core witty conversations, detailed characters, and amusing situations all stand out, expertly acted and well directed. This is a solid little tale, certainly no blockbuster, but well worth your time.