Be Afraid, Very Afraid
It's not often that the opportunity arises to show you a trailer for your eyes only.  Yet that is exactly what I get to do today!  Are you excited?  I know I am!
Wait – you don't know what a red band trailer is?  That's okay, I didn't either until yesterday.  It's a trailer that you need to be of an appropriately adult age to view.  It comes up with a red screen – FOR MATURE AUDIENCES ONLY.  And by clicking it you agree that you are 17 or older.  How cool is that?!?  It's like being able to go to an R-rated movie without your mom.  And without even telling your mom. And no, I will not grow up – I still get a kick out of being a legal adult despite my inner 14-year-old.
This one happens to be for the horror movie Don't Be Afraid of the Dark that opens tonight.  It's a Guillermo Del Toro co-written and co-produced re-make of a 1973 TV movie that Del Toro thinks is the scariest ever.   Guy Pearce and Katie Holmes star as Alex Hurst and his girlfriend Kim.  They've just moved, with Alex's daughter Sally (Bailee Madison), to Blackwood Manor.  Right away I'm thinking that's just a bad name for a house.
Sally thinks so, too, as she hears mysterious whispering and goes in search of the source.  Sally isn't a well cared-for child.
Her mother dumped her and her father works too much.  From this tidbit of info I'm thinking that she has far too much free time and the run of the scary old house.  Time to find things that may well explain its spooky history.  But if nobody pays any attention to Sally, what happens if she needs to tell them something important?  Here, I'm thinking…nothing good.
I like Guy Pearce and his multitude of chameleon roles.  Even though I hated The Road, I'm still tickled that he appeared and I didn't recognize him for an instant.  And I really did love Memento and his version of The Count of Monte Cristo even though he's fully recognizable in both.  Despite being married to Tom Cruise, Katie Holmes seems to be developing a little bit of an edge – but can she do horror without just ending up a screaming damsel in distress?  I don't know – but I'm willing to find out.
Little Bailee Madison appears to carry the brunt of the load here and I'm not familiar with her at all.  But she was a cute as a button 10-year-old when Don't Be Afraid of the Dark was filmed – making it all the harder to watch the stupid adults ignore her.  At least that's what I'm thinking.
Let's take a look at the trailer and see if it really is inappropriate for children.  I hope it is.  I'm so excited!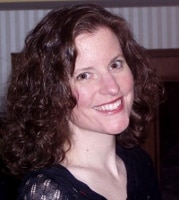 Sue reads a lot, writes a lot, edits a lot, and loves a good craft. She was deemed "too picky" to proofread her children's school papers and wears this as a badge of honor. She is also proud of her aggressively average knitting skills  She is the Editorial Manager at Silver Beacon Marketing and an aspiring Crazy Cat Lady.