Magical Family Train
Main Cast: Tom Hanks, Michael Jeter, Nona Gaye, Eddie Deezen
Director: Robert Zemeckis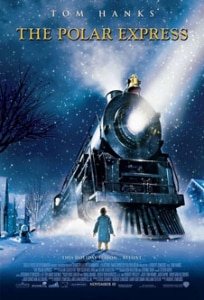 Great strides in technology have brought us more and more realistic animated models. Those displayed in Polar Express are on the cutting edge of graphics wonder, with frightening realistic movements and facial expressions. Some are bothered by this, of course, but I see it as a natural evolution that should be encouraged and explored.
The plot is actually old and a bit clichéd, but worthy of revisiting. A boy (voice of Hanks) is just on the edge of disbelieving in Santa. On Christmas Eve he lays down to sleep, but is awakened by the shrill blast of a horn and a thunder of lights outside his house. It is a train: more importantly, an express to the North Pole. Hesitant and wary, he can't forego his curiosity and hops aboard.
Can he find his belief in Santa? Will the train actually go to the North Pole? Well, I won't give anything away, but it would not be a family G-rated movie (originally released in the Christmas season) for nothing.
I think the kids will enjoy this (heck, I did). It is complete family fare, with nothing really scary or objectionable. All in all, a slight, feel-good tale with wondrous animation on display.