Philadelphia Teaches America About AIDS
Main Cast: Tom Hanks, Denzel Washington, Jason Robards, Antonio Banderas, Joanne Woodward, Mary Steenburgen
Director: Jonathan Demme
American society may not have benefited from a more profound film during the 1990s then when former funnyman Tom Hanks and up-and-coming star Denzel Washington appeared in Philadelphia. The intense cast, joined by unsung and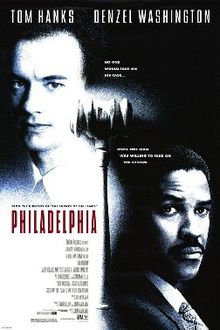 intense Antonio Banderas as Hanks' partner, smacked middle America in the face with the reality of AIDS. The epidemic, rampant without regard to race or class, was still spoken about in hushed tones until this trio of actors and director Jonathan Demme changed all that.
Hanks, starting his transformation into America's Academy Award favorite of the generation, plays an attorney fast-tracking to partner who is also HIV-positive. His disease progresses to AIDS, and Hanks is terminated by a group of greedy partners led by Jason Robards, oozing inhumanity as he rants about Hanks bringing AIDS into the office. Hanks eventually convinces Washington, Philadelphia's premier ambulance chaser, to take his case of wrongful termination based on discrimination to court.
Having so often played the victim of bigotry, Denzel turns the tables on audiences for a change by playing a bigot himself, expressing constant disgust about homosexuals. His waves of unrestrained disdain are enough to make all but the hardest-hearted of viewers squirm in discomfort.
No Spoilers Here
Philadelphia is a story about ignorance.
Brilliant casting shows familiar characters uncomfortable with homosexuality and spreading myths about how HIV is contracted. Making the movie accessible by using a strong cast to open the public's eyes to discrimination — blatant and tacit — may be the best work director Jonathan Demme has done in his career. The Oscar winner for Silence of the Lambs, Demme worked with Denzel again in The Manchurian Candidate remake as well as directing the film version of Toni Morrison's brilliant Beloved.
Alternating Robards, Denzel and Mary Steenburgen as unsympathetic characters allowed Demme and Hanks to shock middle America, which was just coming into a new Democratic political cycle and acknowledging awareness of the disease and discrimination that haunted its victims.
The gestalt of Philadelphia is that Demme could combine Bruce Springsteen's hit theme song, Maria Callas and amazing lighting to drive home each line with a subliminal sledgehammer. Viewers may not understand why they feel certain ways about different characters, but the magic was in Demme's whole-film approach to melding story, setting and ambiance.
One of 1993's best movie scenes, perhaps one of the best of the decade, is Hanks swirling around his apartment as though he were dancing to an operatic Singin' in the Rain.
When To Watch Philadelphia
Courtroom drama fans will thrill to the sight of Hanks and Washington plotting strategy and watching Washington in court. Had Denzel first strutted his stuff on LA Law instead of St. Elsewhere, this is how viewers would have first seen him. Philadelphia maintains its dramatic edge without histrionics or the bluster of Tom Cruise and Jack Nicholson in A Few Good Men.
Hanks does send viewers for the hankies during one predictable and overdone courtroom scene, but this is a minor irritant. Philadelphia also served as Tom Hanks' notice that he would become the actor of his generation as he won the first of two successive Best Actor Oscars. After winning again a year later for Forrest Gump, Hanks had two more nominations in the next decade, though he did not win again.
Despite its gritty theme and haunting music, Philadelphia remains a movie that revels in celebrating life no matter what misfortunes occur. That theme is familiar for Hanks, and the impact is moving when he is joined by A-list actors, musicians and cinema teams. Though the message is overtly political, there's no way to deny the impact of how this movie helped America face its dirty little secret: despite the presence of risk factors, disease knows no boundaries.