Air Conditioning + DVDs = Summer Love
As the summer blockbusters take over at the theaters, those of us who prefer to watch our movies from the comfort of our own couches rely on Netflix to supply us with a steady stream of high quality film, low quality schlock cinema and everything in between.  And they do, oh yes.  From Barney's Version to Hobo With a Shotgun, there's something here for everyone.
June 28th
Imigration Tango (romantic comedy, Elika Portnoy, McCaleb Burnett) – I wonder if these green card couples will find love?  Wait, no I don't.
Barney's Version (drama, Paul Giamatti, Rosamund Pike) – Adapted from Mordecai Richler's novel, Giamatti looks back at 3 decades and 3 women.
Beastly (sci-fi, Alex Pettyfer, Vanessa Hudgens) – Did Disney and Zac approve this, Vanessa?
The Perfect Man (drama, Malika Blessing, Maya Gilbert) – Boy loses girl and wants girl back.  Yawn.
2012: Ice Age (adventure, Patrick Labyorteaux, Julie McCullough) – A family bonds over a glacier.  Really.  Also, Patrick Labyorteaux was Andrew Garvey on Little House on the Prairie.  Sadly, I didn't even need to look that up.
The Scenesters (comedy/mystery, Sherilyn Fenn, Blaise Miller) – A serial killer spoof (!) from the comedy troupe called the Vacationeers.
3 Backyards (drama, Embeth Davidtz, Edie Falco) – Suburban angst.  You bet I'll watch it.
Bloodworth (drama, Kris Kristofferson, Hilary Duff) – Fine, so it also has Reece Thomson, Val Kilmer and Dwight Yoakum but I love the idea of Kris Kristofferson and Hilary Duff staring together in anything.
Delayed on June 28th:
Sucker Punch, Season of the Witch, The Warrior's Way, How the Universe Works (documentary), Taken From Me: The Tiffany Rubin Story, Beneath Hill 60, Reviving Ophelia, An Inconvenient Tax and Typeface
July 5th
Blue Crush 2 (romance, Sharni Vinson, Elizabeth Mathis) – I wish I was kidding.
Just Go With It (romantic comedy, Jennifer Aniston, Adam Sandler) – I will not go with this.  I will not.
Sanctum (thriller, Richard Roxburgh, Ioan Gruffudd) – Executive produced by James Cameron, who would like it to be known as "James Cameron's Sanctum".  What a surprise.  Anyway, it's an underwater thriller.
Lebanon, PA (drama, Josh Hopkins, Samantha Mathis) – Mid-Life Crisis meets Coming of Age!  I like the main actors here – I'll give it a chance.
Christopher and His Kind (drama, Matt Smith, Lindsay Duncan) – Based on the Christopher Isherwood memoir.
Of Gods and Men (foreign drama, Lambert Wilson, Michael Lonsdale) – French Trappist Monks?  Why not?
13 Assassins (foreign action, Yusuke Iseya, Koji Yakusho) – From Japanese action director Takashi Miike
Hobo With a Shotgun (action, Rutger Hauer, Brian Downey) – I'm not surprised this is described as "campy".  Also, I think it's my new career goal.
Witchville (action, Luke Goss, Ed Speleers) – Dark Magic fantasy, blah, blah, blah
I Hope They Serve Beer in Hell (comedy, Matt Czuchry, Jesse Bradford) – Bachelor party hijinks.  Surprisingly not set in Wisconsin.
Lies in Plain Sight (drama, Martha Higareda, Rosie Perez) – Made-for-TV blind woman mystery.
Bond of Silence (drama, Kim Raver, Charlie McDermott) – Made for TV Based on Real Life – Man Killed by Rowdy Teens.  Classic.  Also, Kim Raver was on 24.
Illegal (foreign drama, Anne Coesens, Alexandre Gontcharov) – Instant Streaming available
Delayed on July 5th:
Wake Wood, Drive-In Horrorshow, Bloodlust Zombies, The Anniversary at Shallow Creek and Strangers Online.
As you can certainly tell, the titles being held back from Netflix by the studios are sure to bring in at least $1.50 in the 28 days before they become available for rent.  I never like to miss a chance to rag on that stupid delay.  Sometimes it's just too easy.
Just in case you're lacking A/C in your viewing room of choice, let's buy fans this week.  They come in handy not only for cooling your Personal Movie Space but also drying steam cleaned carpet, blowing smoke out of the house after you burn a pizza and blocking out the noise of your neighbors mowing their lawn at 8 am on a Saturday.  What more could you ask for under $30?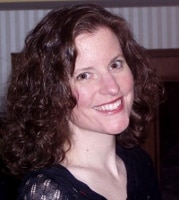 Sue reads a lot, writes a lot, edits a lot, and loves a good craft. She was deemed "too picky" to proofread her children's school papers and wears this as a badge of honor. She is also proud of her aggressively average knitting skills  She is the Editorial Manager at Silver Beacon Marketing and an aspiring Crazy Cat Lady.