A Mid-Summer Night's Movie Marathon
Well, maybe not.  But I look forward to new releases in the summer.  None of my network TV is on, I don't want to see Transformers and sometimes the weather is crappy and movies need watching.  Fortunately for me, there is Netflix to my rescue.  Though I'm currently watching the second season of True Blood like a V addict, I'll squeeze in a few movies here and there.  Okay, more than a few.  As always, you can find more Netflix release dates at Everything Netflix.  Let's see what we have on tap for the next couple of weeks.
July 12th
The Lincoln Lawyer (drama, Matthew McConaughey, Marisa Tomei) – Based on the novel by Michael Connolly
Miral (drama, Frieda Pinto, Hiam Abbass) – Directed by Julian Schnabel
[REC] 2 (foreign horror, Jonathan Mellor, Manuela Velasco) – Weirdest movie title ever.
Waking Madison (thriller, Elisabeth Shue, Sarah Roemer) – Made for TV?  I think so.
Dinocroc Vs. Supergator (sci-fi, David Carradine, James C. Burns) – How can I not see this?  Answer, I can't.  It will be viewed.
Battle: Los Angeles (action sci-fi, Aaron Eckhart, Michelle Rodriguez) – Instant Streaming Available
Hall Pass (comedy, Owen Wilson, Jason Sudeikis) – I have to admit, this makes me sort of sick.  Off the queue.
N-Secure (thriller, Cordell Moore, Essence Atkins)
Insidious (horror, Patrick Wilson, Rose Byrne) – Looks so scary.  Yeah, I'll watch.  Through a blanket.
Red Riding Hood (thriller, Amanda Seyfried, Gary Oldman) – Child's story turned horror story with Gary Oldman?  Oh, yes.
Big Mommas: Like Father, Like Son (comedy, Martin Lawrence, Brandon T. Jackson) – Yeah….No.
White Irish Drinkers (drama, Nick Thurston, Geoff Wigdor)
Wake Wood (horror, Aiden Gillen, Eva Birthistle)
July 15th
Rango (animated comedy, Johnny Depp, Isla Fisher) – always have to have one non-Tuesday release.  Why?  I guess they just have to be different.
July 19th
The Eagle (action, Channing Tatum, Jamie Bell) – This one had a lot of marketing before hitting the big screen.  I'm not sure Channing Tatum can hold my attention, though.
The Adjustment Bureau (sci-fi/romance, Matt Damon, Emily Blunt) – I'm looking forward to this.  It was poorly marketed but I've heard good things.
Unknown (thriller, Liam Neeson, Diane Kruger) – I really liked Neeson in Taken – I'm looking forward to seeing what he brings to this one.
Diary of a Wimpy Kid: Roderick Rules (family comedy, Zachary Gordon, Devon Bostick) – Just in case you have a kid you need to entertain.
Cedar Rapids (comedy, Ed Helms, John C. Reilly) – It will be stupid.  I will laugh.
Potiche (foreign comedy, Catherine Deneuve, Gerard Depardieu) – I don't do foreign very often, but I like both of these actors.  Maybe I'll pretend to be far more cultured than I am.
Tekken (thriller, John Foo, Kelly Overton)
Cracks (thriller, Juno Temple, Eva Green) – Directed by Jordan Scott, daughter of Ridley Scott
Peep World (comedy, Michael C. Hall, Sarah Silverman, Lewis Black, Rainn Wilson) – There's no way I can pass this up.  It's dysfunctional family comedy!  Plus it has Dexter and Dwight from The Office.  I don't like Sarah Silverman, but I'm willing to tolerate her to get everybody else.
Desert World (drama, Liya Kebede, Timothy Spall)
House of the Rising Sun (action adventure, David Bautista, Amy Smart)
Beneath Hill 60 (drama, Brendan Cowell, Harrison Gilbertson)
Small Town Murder Songs (thriller, Peter Stormare, Martha Plimpton) – This looks creeeeeepy.  It stays on the queue.
That's a decent looking batch of releases!  The Adjustment Bureau is sitting high on my queue, so are Cedar Rapids and Peep World.  In honor of Michael C. Hall and the impending August release of Season 5 of Dexter (I am very excited) I'm going to hook you up with this sweet Dexter Bobblehead.  I know I want one.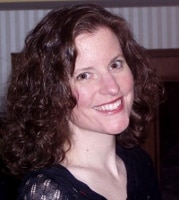 Sue reads a lot, writes a lot, edits a lot, and loves a good craft. She was deemed "too picky" to proofread her children's school papers and wears this as a badge of honor. She is also proud of her aggressively average knitting skills  She is the Editorial Manager at Silver Beacon Marketing and an aspiring Crazy Cat Lady.