A Dancing Oldie, But Goodie
Main Cast: Kathryn Grayson, Howard Keel, Ann Miller, Bobby Van
Director: George Sidney
When it comes to old standards, Kiss Me Kate ranks high among legendary musicals. Since its Broadway staging in 1948, it has become a perennial favorite of high school drama departments because of its large cast and its heady mixture of Shakespeare, dance, and music.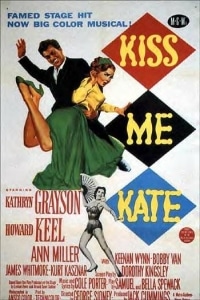 In 1955, director George Sidney departed from the stage play to create the famous screen version starring such luminaries as Howard Keel, Kathryn Grayson, Ann Miller, and Bob Fosse. The movie opens in the penthouse apartment of director and star, Fred Graham, played by Howard Keel. He's meeting with an actor playing Cole Porter, selling his idea for a musical based on Shakespeare's Taming of the Shrew. Things heat up as the two potential stars—Fred's ex-wife and his new girlfriend show up. From there, the battles between Petruchio and Kate are mirrored by the off-stage love-hate relationship of Fred and Lillie Vanessi.
This movie was the first time I had seen Ann Miller dance. I was wowed beyond words. The movie is worth watching repeatedly if only to see her sensational dancing. She's a spitfire with a body that is real in its proportions—something rarely seen today. She has real legs and is able to make dance moves that scream out her talent and ability. Her numbers couldn't possibly be long enough. In fact, in many ways, her scenes far outshine those of the main stars. In one of the scenes where Miller and Grayson are dancing side-by-side, Grayson is noticeably less intense and lacking in energy.
The first scene in which we see Ann Miller is also a vast improvement over the stage version of Kiss Me Kate. The stage version always begs the question, "If it is too darn hot, why are you wasting energy by dancing backstage? Sit still already." In the movie version, it is used almost as an audition piece (though, honestly, I think it was just a showcase piece for Miller—just like the rooftop dance with her real boyfriend Bill in Why Can't You Behave? is merely an excuse to show off the incredibly dancing talents of those two actors.)
There are a few numbers that just don't work. The song I Hate Men ought to be delightful, but it just doesn't work. The melody—or maybe the key—makes it impossible to put any vigor or life into it, despite Grayson's efforts. Her performance comes across as heavily directed and forced.
But that is a minor complaint. The musical teems with 15 songs by Cole Porter and Sidney nearly always makes choices that add to the fun and excitement of the musical. The majority of the songs have a very catchy quality to them and are simply fun to listen to. They are also major ear worms that will easily haunt you for week's afterward. Kiss Me Kate was also one of Bob Fosse's early efforts and he is onstage as one of Bianca's suitors as well as handling nearly all of the choreography in a movie that was originally filmed in 3D.
Adding to the visual treat of Kiss Me Kate are the costumes. It varies from high fashion of the Fifties in Hollywood to the bright Renaissance costumes used for the "play." The costumes are brightly colored and often huge. In fact, there are times when it is amazing that the women are able to do the dance moves that they pull off given how large and heavy their costumes are.
It is also interesting to see how the musical manages to compress Taming of the Shrew so that they can tell the whole story without using all of the three hours to show Shakespeare's plays. They primarily do this by cutting out the scenes with Bianca's suitors and the madcap mistaken identities and disguises. While those compose some of the most amusing part of the Bard's play, they are replaced with the backstage scenes of a misbegotten love affair and the bullying of two poetic gangsters. They also combine several roles and give lines to different characters in an effort to compress the story while still providing continuity to support the overall movie.
While there are elements of this movie that show its age, it is a great example of a classic Hollywood musical. It has breathtaking dancing, is fun, and filled with great songs. If we find it a little hard to believe that people would so often break out in song, well, I'm willing to suspend that disbelief in exchange for the rest of the eye candy.