Get a glimpse of the action on the set
I know, I know – The Hunger Games is still almost a year away.  But as we know, they already have a full cast and are filming right now.  And that can only mean one thing – sneak peeks!  And I just happen to have a couple of still pictures from the set to share with you.  First, a picture of Jennifer Lawrence and Liam Hemsworth (Katniss and Gale) in the woods outside of District 12.
I'm so glad they decided to make them dark haired!  I was having a hard time picturing either Katniss or Gale as a blond.  The costuming looks great, so do the woods.  The next picture is a lonely looking Peeta (Josh Hutcherson) outside his family bakery.
I love the washed out colors and beat up building we're seeing as part of the town.  They fit the descriptions in the book of District 12 being a pretty dismal, colorless place with few resources and a lot of grim poverty.  Even the relatively well-to-do Peeta looks grubby and his family business run down and desperate.
Thanks to Lionsgate's willingness to share some behind the scenes images, I'm looking forward to the movie more than ever.  These pictures boost my confidence that they're really making the effort to capture the feeling of the book.  I can't wait to get a look at Effie Trinket!
If you haven't yet, now's the time to read The Hunger Games.  Or, as I would suggest, the entire trilogy.  You won't be sorry…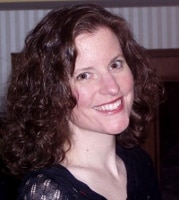 Sue reads a lot, writes a lot, edits a lot, and loves a good craft. She was deemed "too picky" to proofread her children's school papers and wears this as a badge of honor. She is also proud of her aggressively average knitting skills  She is the Editorial Manager at Silver Beacon Marketing and an aspiring Crazy Cat Lady.