Feed the Fish is Teeth Chattering Fun
I am not a lover of the romantic comedy in general.  But I recognize that not all rom/coms are created equal and give some extra leeway to those small movies that just might not make me gag.  That's where you'll find Feed the Fish.
Not being gag-worthy doesn't sound like a huge accomplishment, but in the rom/com world it is – and one worth noting.  As one of the film's producers and actors, Wisconsin native Tony Shalhoub manages to put together a real ode to Wisconsin winter in the form of a gentle, if predictable, little romance.
The characters are as quirky as if they'd been sitting on the set of Northern Exposure all these years just waiting for a chance to work again.  The inclusion of Barry Corbin in the cast makes the comparison inevitable.  Feed the Fish is Northern Exposure in 2 hours and with a much smaller budget.  We also get to lose the always-annoying Janine Turner in favor of the adorable Katie Aselton.  That's a win-win.
As much as I hate on Wisconsin winters – and I do – I love a movie that does one with real authenticity, making the effort to film on location and take advantage of both the stark beauty and the insanity of living in such ridiculous weather.  Feed the Fish has the distinct feel of a labor of love  – a gift from Tony Shalhoub to his native state.  I don't need a lot of reminders that it's ridiculously cold here, but in this case I'll make an exception.  You can read my full review here.
photo by Kristin Dos Santos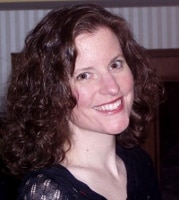 Sue reads a lot, writes a lot, edits a lot, and loves a good craft. She was deemed "too picky" to proofread her children's school papers and wears this as a badge of honor. She is also proud of her aggressively average knitting skills  She is the Editorial Manager at Silver Beacon Marketing and an aspiring Crazy Cat Lady.