Perfect for Halloween!
Do you plan to head out trick or treating dressed in your favorite Renaissance Faire garb?  Or maybe the scariest thing you can think of is the notion of a Ren Faire Rom Com!  Yes, that must be the reason All's Faire in Love is opening on
October 28th.  Oh, the horror!
So here's the basic set-up.  Two people meet cute at a Ren Faire and hijinks ensue.  Fine, a little more depth.  Christina Ricci and Owen Benjamin lead as Kate and Will.  Both happen to be at the "All's Faire in Love…Renaissance Faire".  Will is there as some sort of punishment handed down by Cedric the Entertainer (I'm scared now) and Kate left her corporate job to be a Ren Faire actress (we should all be scared now).
As the pair does their rom/com business there is other business afoot as the Faire is in Flux.  There's money and a competition and Shakespearean shenanigans galore.  It all sounds so ridiculous that I might have to see the movie.
I have never attended a Ren Faire, but they intrigue me.  I would love to see both the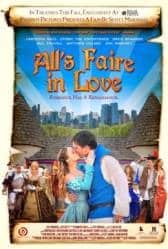 Renaissance tomfoolery and the denizens who devote their leisure time to soaking in the sights and sounds of ye olden tymes.  People get really, really into these things and that's as much fun as the spectacle itself.  Costumes and competitions and giant turkey legs – what's not to love?  I just have serious doubts that a romantic comedy can either be funny or do justice to the complicated societies that exist in and around these events.  How to best balance the inherent silliness of the event with the true devotion of the real participants while entertaining the masses?  And why the hell try and do it at Halloween?
All's Faire in Love was actually filmed in 2009 and screened at some festivals.  Why the holdup in general release?  I have no idea.  The cast is okay if not spectacular.  Ricci seems to run hot and cold, but I really enjoyed her performance in Penelope, another unlikely romantic comedy.  Owen Benjamin is a mystery to me – I don't recognize him and have not seen any of his previous work.  Maybe he's great!  The pair is supported by Cedric the Entertainer, Ann-Margret and Matthew Lillard (who for me will never be anybody but Shaggy from Scooby-Doo).  I'm not overly impressed but who knows?  Maybe they come together into an epic ensemble.
So many questions, so few answers.  Maybe we'll all be surprised and the studio comparisons to Shakespeare in Love and The Princess Bride will seem plausible instead of insulting.  Or maybe we'll just get great ideas for Halloween costumes.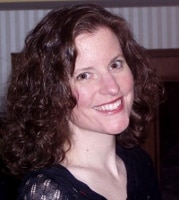 Sue reads a lot, writes a lot, edits a lot, and loves a good craft. She was deemed "too picky" to proofread her children's school papers and wears this as a badge of honor. She is also proud of her aggressively average knitting skills  She is the Editorial Manager at Silver Beacon Marketing and an aspiring Crazy Cat Lady.