Sunshine Made Me Grin Like An Idiot
It's no secret that I love a good dysfunctional family movie. Usually I go straight for the indie drama version of said family. You see, it can be hard to pull off a dysfunctional family comedy – they're often either too dark to be funny or too over the top to be funny for long. I figured I'd just have to be content to dwell in the dark and nasty drama world where dysfunction is loathsome and unfulfilling. But then I saw Little Miss Sunshine. This movie has no right to exist, yet here it is – a beautiful little dysfunctional family indie comedy so perfect it almost makes me want to cry.
Olive (Abigail Breslin) is an absolutely adorable little girl in a perfectly regular, imperfect little girl way. She's very sincere and quite serious; she wears big glasses and has a long ponytail. She also, it seems, would very much like to be a child beauty queen. We jump into her world at a point where it seems her dreams actually have a chance of coming true.
But of course there's a problem. A bunch of them, really. They're called her family members. Mom (Toni Collette) has just picked up Uncle Frank (Steve Carrell) from the hospital after his suicide attempt. Dad (Greg Kinnear) is absorbed in his get-rich-quick scheme that involves telling other people how to succeed – which would be great if he was successful. Teenage brother Dwayne (Paul Dano) has taken a vow of silence and Grandpa (Alan Arkin) is a stubborn old cuss with bad habits and a bad attitude.  This motley crew sets off for California under duress in their ancient VW bus so Olive can compete at the last minute in the Little Miss Sunshine Pageant. This is the road trip from hell.
But this hell is funny, clever, sweet and ultimately moving hell. Beyond Michael Arndt's wonderfully written script  is a dream cast sliding into their roles as if they were second skins.  I never would have chosen Carrell to play depressed, suicidal, brutally sarcastic Frank, but he is ridiculously wonderful. We like Frank; we feel for him and his ludicrous string of misfortune.  His unspoken communication with Dwayne make us laugh.
Kinnear, so full of himself early on, is almost painful to watch.  We can't stand him any more than his family can – they mostly tolerate him with rolling eyes and closed ears. Collette is her usual marvelous self. Mom is a sometimes ditz who loves her family despite their lack of control.  It's Collette holding everything together – putting Dad in his place when need be, advocating for her children and Frank and stepping up when she's most needed. It's a wonderful role Collette plays beautifully. Among the adults only Arkin tips his character a little bit too far. Not enough to really affect the movie, but a tad outside of the neatly synchronized characterization of the rest of the family.
Olive and Dwayne Steal Sunshine
Kids are always wild cards. Some are too cute, some too creepy, some just cloying in their child actor ways. These two kids are so achingly real you can't help but feel for them. Olive is serious enough to make you want to hug her or make her laugh. Dwayne's character could have been too much for the rest of the film. The vow of silence could easily steal attention from the main story and the other characters, becoming more of a focus than warranted. Instead, directors Jonathon Dayton and Valerie Faris use Dano's terrific ability to use body posture and facial expression to make him a fully functioning (as much as any of them actually function) member of the family. His relationship with Carrell's Frank, though not emphasized specifically in a structured subplot, with its gentle sadness and sarcasm is one of the film's highlights.  These two are at times the unlikely calm in the center of the storm.
Dayton and Faris did more right than put together a cast and commission a script. They gave Little Miss Sunshine just enough gravitas to make the humor more delightful when it springs up in unexpected places. That old VW becomes a continually greater source of frustration for the family and amusement for us as things progress. The actual "on the road" scenes are absolutely priceless. Nothing brings out the best in people like being together in a car for hours on end, right?
Even the photography, not something that one necessarily expects to stand out in this type of film, is stupendous. Those open highways with their lonely bus, the "family restaurant", the chaos at the dinner table – each scene is shot with the kind of care usually reserved for sweeping epics and masterworks. Nothing is wasted. Every look exchanged, every bit of Olive's less than perfect physicality, Uncle Frank's somber and pathetic countenance – it all has meaning, and it all adds to the layers that make us care about what happens to this girl and her family. A quirky little indie filled score adds the final touch to the whole production.
I fully realize that I'm gushing about Little Miss Sunshine. Honestly, I can't help it. I want everyone to run out and see this sweet and funny move and love it as much as I do. I found myself sitting, writing some notes after the end of the film with this goofy little grin on my face, humming one of the Sufjen Stevens songs from the score. That kind of movie just doesn't come along every day. Something that will make you smile long after you see it, characters you'll remember, actors you now see in a whole new light. Little Miss Sunshine is a wonderful little film. I couldn't recommend it more highly.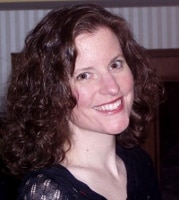 Sue reads a lot, writes a lot, edits a lot, and loves a good craft. She was deemed "too picky" to proofread her children's school papers and wears this as a badge of honor. She is also proud of her aggressively average knitting skills  She is the Editorial Manager at Silver Beacon Marketing and an aspiring Crazy Cat Lady.