Boys In The 'Hood
Year(s): 2004 – Present
Network: HBO
Creator: Doug Ellin
Principal cast: Adrian Grenier, Jeremy Piven, Kevin Connolly, Jerry Ferrara, Kevin Dillon
Blame Marky Mark.
Mark Wahlberg took his experience growing up in the shadow of boy band brother Donnie, put together his own rap act with Marky Mark and the Funky Bunch and became a Calvin Klein underwear model. Somewhere along the way, he morphed into a leading man, often an action hero. With that kind of background, Wahlberg reached into his past (he says it's semi-autobiographical) to produce Entourage, the story of a guy from the neighborhood who makes it big and brings his friends along for the ride.
Entourage has been called Sex and the City for guys. Some dubbed the show Friends without the network restrictions. Well into its fourth season and no longer overshadowed by The Sopranos or Deadwood, the HBO hit series has many convinced that it's much more than either.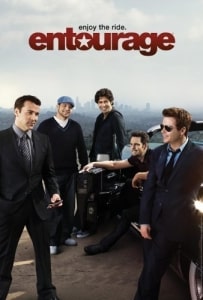 Entourage is a show about life imitating art imitating life. Scenes shot at Los Angeles Lakers games are real. So are the crowd reactions to seeing the famous cast courtside. It's as if the producers were making a point of saying, "We're not making a movie here. We're actually capturing footage of fans looking across the court at the cast instead of Kobe." The same happens on southern California streets and in a "Let's Go To Vegas" episode, where patrons of the Hard Rock Café's casino mingled just outside of the center of the frame, but still gawked at the goings-on.
Since Entourage is the story of up-and-coming movie hunk Vince Chase (Grenier) and his pals from the neighborhood, all of that gawking is perfectly fine with the producers. They have even managed to mix in more cameos than The Love Boat, but these cameos are of Hollywood's cool playing themselves. Several dozen top stars have shown up in scenes, and multiple episodes have featured Seth Green, Mandy Moore, James Cameron and Malcolm McDowell.
The show even has a quirky and fun way of acknowledging the real world. As word circled through Hollywood that Aquaman would finally become a motion picture (it ended up as a television pilot instead), Vinny was cast as the lead opposite Mandy Moore; the Entourage version of Aquaman went on to break Spider-Man's box-office record. Similar situations constantly occur as stars reference upcoming or just completed projects to keep things real. Even the role of Ari Gold (Jeremy Piven) is based on a real agent named Ari. To further confuse things, there is a real director named Ari Gold, whose movie Adventures of Power stars Grenier.
Just Four Kids From Queens
Adrien Grenier is Entourage's eye candy, and the show follows the exploits of Vince's career. But a strong case could be made that the show really revolves around Eric, aka "E" Murphy (Kevin Connolly), Vince's childhood chum who went from running a Sbarro's fast food franchise in Queens to co-producing a movie with Vince in South America. Connolly was born in 1974 and was a child star who first appeared in Rocky V as one of the bad news buddies of Sly Stallone's kid. He also appeared in the film version of Nicholas Sparks' The Notebook after years of guest shots on shows like ER and Wings. Hollywood legend holds that Connolly had retired from acting, but returned when he learned that the role of E had been written for him.
One might think that Connolly's physical appearance (that of a 30-year-old Red Buttons) would mitigate his tough-guy attitude. Instead E, who like co-star Jerry Ferrara really does hail from New York, is the Entourage member who will go toe to toe with any of the characters or guests. A terrific minor story arc had him competing with Seth Green over a girlfriend, but the scenes with Piven's snarky, manipulative agent are the ones that sparkle. Piven has already been nominated twice for his role, winning once, and when he plays off Connolly, they are the epitome of hood against honcho — even if one is in a designer custom-made suit and the other is in $175 khakis.
Between Connolly's angry young man/fish-out-of-water ambivalence and Piven chewing the scenery anytime he is in frame, Entourage is one of the shows viewers will want to rewind to hear a scene or line repeated. That both actors play against some of the world's biggest stars only makes the show that much more interesting, especially Piven's scenes with Malcolm McDowell and Beverly D'Angelo.
As for Kevin Dillon, the producers have managed to convince the Entourage audience to suspend disbelief and accept that a ripped and healthy-looking Dillon is Grenier's older brother. Perhaps they had different fathers, but the actor effortlessly plays his role of a Hollywood hack, delivering well-written lines with a deadpan timing honed by years of practice.
Talk Dirty To Me
The Entourage boys talk dirty to each other all the time. Theirs is all bombastic bravado with euphemisms instead of graphic detail. As viewers might expect, their main subject is sex, but there is almost no nudity in the show, and even the talk is tamer than one might hear on a broadcast network drama.
Each episode runs just over 20 minutes long, and the timing combined with the lack of nudity or graphic language makes me think that creator Doug Ellin is looking at syndication. Most television shows need 100 episodes to venture down that track, and Entourage is halfway there. Luckily, the show is at a point where it can withstand the loss of any cast member with the exception of Grenier, ostensibly the reason the show exists. Even the actors carrying scenes around him can be written out, but without a star, there is no reason for an entourage.
The other issue holding back syndication may be the reliance on continuity. Although each episode is short, the story arcs are highly dependent on each other. The ensemble shows that do best in syndication, Friends, Frasier, M*A*S*H, also have an element of continuity, but still make sense when seen out of order. Joss Whedon found that out the hard way when first Buffy, then Angel tanked in syndication. One would expect the same to happen even if HBO were to run The Sopranos out of sequence or in an accelerated schedule that caused viewers to miss some episodes.
Entourage is clearly HBO's gem now. The show enjoys incredible buzz, was nominated for 7 Emmys in the last two years, and along with American Idol, remains TV's hot spot on which to be seen.
Vince and the boys are signed for 2 more years while Piven has three years remaining on his deal. Playing out the remainder of the contracts brings Entourage to just under 100 episodes. After that, it'll take an agent like Piven's Ari Gold character to convince the cast — especially Grenier — to opt for TV over $5 to $10 million film deals.