You should never call a psychopath a psychopath. It upsets them.
Main Cast: Sandra Oh, Jodie Comer
Developed For Television By: Phoebe Waller-Bridge
Are you new to Killing Eve? Then don't start here – go back and read my review of Season 1, then watch that season, then come back here. Are we all set then? Good, let's go.
Killing Eve is the brainchild of novelist Luke Jennings and the incandescently brilliant Phoebe Waller-Bridge (seriously, check out Fleabag). Its first season was filled with delicious surprises and wonderful performances and a remarkable amount of wicked fun. That's a lot to live up to, and Season 2 does a good job of it.
Let's do a quick run-down of our main characters:
Sandra Oh is Eve Polastri. Eve works with British intelligence and has a great nose for sniffing out female assassins. She is married to Niko, who isn't very supportive of her work. To be fair, she has become a little, erm, over-involved with her job.
Jodie Comer is Villanelle. She has other names, but that's the one we seem to be sticking with. Villanelle is an assassin, and she's good at it. She's also obsessed with Eve.
Fiona Shaw is Carolyn Martens. She is head of Eve's division of MI-6 and seems to have mastered the art of deception.
Owen McDonnell is Niko Polastri, the not so long suffering husband of Eve.
And we have a couple of newbies this season!
Nina Sosanya is Jess, who is very pregnant and an experienced agent now on Eve's team.
Edward Bluemel is Hugo, also on Eve's team. He's a smarmy little Oxford boy who needs to learn some manners around women.
We pick up where we left off, with a shaken Eve running from her last encounter with Villanelle. Soon enough she is back at work and the team is on the trail of a new assassin. I'm not going to tell you any more about the plot because that would be mean.
The big question, of course, is whether Season 2 of Killing Eve is as good as Season 1. I'm going to be a contrarian and say…it's different. The first season was filled with character development from scratch – we got to know Eve and Villanelle, and their relationship was just beginning. This season the writers had to give that relationship somewhere to go, somewhere at least a little bit sustainable. They also had to maintain character growth and keep the plot rolling. That's a lot of balls in the air and I like the directions Waller-Bridge and company took.
What I really admire about this season is the entanglement of other villains and plots. We get to step back from the intensity of Eve and Villanelle and let other people force their hands. We also get to see how each reacts to that forcing (hint: Villanelle is still Villanelle). The space also gives the lead actresses alternative foils off of which to grow as characters. The new bad guys are indeed very bad, and beautifully written and acted. I also continue to love, love, love the dark humor in which this series revels. It's delightful, in its own special, disturbing way. The performances all around continue to be terrific, with Jodie Comer getting more of a chance to shine this season.
There are some weak spots in Season 2. One area that lost some ground is Eve's team – Hugo in particular. I don't like the character and he's a pale shadow of Kenny, who was so wonderfully quirky in Season 1. Kenny is still around, but I miss him in his larger role as an integral part of the team. I also felt like there was a little bit of a flow problem this season, with the transitions between Eve's work and home feeling a little clunky and rushed.
But as a whole, Killing Eve is still on fire. The main characters remain fascinating and complex and weird and wonderful. The situations in which they find themselves remain bizarre and dangerous and utterly engaging. The chemistry between Oh and Comer continues to sizzle. I wish we didn't have to wait until next year for season 3!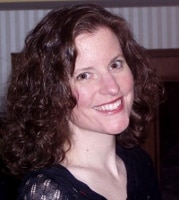 Sue reads a lot, writes a lot, edits a lot, and loves a good craft. She was deemed "too picky" to proofread her children's school papers and wears this as a badge of honor. She is also proud of her aggressively average knitting skills  She is the Editorial Manager at Silver Beacon Marketing and an aspiring Crazy Cat Lady.