PRINCE AND PAUPER
Main Cast: Mena Massoud, Will Smith
Director: Guy Ritchie
I have been back in residence at Casa Maine for several weeks now. Despite a number of calls, telegrams and a carrier pigeon directed to Amazon studios, I have not been able to find out when my simply fabulous remake of The Pajama Game is due to start streaming world-wide. I also called dear Peter Dinklage to see if he had heard anything through his people, but alas, he was as much in the dark as I. As soon as news is available, I'll be sure and let all of my dear readers know as it's something for which I'm sure you'll want to set your DVR. The interlude on the beach in Thailand for the filming was lovely and I have come back with quite the suntan but it's time to move on to other projects. The public is always waiting breathlessly for my latest entertainment project.
I did bring a number of bolts of simply luxurious silk with me, packed carefully in my Louis Vuitton traveling cases, and I had a nice little sit down with Leah, my head of marketing and consumer products deciding what to do with them. Sales have been sluggish on my high end couture over the last few years so we're going to reinvigorate by adding a second line to GlamourPuss Gowns (designer evening wear based on the costumes from Cats). The new apparel will be known as Mrs. Norman presents Mrs. Anna and will feature flowing silk hoop skirts for the modern woman. I found the one that I wore in Bangkok comfortable and most alluring as the crowds couldn't keep their eyes off me when I wore it. Of course we're going eco-friendly and replacing the whale bone with polystyrene and using some discreetly placed zippers rather than endless hooks and eyes but other than that, they'll make today's American woman ready for an old-fashioned night out on the town, especially in deep south states. My people are seeing if we can get Karen Pence to wear one to her next gala. The canary yellow silk with the embroidered peacock feathers in three shades of teal would look absolutely stunning on her. I'll even loan her a pair of baby pink shoes in case she doesn't have any in stock.
Mary Gee and Kim Dee, my seamstresses, are off in their atelier on the third floor of the west wing working on the patterns and crafting the first batch so we can be ready to ship to Bloomingdale's and Neiman-Marcus by the end of the summer. I left them to it and took myself down to Pink's hot dogs for a light lunch before deciding to take in a film. When I arrived at the Beverly Center multiplex, the next film that was due to start was Disney's new live action remake of Aladdin. Just the thing, I thought, having been immersed in a whirl of exotic fashions and brocades all morning. I bought a nice little split of rose at the bar and headed into the theater to see what sort of confection the good folk at Disney had managed to whip up. I'm sorry to say it's more Yorkshire Pudding than meringue.
Aladdin started life as a cartoon feature released in 1992, the third collaboration between Disney and the composer/writing team of Alan Menken and Howard Ashman after The Little Mermaid and Beauty and the Beast. Unfortunately, Ashman died during the film's development and the resulting film, while thoroughly entertaining didn't quite reach the artistic heights of their previous achievements and seemed a bit all over the place, pulling elements from Michael Korda's The Thief of Baghdad, Ray Harryhausen's The Seventh Voyage of Sinbad, and Crosby and Hope's Road to… films. The score, which produced the standard, A Whole New World was charming and just enough for a ninety minute cartoon and the whole thing was lifted by Robin Williams' manic whackadoodle voice performance as the genie of the lamp. Disney, never one to let go of a money making property until all bases are covered, expanded the show for Broadway adding songs cut from the original development of the cartoon, and adding yet more and a few new subplots to bring the show up to Broadway length. Aladdin 2019 is another amalgam, using the familiar elements from the cartoon but adding yet more new characters and subplots and a couple of new songs, particularly for Princess Jasmine (Naomi Scott) in order to give her some additional agency.
The end result is cinematic chop suey. Lots of elements that seem to have wandered in from other places and then forced into the narrative whole.
Aladdin has a lot to like. Mena Massoud in the title role in perfectly charming and he and Naomi Scott have some nice chemistry and when they go on their magic carpet ride to the tune of the previously mentioned A Whole New World, it's easy to get swept away in young people falling in love in a magical musical fantasyland. Aladdin is sumptuous to look at (the art department (production design by Gemma Jackson) and costumers (design by Michael Wilkinson) really earning their keep) and it's produced within an inch of it's life. The fictional city of Agrabah is teaming with life and the frame is full of people and details that at times make it a bit overly busy and it's nice when we get to a nice calm interior for a few minutes. I was trying to decide what the cultural influences were as there are elements of Arab, Persian, and Northern Indian design sitting cheek by jowl. Disney probably assumes that most audiences will read this as exotic rather than wondering what Persian columns are doing with Mughal arches.
Among major weaknesses for Aladdin is its length. Disney, in it's live action remakes, has taken to blowing up what were relatively simple stories to live action epic and they really can't sustain all of that weight without sagging in the middle. A new subplot involving Jasmine's handmaiden (Nasim Pedrad) falling for a humanized form of the genie (Will Smith) is completely unnecessary and adds nothing to the film and another new character Prince Anders (Billy Magnussen), a rival for Jasmine's hand is frankly embarrassing to all concerned and should have been left on the cutting room floor. Fortunately he's only in the film for about three minutes. The second major weakness is the genie. Robin Williams was a unique and original genius and his frantic characterization from the cartoon is inimitable. Will Smith is game but there's no way, no matter what he does, that he's going to make anyone forget Williams' performance. They might have done better had they completely re-conceived the character for him as he comes across as a pale imitation. There's also the uncomfortable issue of one of Hollywood's biggest African American stars running around with shackles on his wrists and referring to people as master. Lastly, none of the new songs in Aladdin is any good. You come out of the theater humming the songs you remember from thirty years ago and wondering why they added inferior material. There's also the problem of there being enough music to sustain a ninety minute plot being stretched to sustain a one hundred and thirty minute plot. There's a lot of talkiness and exposition for a musical and some very long stretches where there's a lot of running around the set doing parkour so in the end it feels more like an action adventure flick with some songs added rather than a true musical.
The CGI is well done, especially Rajah, Jasmine's pet tiger who comes across as very real. Abu, Aladdin's monkey is less successful as they keep trying to go Disney cute with him, rather than let him be conniving. The parrot, Iago (voiced fortunately by Alan Tudyk and not Gilbert Gottfried this time around), seems more like a plot device than a character. His owner, Jafar, the villain (Marwan Kenzari), isn't nearly as unctuous, sleazy, or evil as he really should be for the melodrama to work and his ultimate comeuppance seems to play as an after thought. He just comes across as too lightweight for the role. I get that they wanted young and good looking but a Roshan Seth or a Victor Bannerjee would have had the gravitas and magnetism to make him truly compelling.
In the end, I enjoyed Aladdin 2019, but can't say that I think it's terribly good. No doubt it will end up on everyone's Disney Blu-Ray shelf to entertain a new generation of children. It's too long and intense for younger kids (show them the cartoon), but older ones will enjoy it, even the production number that seems to have been borrowed from the Philadelphia Mummer's parade.
Minaret living. Bread stealing. Bracelet sleight of hand. Mischievous monkey. Gratuitous lava flow. Martini sipping. Genie in harem drag. Defenestration. Befuddled sultan. Bollywood dance number. Elephant riding. Night time waterfalls.
To learn more about Mrs. Norman Maine, see our Movie Rewind introduction, visit her entire back catalog and follow her on Twitter at https://twitter.com/missvickilester
images courtesy of Disney Studios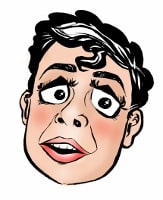 Originally from Seattle Washington, land of mist, coffee and flying salmon, Mrs. Norman Maine sprang to life, full grown like Athena, from Andy's head during a difficult period of life shortly after his relocation to Alabama.